'Dune' Director Denis Villeneuve Praises Timothée Chalamet's 'Transformation' Into Lead Character
Timothée Chalamet is on top of the world. The star is currently shooting Wonka, enjoying the release of Dune, and looking ahead to Netflix's star-packed Don't Look Up. But let's take a moment to appreciate the sheer joy of his smooth acting skills, shall we? Dune director Denis Villeneuve recently did. Here's what he said. 
Denis Villeneuve highly praised 'Dune' star Timothée Chalamet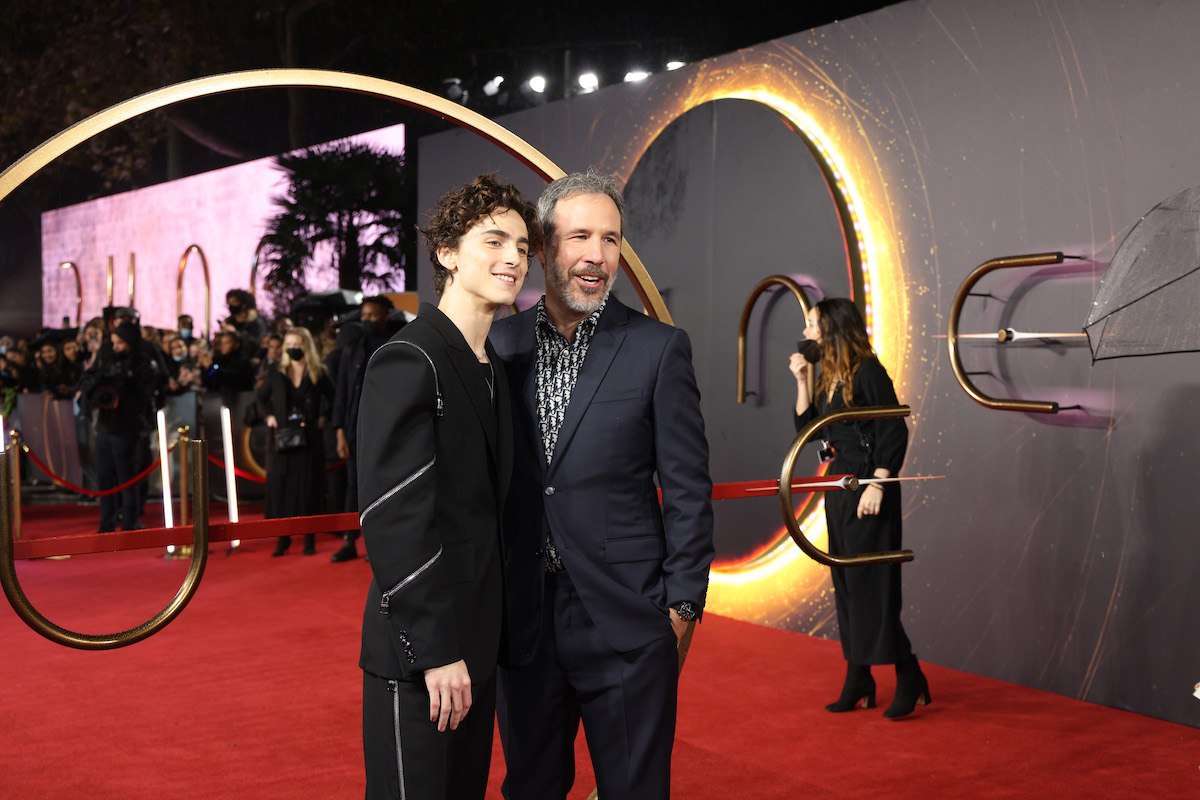 Dune sweeps theaters across the country tomorrow (October 22, 2021). Ahead of the release, director Denis Villeneuve and Timothée Chalamet spoke with The AV Club. And they seemed to have a lot of positive things to say about one another.  
In the interview, Villeneuve revealed the moment that he knew he made the right decision in casting Chalamet as the movie's lead, Paul Atreides. 
"I will tell you the truth: There's a scene that we shot right at the beginning of the shoot, called the Gom Jabbar scene, where we go through a strange, unconscious, transformative process," Villeneuve told The AV Club. "And that transformation—when we did the scene—I saw this transformation in Timothée. When I saw that power rising into what he brought to the character, I saw with my own eyes Paul Atreides becoming something else. And, when that happened, Timothée didn't see me, but I was dancing behind the camera. I was like, 'Oh, my god, he was so great. He is so powerful. I'm so deeply happy. Thank you, gods of cinema. I didn't f**k it up; I cast the right Paul Atreides!' 
The character of Paul is pivotal in Frank Herbert's epic 1965 sci-fi novel. His decisions push the entire series of books forward. 
Maybe it has to do with Timothée Chalamet's hair 
Sure, with credits like Little Women (2019) and Beautiful Boy (2018) behind him, Chalamet seems to be talented. But could it really be that the actor is exceptionally talented? Of course. 
However, Villeneuve couldn't resist an opportunity to poke fun at Chalamet's extraordinary looks during a Dune press conference in September, per Deadline.
"I had to direct Timothée and I had to direct his haircut," he joked. 
And Chalamet is, by far, not the only beautiful cast member in Dune's remarkable ensemble. Zendaya, Rebecca Ferguson, Oscar Isaac, and Jason Momoa also appear in Dune, among others. 
The feeling about working on 'Dune' is mutual 
Chalamet obviously also admires Villeneuve. In the AV Club interview, when asked if he saw Villeneuve dancing for joy, he replied "No, I didn't [see him dancing]. But that is high praise, and that's coming from one of the—if not the best director in the world. So I'm pinching myself right now, even as you said that. So, a big thank you for saying that." 
Moreover, Chalamet revealed in an interview published August 31, 2021, that he set up a Google alert to keep up with the production. He figured it was the best way for a chance to work with Villeneuve, who also helmed Blade Runner 2049. 
"Yeah, it's true," Chalamet told Deadline. "Not right away—Legendary had the rights and was developing it—but as soon as Denis got involved, I set up a Google alert, and that's when I got the book." 
The entire thing worked out to be so mutually beneficial, that the movie now has high critical acclaim. After premiering at the Venice Film Festival in September 2021, reviews flooded in. The movie currently has an 87% critical rating on Rotten Tomatoes. 
Dune opens in theaters nationwide tomorrow, October 22, 2021.