'Dune' Star Timothée Chalamet Reveals the Advice His Celebrity 'Hero' Gave Him: 'No Hard Drugs and No Superhero Movies'
Timothée Chalamet is having a big month. He's starring in the sci-fi epic Dune. On the verge of the movie's highly anticipated U.S. release, Chalamet recalls some vital advice he received from a celebrity "hero" who inspired him.
Timothée Chalamet stars as lead character Paul Atreides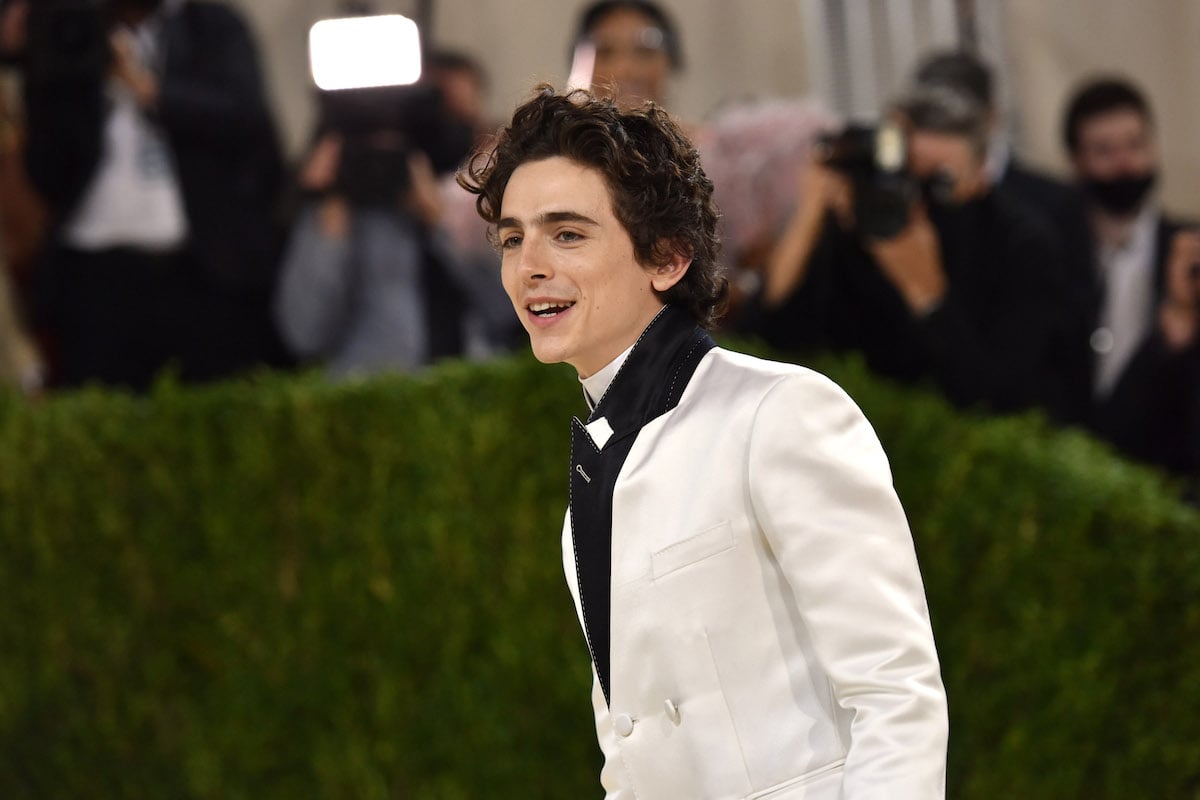 In Denis Villeneuve's re-imagining of Frank Herbert's novel, the Little Women actor plays Paul Atreides, a brilliant young man with an untold destiny. Dune covers only the first portion of the first book in a series 6 novels long.
The movie's future is bright. It premiered at the Venice Film Festival in September 2021 to critical acclaim. 
In a Time Magazine interview published October 11, 2021, Chalamet said the 1965 book remains deeply relevant.
"Dune was written 60 years ago, but its themes hold up today," Chalamet tells Time. "A warning against the exploitation of the environment, a warning against colonialism, a warning against technology."
The movie's powerhouse cast is another draw. Zendaya, Jason Momoa, Rebecca Ferguson, Oscar Isaac, and Javier Bardem, and Stellan Skarsgård appear alongside him in supporting roles. 
A celebrity friend shared key advice with the actor 
In the interview, Chalamet shared that a celebrity friend, whom he called his "hero," shared important advice for his career going forward.
"One of my heroes—I can't say who or he'd kick my a**—he put his arm around me the first night we met and gave me some advice," Chalamet told Time. "No hard drugs, and no superhero movies."
For a star of Timothée Chalamet's caliber, avoiding a superhero movie might actually be fairly difficult. But the actor has clearly chosen his roles carefully. He's particularly prone to literary roles, like romantic lead Laurie from Greta Gerwig's version of Little Women. 
Moreover, in 2018 he played recovering addict Nic Sheff in an adaptation of dual father-son memoirs Beautiful Boy and Tweak. 
So when the opportunity to play Paul Atreides of the Dune novels arose, he promptly set a Google alert to keep abreast of developments. 
"Yeah, it's true," Chalamet reportedly told Deadline in September of 2021. "Not right away—Legendary had the rights and was developing it—but as soon as Denis [Villeneuve, the director] got involved, I set up a Google alert, and that's when I got the book."
And the Dune journey may not be over for Timothée Chalamet. Villeneuve revealed during a virtual roundtable in September that he'd be ready to go with a sequel, should the studio decide they'd like to pull the trigger on further installments.
Meanwhile, Chalamet is ready with the career advice he needs to move forward. 
RELATED: 'Dune' Director Says He Had to 'Direct Timothée Chalamet's Haircut'