Why Dwayne Johnson's Love Life is Strange in the Best Way Possible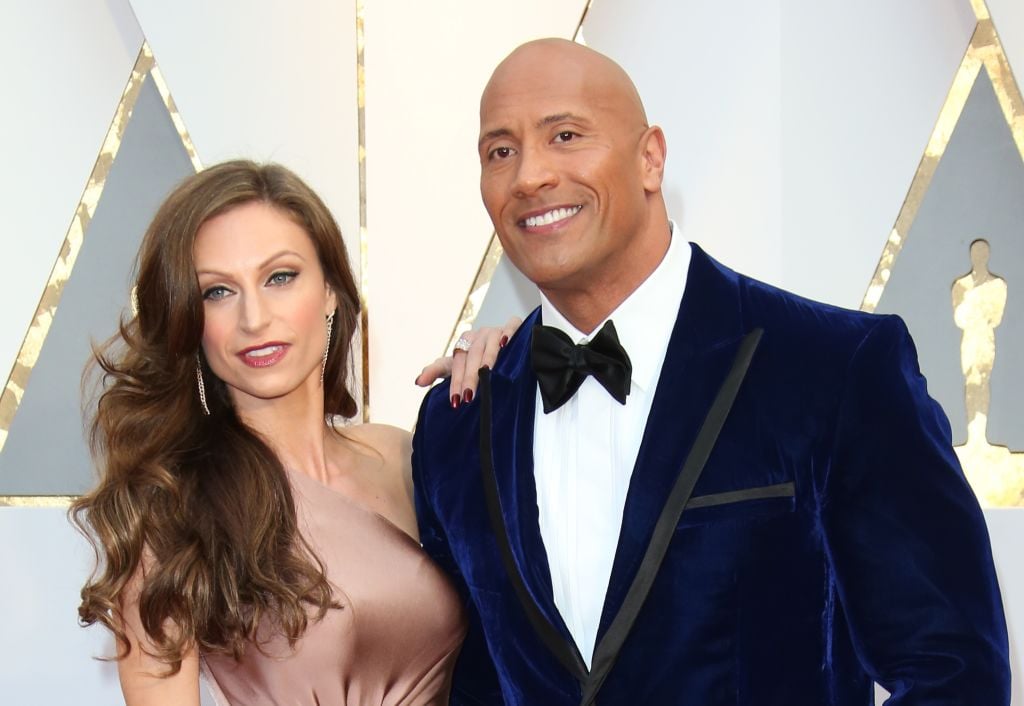 Almost everyone on social media has seen Dwayne Johnson's sweet posts dedicated to his wife and daughters. His powerful messages have often gone viral, and they usually leave fans feeling warm and fuzzy. 
Johnson and his new wife, Lauren Hashian, have two daughters together, and Johnson also has a daughter with his first wife. He's posted on social media about supporting his wife through the birth, and how hard he tries to be a good dad. 
Johnson has said multiple times how lucky he feels to have Hashian, but their romance almost never happened.
When did Dwayne Johnson meet Lauren Hashian?
Johnson was still with his ex-wife, Danny Garcia, when he met Hashian on the set of a movie in 2006. At that point, his marriage to Garcia was already winding down. The two officially split in 2007, the same year he started dating Hashian.
The two have been quiet about the timeline of their early relationship, but based on some comments Johnson has made, it's likely that he and Hashian started living together soon after they started dating, right after his divorce.
Johnson is still very close to his ex
There's nothing strange about a man dating a new woman after a divorce. It's not even that weird that he and Hashian started living together so soon after beginning their relationship. What's strange, and in a great way, is that apparently Garcia, Johnson's ex, is okay with all this.
We can surmise that she's on board with his new relationship based on the fact that Johnson and Garcia are still very close. She's super involved in his career, and has been since their divorce. According to Garcia, their relationship basically went from personal to professional.
The two make it look easy, but Johnson is the first to admit that working with an ex takes a lot of work. During and after the divorce, the two were on the phone daily, sometimes multiple times a day, working through their issues and clearing out all the emotional debris from their marriage.
Dwayne Johnson and Lauren Hashian had two children before getting married
Johnson and Hashian just tied the knot this August. They had already been living together for more than ten years, since around 2007. They also have two children. Jasmine was born in 2015 and her sister Tia in 2018.
The two had a secret wedding on August 18, which Johnson later announced on Instagram. The ceremony took place in Hawaii. Both the bride and groom were dressed in all white, and they seem to be ecstatic at having finally made it official.
Johnson has been referring to Hashian as his wife for years, but the two weren't in a rush. It seems like they were confident in their relationship.
Johnson says he couldn't be successful without the relationship
It's hard work being a movie star. Johnson travels a lot for his career, and life as an actor isn't easy on anyone. Johnson credits his relationship for his success as an actor. He says without Hashian as a partner at home, he wouldn't be able to do the work he does. The two keep in touch all the time, texting and FaceTiming multiple times a day.
Johnson has been very clear that he's a lucky guy to have Hashian. In a way, fans are lucky too. She supports him in his career, so fans get to watch his great performances in blockbuster movies. Fans also get to see how their relationship works, which is an inspiration to all of us.