Dwayne 'The Rock' Johnson Once Again Displays His Trash-Talking Artistry With 'Hobbs & Shaw' Post
Pick a platform and you'll learn that social media has become a primary way to step into the ring with an adversary. It's where individuals square up against businesses, companies hurl insults at one another, people throw shots at politicians, and where celebs shade other celebs with entertaining quips. The Rock is not above that, and fans love it.
One of Hollywood's biggest action stars, Dwayne "The Rock" Johnson, is also a master of trash-talking, having honed his skills during his reign as the "People's Champion" with the WWF (now WWE). Not only is he capable of delivering a physical smackdown, but he knows how to deliver shots through his Instagram posts. This latest one is a prime example.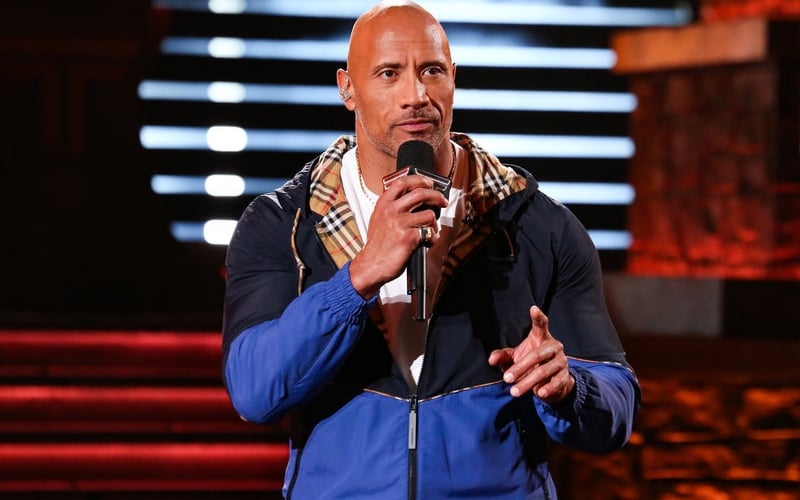 The Rock thanks fans and calls out 'Hobbs & Shaw' haters
Always gracious when it comes to the success of his projects, The Rock regularly posts messages thanking fans for their support of his movies and TV shows. Fast & Furious spinoff Hobbs & Shaw was released on Aug. 2 and continues to soar at the box office. It's recently been reported that so far, it's earned over $700 million worldwide.
The Rock shared an article from Deadline on his IG page that highlighted the movie's achievement, and he made sure to keep his shady boots shiny by adding a caption directed toward candy*** haters. Though he didn't name names, most are pretty sure he's taking aim at former Fast & Furious co-star, Tyrese Gibson.
"Assassins quietly play chess, loud clowns play checkers. Thank you audiences worldwide for this incredible support and massive win. Very cool and we're grateful for the love."
Note the clown emoji that was cleverly inserted in place of the letter "e" in the hashtag. Ha!
This feud is a continuation of an old one
Some people believe that this was meant for Vin Diesel, but that must be because they're unaware of the not-so-subtle ongoing criticism by Gibson about the Hobbs & Shaw spinoff. Let's back up for a moment.
Since 2017, the singer-actor has not been happy that The Rock was doing a movie separate from Fast & Furious, calling him selfish for signing on to do something that would delay Fast & Furious 9's release until 2020.
He's ranted about it on social media and spoken in interview clips, blaming The Rock's decision to be in Hobbs & Shaw for messing with his own survival and that of his children's. When Hobbs & Shaw premiered last month, Gibson—who goes professionally by Tyrese—couldn't resist insulting the film's receipts for its global opening.
People caught a screengrab from Tyrese's now-deleted August IG post that said $180 million was nothing to be proud of. He wrote:
"I have to show my respects for one thing…. He tried…….. Folks called me a hater…. Attacked me for speaking out…..Breaking up the family clearly doesn't have the value that one would assume it does.

180 million dollar global opening on Hobbs and Shaw is NOT a win. Again my respects cause he tried his best."
Fans who caught wind of The Rock's smack-talking post this week joked that Tyrese is probably shedding tears over his wrong predictions, but many are still hoping to see a Fast & Furious, Hobbs & Shaw crossover someday.
Actually, 'Hobbs & Shaw' has broken a few records
The Rock issued a slew of thank-you messages this past week, and one of them was for a recent Hobbs & Shaw milestone. The film beat Marvel's Avengers: Endgame, Captain Marvel, and Spider-Man for staying number one in 2019 for the longest amount of time.
The movie, which also stars Idris Elba and Jason Statham, has held its position for four consecutive weeks, CBR reports, inching past Marvel's three-week records. Forbes notes that what makes that feat extra remarkable is that Hobbs & Shaw is the only non-Disney/superhero flick to do it.
Additionally, Variety reported that internationally, the movie set the record for the biggest August weekend opening in China.
As it stands, you can still watch the film in theaters, though some speculate that It: Chapter Two is giving it a run for its money. Fast & Furious 9 is due to arrive next April, so we'll see if the trash-talking between the two franchise actors continues into the new year.