Dwayne 'The Rock' Johnson Uses an Easy Hack to Make His 'World Famous' Pancake Recipe
Whether you know Dwayne Johnson through his WWE career or through his comedic movie roles, one thing's for sure: You definitely know him. The iconic celebrity has been keeping audiences entertained for decades, and now he's adding another skill to his resume.
Both Johnson and the characters he plays on screen are dedicated to a body-builder's physique. Unsurprisingly, this lifestyle leads to mind-blowing meals and high consumption of calories. Although the average person doesn't drink raw eggs, some of the Rock's recipes are appealing to all of us… like his "world-famous" pancakes.
The Rock effectively moved from the ring to the big screen
Dwayne Johnson was born into a WWE family, and it wasn't long before he made it into the ring himself. His intimidating technique and drama-filled rivalry with Steve Austin helped to make him a household name… albeit, under a different name. Johnson's ring personality began as Rocky Maivia, a moniker that paid homage to his pro-wrestler father and grandfather. Unfortunately, his new persona got off to a bad start with fans, and Johnson ultimately decided to rebrand as simply, "The Rock."
His powerful physique was juxtaposed by his somewhat goofy personality, and Hollywood executives soon saw the opportunity for the Rock to be a leading man in films. According to Biography, one of his first comedic hits was 2010's The Tooth Fairy, which placed the iconic body-builder in a pink tutu and adorned him with a crown. From there, the Rock became a staple in the film industry, serving as a face for franchises like The Fast and The Furious and Jumanji.
Although the Rock officially retired from wrestling in 2019, his workout habits and diet remain intense. Beyond his love for body-building, the star is typically type-casted into roles of incredibly strong men, requiring Johnson to keep up his figure.
Dwayne Johnson's action roles and body-building call for an interesting diet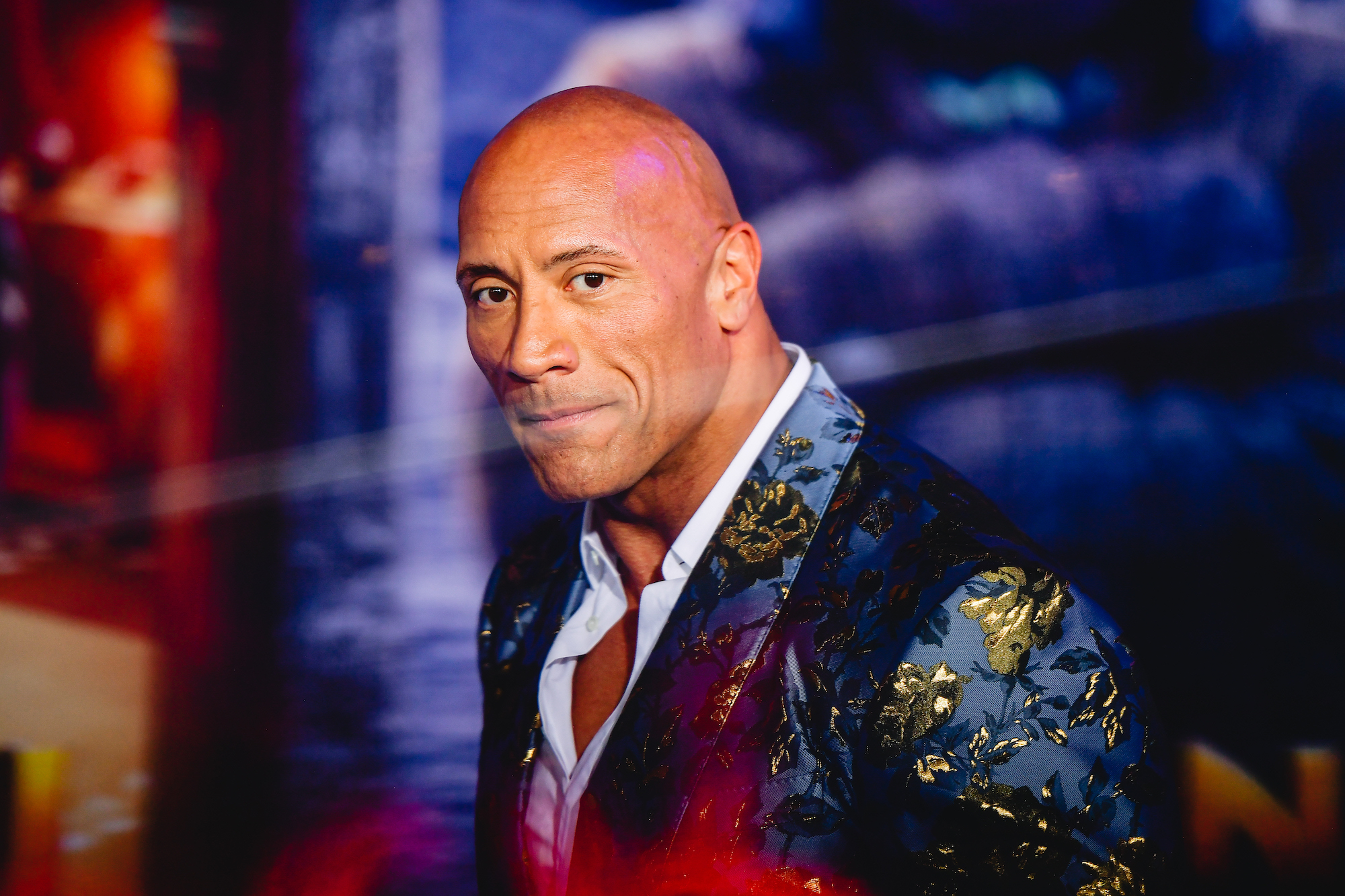 Every two years, when we enjoy watching the Olympics on TV, we see news articles cropping up that examine the unbelievable diets of professional athletes. Though Johnson may not technically hold that title anymore, he still eats like a heavy-weight champion.
According to Mashed, Johnson eats 52 ounces of animal protein during periods of muscle-building. Training for some movie roles saw him carbo-loading, in the form of 5.5 cups of white rice per day. Top that off with fourteen egg whites a day, and you're only a few thousand calories away from Johnson's daily intake.
While few of those dishes would appeal to the average fan, Johnson's cheat days are slightly more appetizing. One of his go-to meals is pancakes and, while we wouldn't recommend consuming them at his preferred quantity, we have to admit they sound delicious.
Johnson's "famous" pancakes can be enjoyed by any fan
Men's Journal detailed the Rock's go-to pancake recipe, which the star recently shared on his Instagram. Their report brought good news for foodies working on a budget: The Rock's ingredients list contained incredibly basic and accessible items.
According to the article, Johnson follows the directions on the Aunt Jemima box, mixes in milk chocolate chips, and tops it all off with whipped cream and maple syrup. That's it. It almost seems wrong to call this Johnson's recipes, as opposed to Aunt Jemima's, but we'll let it slide. The simplicity at least means that any Rock super fans can easily enjoy his favorite dish.
If you're going to make such massive stacks of pancakes, it is probably wise to stick to affordable ingredients.
RELATED: Dwayne 'The Rock' Johnson Tells the Story of the First Time He Ever Worked out With His Late Father