'DWTS': Britt Stewart Says Only One Contestant Visited Johnny Weir After Their Semi-Finals Elimination
Figure skater Johnny Weir and his partner Britt Stewart are out of the running for the Dancing With the Stars Mirror Ball. Showbiz Cheat Sheet spoke with Stewart about her first season as a pro and what it was like after being eliminated. She shared that only one DWTS competitor stopped by Weir's trailer after his semi-final elimination.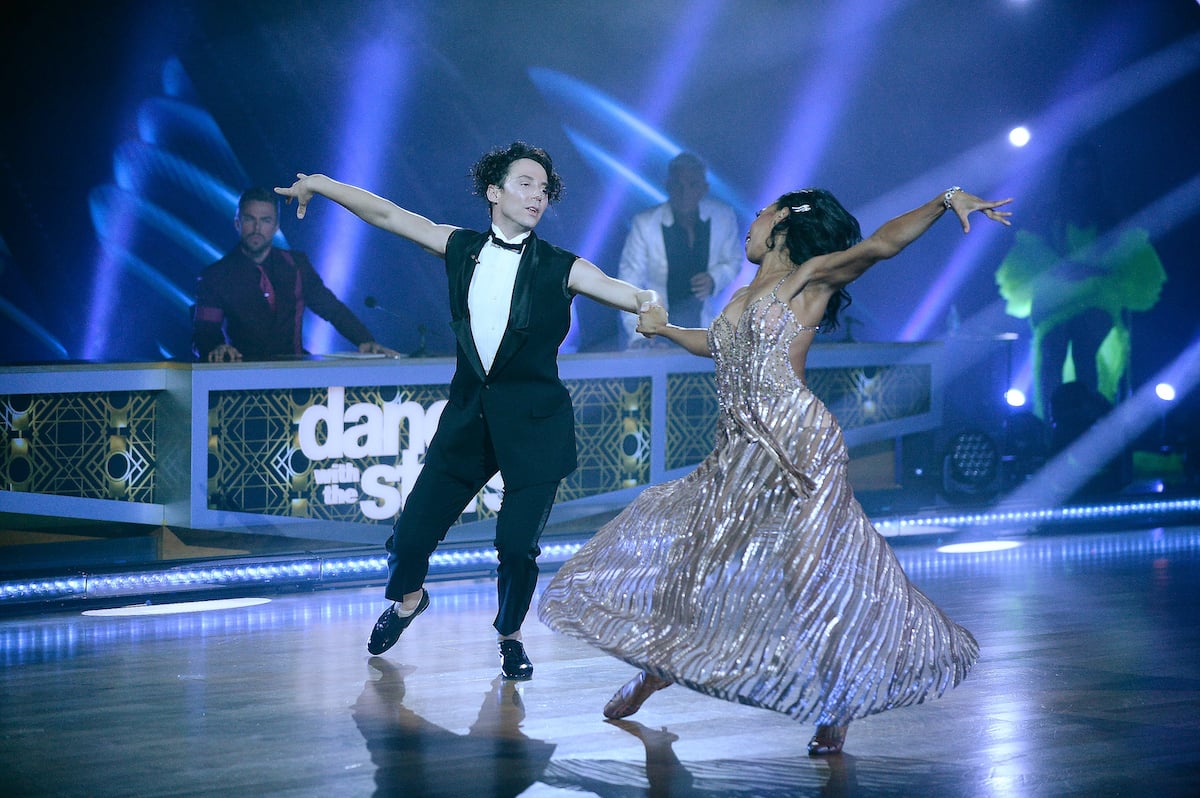 Johnny Weir made it to the semi-finals on 'Dancing With the Stars' 
The figure skater and his first-time pro partner Stewart were eliminated on Nov. 16. 
"We were very shocked," Stewart said. The duo were hoping to make it to the finals, perform their freestyle, and of course, take home the Mirror Ball. But fate had other plans. 
"[Regardless,] we are both so grateful and so blessed to have the season that we had," Stewart added. "I have zero regret [and] I would not take back one moment for anything. I am so pleased with how Johnny performed [in the] semi-finals, but also the entire season." 
Britt Stewart thinks some fans rushed to judge Johnny Weir's dance ability
Dancing With the Stars features celebrities of all backgrounds. From actors to professional athletes, singers, and reality television stars, each season brings together a group people with varying dance experience. When viewers see an athlete compete on DWTS, they often have higher expectations for those competitors. 
"I think sometimes people set [Weir] at a standard that wasn't necessarily fair," Stewart explained. "Especially going up against people in the competition that have had serious dance training — not just performance experience, but actual dance training." 
Throughout the competition, Stewart felt many viewers put a high level of expectation on Weir. 
"What people don't realize is that a lot of things that figure skaters are drilled into for their skating career don't translate onto the ballroom floor," Stewart said. "A lot of figure skaters have training. But Johnny has never had any dance training." 
Regardless of what some fans might think about Weir's dance ability, he exceeded Stewart's expectations this season.
Nelly was the only competitor to speak with Johnny Weir after his elimination
Some fans were allegedly upset with Nelly making it into the finals on Dancing With the Stars. Weir took note of this, addressing those fans on Twitter. 
"Seeing some harshness directed at @Nelly_Mo & wanted to say something," Weir tweeted. "He was the only star to stop by my trailer after the results to tell me he was proud of me & that I deserved better. He's a good man & works his a*s off. I'm so happy for him. Be kind everyone." 
During our conversation with Stewart, she mentioned how sweet it was of Nelly to seek Weir out after their elimination. 
"Nelly has his spirit in him as a human and as a man," Stewart said of the rapper. "He was so kind to Johnny and I the entire season. Nelly was also the only person that came and saw Johnny after we got eliminated." 
Stewart said Nelly visited Weir's trailer to console him, calling him "champ" and telling him how he should be in the finale. 
"He said the kindest things to Johnny," Stewart, who wouldn't mind seeing Nelly in the finale, added. "They have sort of like interesting friendship now that is so cute."