'DWTS': Carole Baskin's Missing Husband's Family Asks for 'Justice for Don' in a Commercial During Her Debut on the Show
During the premiere of 'Dancing With the Stars,' Carole Baskin's ex-husband's family paid for a commercial to run. They want answers to his wherabouts and if Baskin was involved.
When we thought 2020 couldn't get any more strange, Tiger King's Carole Baskin appears as a contestant on Dancing With the Stars. Plus, her missing husband's family pays to air a commercial during her premiere on the show, asking for justice for Don Lewis.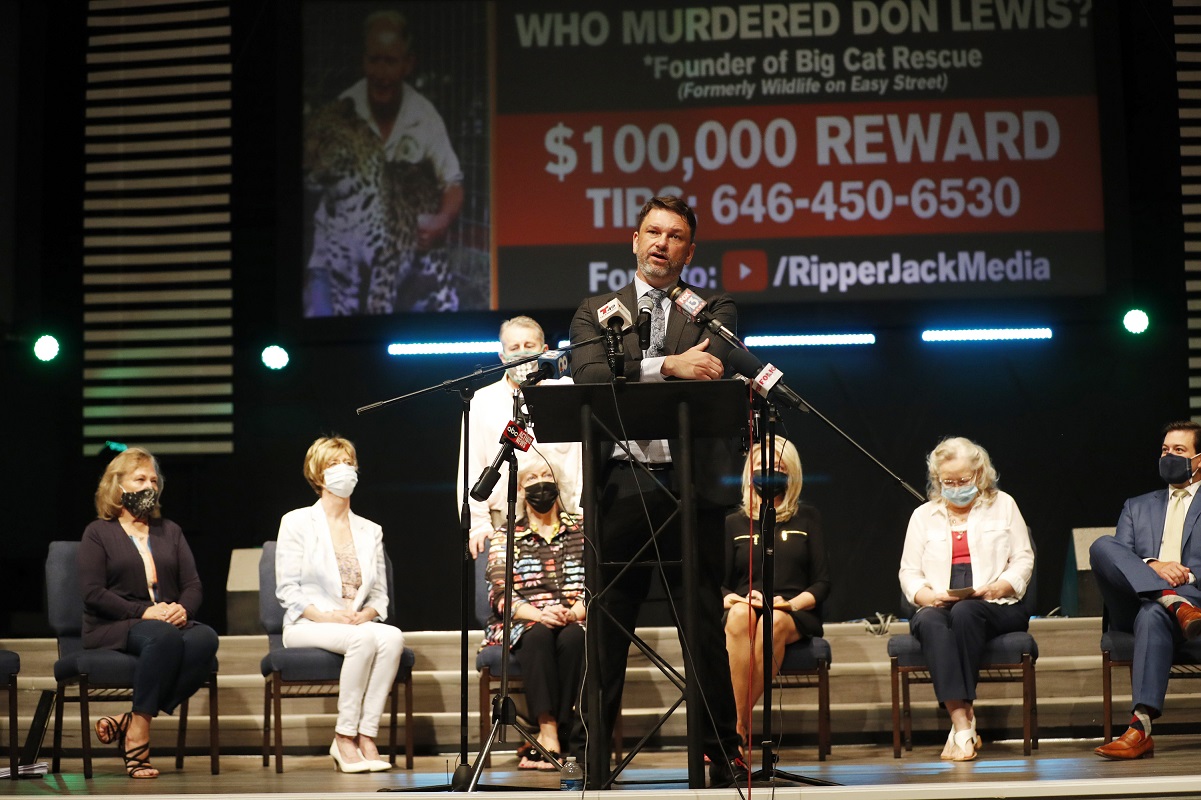 Did Carole Baskin kill her second husband?
Baskin became famous when she was featured in the Netflix docuseries Tiger King in March 2020. The documentary painted the big cat activist in a negative light throughout the series. Joseph "Joe Exotic" Maldonado-Passage repeatedly accused Baskin of killing her second husband, Jack "Don" Lewis, and feeding him to her tigers.
Baskin took part in the series to help spread the word about animal cruelty to big cats. Her husband, Lewis, disappeared in 1997 and was declared dead five years later, in 2002. His will left the majority of his estate, including the zoo that became Big Cat Rescue animal sanctuary to Baskin.
According to USA Today, someone forged Lewis' will; however, no criminal charges will be filed because limitations have passed. His disappearance remains an open case that the sheriff's office continues to work on.
Don Lewis' family paid to run a commercial during Baskin's debut on 'DWTS'
"I'm Gale, one of Lewis' daughters," the commercial begins. "We are a real family, and to us, he was 'Daddy.'"
Lewis's other two daughters, Lynda and Donna, also appear in the video telling fans that they miss their father. The missing husband's assistant asks for "Justice for Don."
"Don Lewis mysteriously disappeared in 1997," the family attorney, John M. Philips, explains. "His family deserves answers. They deserve justice. Do you know who did this or if Carole Baskin was involved?"
The family is offering a $100,000 reward for information about what happened to Baskin's former husband.
Fans were shocked to see the commercial before Baskin competed on 'DWTS'
The Dancing With the Stars producers placed Baskin's performance last during the premiere to build-up to the drama. The animal rights activist admitted numerous times that she has no dancing experience, and she delivered on that promise.
"Carole Baskin is an absolutely terrible dancer," Meghan McCain tweeted. "[She] danced to 'The Eye of the Tiger' and definitely murdered her husband with sardine oil. And what am I doing with my life?"
The judges tried to be kind to Baskin, but they gave her the lowest score of the night — 11 out of a possible 30 points.
"It was kind of sedated," Bruno Tonioli told Baskin. "It didn't pop the way it should."
Fans are curious to see how long Baskin will last on the show.