'DWTS' Champ Derek Hough Revealed His Critique on the Judges: 'Bruno's Just Crazy'
Mirrorball champ Derek Hough got a turn in the judge's chair for season 29 of Dancing With the Stars. On the show as a competitor for 17 seasons, Hough was on the receiving end of critiques by Carrie Ann Inaba, Len Goodman, and Bruno Tonioli. Turning the tables in his 2015 memoir, Hough gave his own assessment of the panel.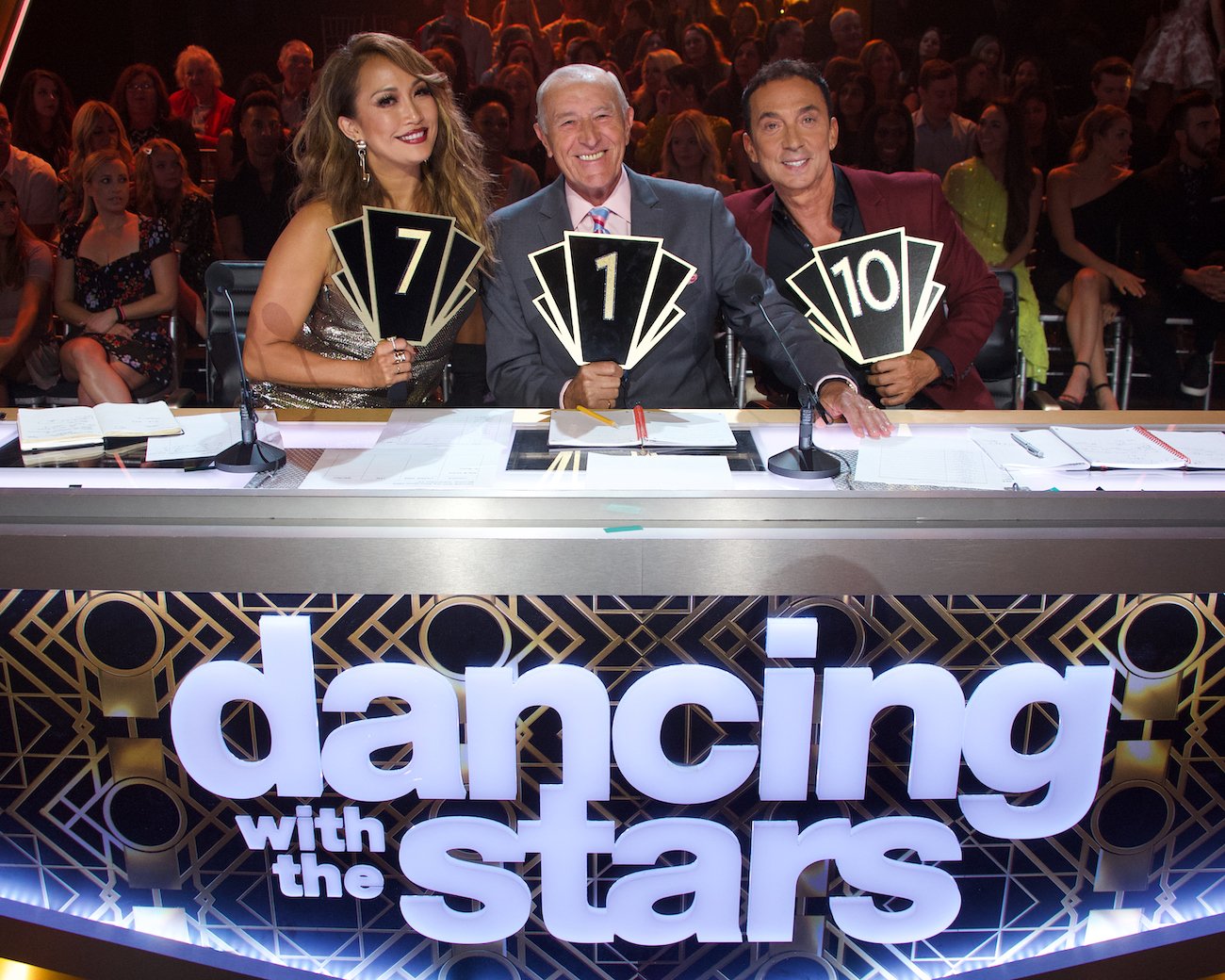 Len Goodman of 'DWTS' has a soft side
Known for his brusque demeanor and often labeled as the resident grouch, Goodman is a retired professional ballroom dancer. Before taking a seat at the judge's table on DWTS, Goodman was head judge on BBC One's Strictly Come Dancing. Apparently, Hough and Goodman go way back.
"I knew Len back when I was a kid in London," Hough revealed in his 2015 book, Taking the Lead: Lessons from a Life in Motion. "Sometimes, he'll come up to me in the hallway after he's just blasted me onstage and say, 'I loved it. That was bloody marvelous.' So much for being tough!"
Despite Goodman's pointed delivery of his opinion at times, the Mirrorball champ always considered him an expert in the dance arena.
"He's a great guy and I think he's brilliant at what he does," Hough wrote of Goodman. "He has a great way with words."
Carrie Ann Inaba and Bruno Tonioli provide balance
One of the original Fly Girls on Fox Network's previous sketch series In Living Color, Inaba knows of what she speaks when it comes to fancy footwork. Often giving impassioned assessments of performances on DWTS, Inaba's authenticity was considered an asset by Hough.
"As for Carrie Ann, good for her for being so open," the World of Dance judge remarked. "It makes me happy when I see her get emotional."
Tonioli is still considered the most demonstrative of the judges. Hough only had one request of the Italian choreographer.
"Bruno's just crazy," Hough wrote. "Enough said. As long as he keeps his shirt on, I'm good."
Derek Hough named his top guest judge … and it's not his sister Julianne
Both Hough and his younger sister, Julianne, also a former DWTS Mirrorball champ, have both served as judges on the show. Yet the Utah native put Oscar winner Cher as his number one guest on the panel.
"The first time she gave a score, she didn't say the number, she said her name," Hough recalled of the Moonstruck star. "Carrie Ann says, 'Seven,' Bruno says, 'Seven,' and she says, 'Cher!' I just thought that was absolutely priceless and hilarious."
Whether it was dealing with judges or teaching new partners some complicated dance moves, Hough relished his time on Dancing With the Stars.
"It transformed me," he wrote in 2015 of the show. "I was very much self-concerned in my early career; it was all about me. But this show is not about you, it's about your partner and bringing out the best in them. I want them to shine. Taking another human being on a journey from no experience to something extraordinary in a short amount of time is a great gift. … It's been an incredible experience that I am so grateful for."