'DWTS': Derek Hough Hits Disney After Recovering From Covid – Fans Hope He Proposes to Girlfriend Hayley Erbert
Derek Hough from Dancing With the Stars visited Disney World with girlfriend Hayley Erbert after recovering from coronavirus (Covid-19) and fans hope the visit might spark a proposal.
Hough, who was tested positive with a breakthrough Covid-19 infection a few weeks ago spent time in quarantine. He was able to spend the Thanksgiving holiday with friends and family before setting his sights on the "Happiest Place on Earth." He and sister Julianne Hough hosted The Wonderful World of Disney: Magical Holiday Celebration.
Derek Hough and girlfriend Hayley Erbert hit the parks and fans hope for a proposal
Fans were happy that Hough recovered and could enjoy Disney. "Disney Day with my [heart emoji]," Hough shared on Instagram along with a photo of the couple wearing Disney sweatshirts.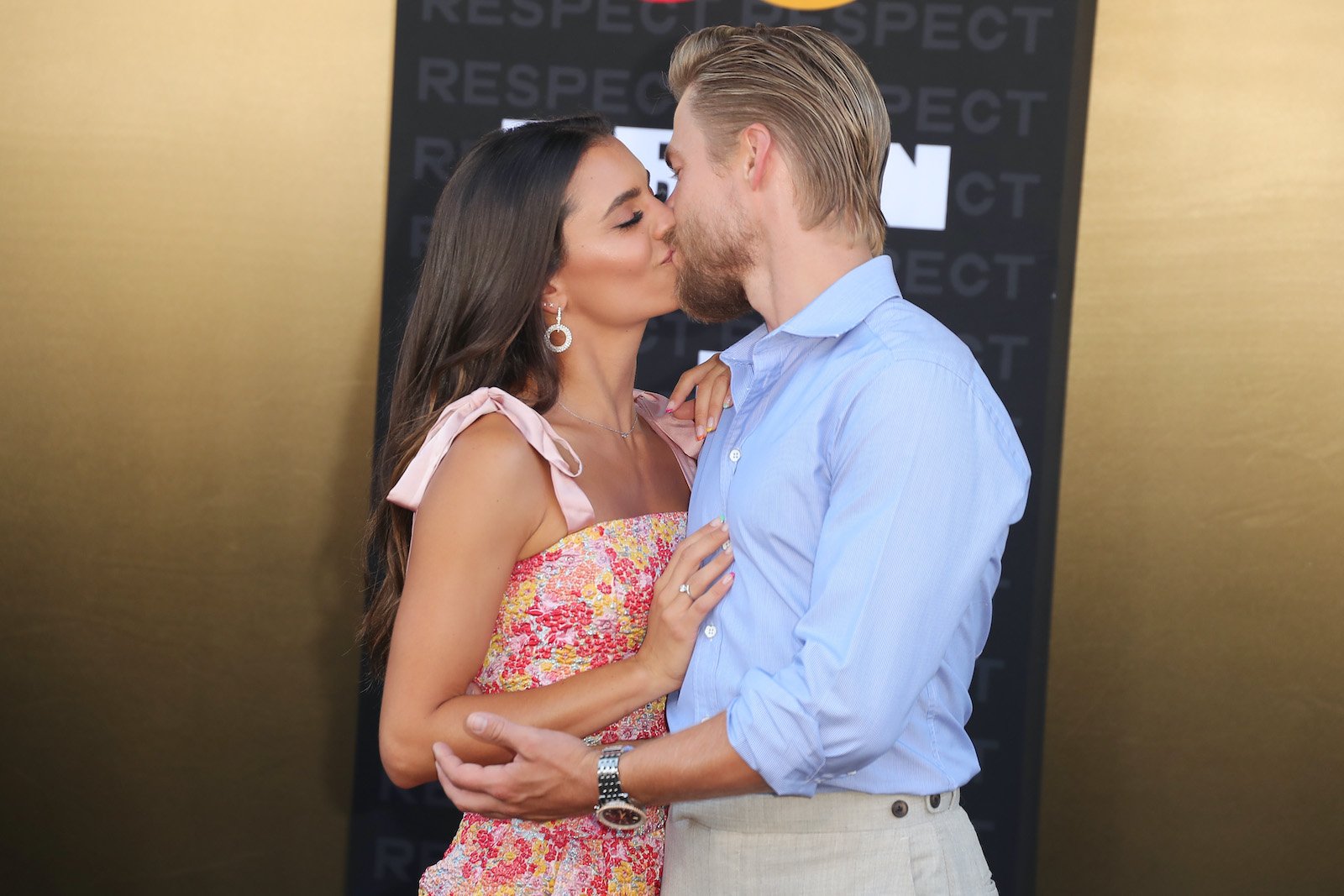 Hough's fans immediately started making suggestions that he propose. "Seems like a perfectly magical place to propose…just sayin!!!" one person shared in the comments. A few fans wondered if the ring Erbert was wearing was an engagement ring. But they realized it wasn't on the right finger.
"Agreed propose!! Haley is the one! She is fabulous in every way. It so easy to see," another fan added.
One of Hough's fans thought Disney was the perfect place to go after dealing with Covid. "Glad to see you are feeling better. Where else would you go after being quarantined, than the happiest place on earth?!?"
A few fans actually saw Hough and Erbert at the park. "Saw you guys at Space 220, didn't want to be [bothered] during your lunch but my daughter and I totally were star struck!" Other fans also saw the couple in the park. "I am too! They seem so friendly and down-to-earth! Their dancing is magical!"
'DWTS' fans hoped he would propose on the show last year
Hoping for the big proposal isn't anything new for Hough and Erbert. When Erbert joined Dancing with the Stars last year, fans hoped Hough would pop the question on the show. In fact, they addressed the question on their YouTube channel.
"No," Hough remarked (via People). Ebert added, "That's not us." Hough later re-addressed the question of marriage with Entertainment Tonight.
"I'm just going to be straight up, that's not happening," he insisted. "Just because, that's just not my style I don't think, you know?"
"Even though on [our] YouTube we said, 'Hey, if we get 500,000 subscribers then we'll do it.' Of course, that was a joke, but also I was like, it's a joke, but if it happens…I'm just kidding!" he added.
How did Derek Hough and Hayley Erbert meet?
Hough and Erbert started dating in 2016, but it took some time for him to go public with the relationship. However, he said keeping it quiet became exhausting so he finally shared they were dating.
"It's just tiring. It was liberating, honestly, just being like, 'Hey, this is our relationship. This is cool. This is what it is and it's great,'" he told ET. "I think I just kind of got almost conditioned to feel or believe that I have to hide everything. When in reality I was just like, 'You know what? There's a freedom to just being open about it.'"
"It's been wonderful and it's brought us closer together in certain things," he continued. "It just feels good. It feels light."
They also performed the Paso Doble on the show in 2020. "It worked out well because, obviously, we're dancers. And my girl, she's an extraordinary dancer. So it was a perfect excuse to be able to dance together on the show," he said. "I'm just going to really just enjoy the whole experience."