'DWTS': Derek Hough Said This Partner Kept Apologizing in Their First Lesson for 'Not Being Nicole Scherzinger'
Derek Hough of Dancing With the Stars is a six-time Mirrorball trophy champ. Paired with numerous celebrities during his stint on the show, Hough helped one former partner overcome her insecurities as well as comparisons to a previous competitor.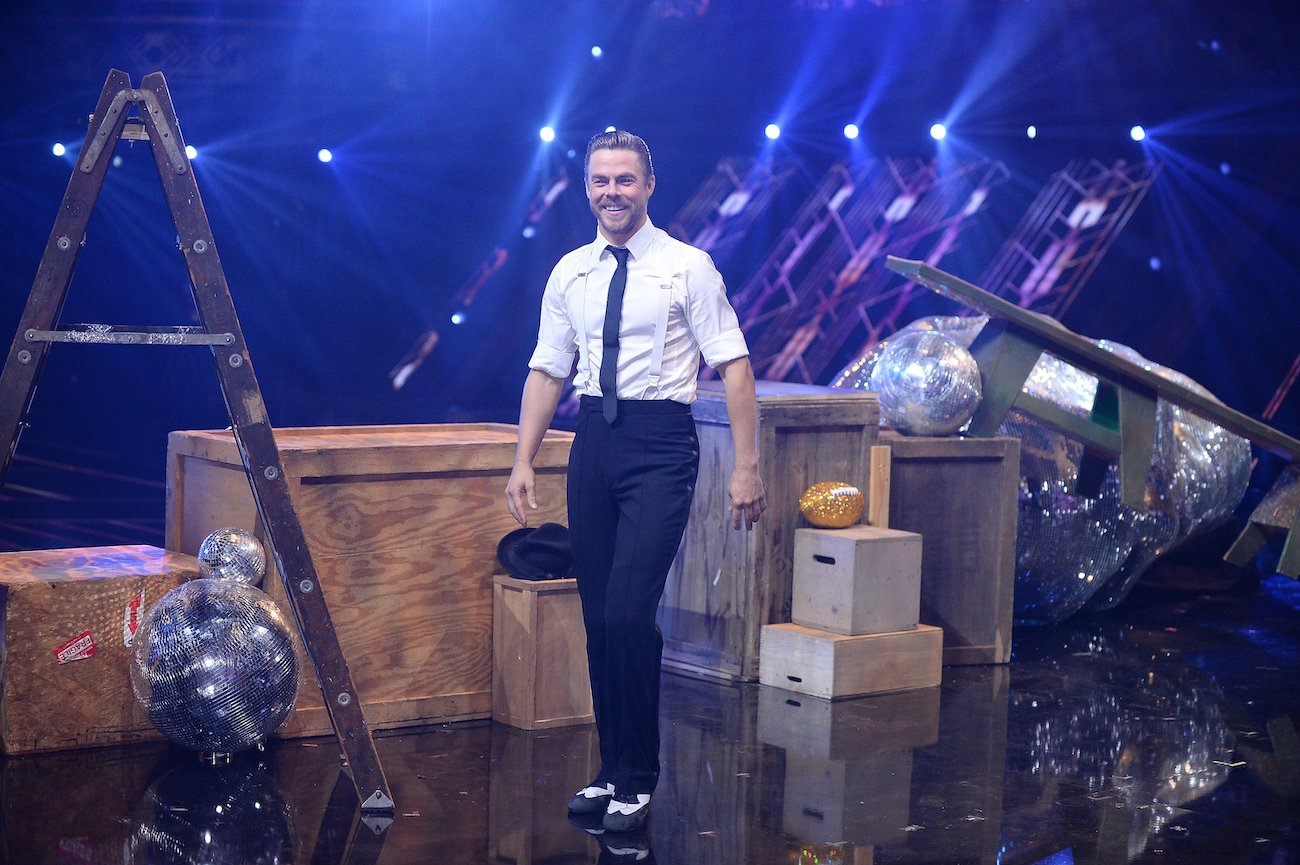 Ricki Lake joined 'DWTS' in the 13th season
When Hough met his season 13 partner, Ricki Lake, he saw that she had "amazing energy and excitement," yet also exhibited some insecurity.
"I noticed that she wore this khaki baseball hat low on her forehead, just covering her eyes," Hough recalled in his 2015 memoir, Taking the Lead: Lessons from a Life in Motion. "As I started teaching her, I told her, 'You need to look in the mirror so you can see that you're out of alignment.' … 'I hate looking in the mirror,' she admitted."
As Lake critiqued herself on what she wanted to change physically, she also kept holding herself up to one of Hough's former partners with whom he'd won the Mirrorball trophy.
"I knew a little bit of [Lake's] history – she'd lost more than a hundred pounds since she was the star of Hairspray, and she wanted to tone up now after having her second child," Hough explained. "She spent a lot of the first lesson apologizing for 'not being Nicole Scherzinger.'"
Derek Hough understood his partner's fears
Hough and the Pussycat Dolls lead singer had brought home the Mirrorball in 2010. The DWTS pro attempted to prevent Lake from making comparisons.
"No matter how much I told her that it didn't matter if she had a Pussycat Dolls body, and that she should be proud of who she was, it didn't seem to sink in," Hough recalled of Lake.
Encouraging her to check her posture in the mirror only brought negative comments from Lake about herself each time she got a glimpse of herself. Hough understood exactly what his partner was experiencing due to his own past, yet had to break the critical mindset she possessed.
"I knew this fear of the mirror firsthand," he shared in his book. "As a teenager, I had terrible acne – huge boils on my face – and I avoided mirrors like the plague. But in dance, you need the mirror to help make corrections – in that respect, it's your best friend. I had learned that, and Ricki needed to, also."
'Tackle fear head-on'
With the studio showcasing wall-to-wall mirrors, Hough knew he had to break down Lake's fear in order for them to have a chance in the competition. Once the two began practicing, he was able to chip away at her apprehension.
"We struck a few poses for the Viennese waltz and I told her, 'Look! … See how beautiful you look?'" Hough recalled. "She glanced in the mirror and her eyes lit up. 'Is that me?'"
After that initial breakthrough, Lake became more confident about strutting her stuff. The DWTS alum credited the former talk show personality for her courage at facing her fears.
"Over the next few weeks, the hat came off, her posture started to change, and an air of confidence took hold," Hough wrote. "It was an incredible transformation, both physical and mental. The confidence she portrayed became genuine. Ricki was a great reminder for me of how you should always tackle fear head-on."
Hough and Lake made it to the finals in season 13, landing in third place for the competition.