'DWTS' Star Val Chmerkovskiy Revealed What Zendaya's Father Thought of Rehearsals: 'Only I Speak to My Daughter That Way'
Val Chmerkovskiy of 'Dancing With the Stars' had to take a 'tough love' approach with Zendaya in season 16.
Mirrorball champ Val Chmerkovskiy has had a wide range of partners on Dancing With the Stars. Paired with Disney personality Zendaya in season 16, the pro dancer had to adjust his teaching style to be teen-friendly while compensating for their difference in height. Chmerkovskiy also had her parents, Claire and Kazembe, in attendance throughout the process.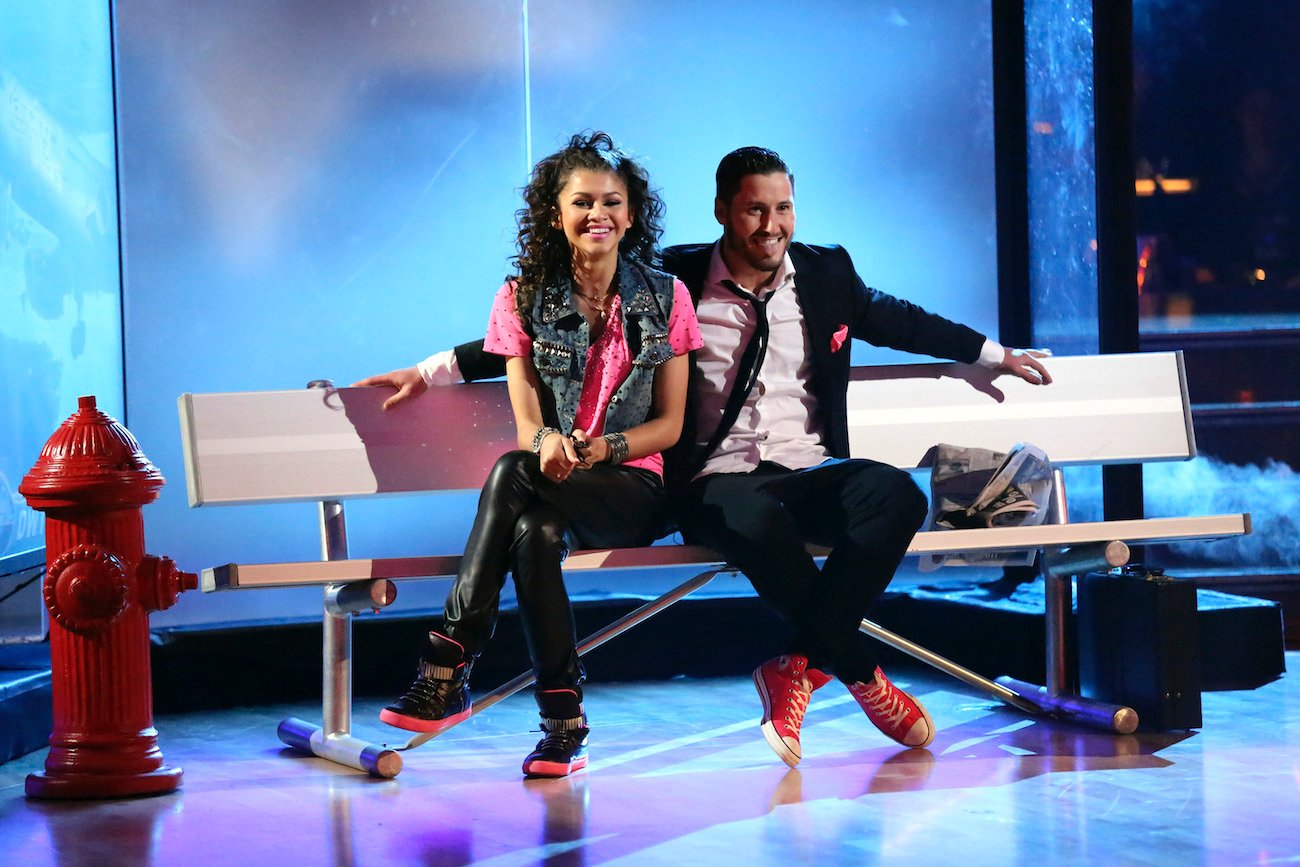 Val Chmerkovskiy's season 16 partner was a big change from season 15
In his 2018 book, I'll Never Change My Name: An Immigrant's American Dream from Ukraine to the USA to Dancing with the Stars, Chmerkovskiy recalled being assigned Zendaya as his partner. Having just come off of season 15 with soap star Kelly Monaco, who was just a few inches over five feet and in her 30s, Chmerkovskiy was at first apprehensive about the pairing. He reached out to the show's casting director, Deena Katz, to voice his concerns.
"'I've just had my best season on Dancing With the Stars partnered with a 5'4″ 36-year-old, and so the next season you follow that up with a 16-year-old who's 6'5?'" Chmerkovskiy recalled saying to Katz. "'What are you trying to do, give me whiplash?'"
The DWTS pro realized he'd have to make some serious shifts in his approach in comparison to the previous season.
"The notion of adjusting to a role and really committing to a role held true no matter what the show threw at me," he wrote. "From the perfect grown-a*s woman in Kelly Monaco, I had to transition to a 16-year-old Disney star, Zendaya. My range was truly being tested, both as a teach and a dancer. I couldn't image two partners more different."
'DWTS' star had to set a firm tone
Chmerkovskiy went immediately into the teacher role once rehearsals began, when Zendaya showed up late after an appearance on the Teen Choice Awards.
"She passed by me with no apology, no acknowledgment even," Chmerkovskiy recalled. "I realized that Zendaya wasn't fully present in that moment. Where was the sense of building camaraderie with your teammate? … No, 'Hey Val, I'm so sorry I'm late.'"
Arriving with an entourage, Zendaya's lackluster showing prompted Chmerkovskiy to set a strict tone in order to motivate the Disney star.
"I shifted into teaching mode, which for me is like having tunnel vision," he explained. "Zendaya would do a step and I would weigh in with constant feedback, challenging her every move. … 'You're going to give me ten of those steps perfectly,' I told her. 'Because it's not about greatness every once in a while, or only sometimes, but greatness every single time.' I clapped my hands for emphasis. EV-er-y-SING-le-TIME! The room around us fell silent."
Zendaya's dad was initially put off by Val Chmerkovskiy's approach
Chmerkovskiy's authoritative strategy was designed to push Zendaya to the level he knew she could reach.
"Somebody was holding her accountable," he wrote. "Creating an environment where she could truly grow and learn and become the very best version of herself."
The Euphoria star's parents were at first surprised by Chmerkovskiy's "tough love" style, where even Zendaya's tutor told him they "weren't expecting this." But they soon saw the positive results from his approach.
"'I wanted to kill you, man,' Kazembe told me later," Chmerkovskiy revealed of Zendaya's father. "'I'd never heard anybody speak to my daughter that way. Only I speak to my daughter that way. But I couldn't criticize or say anything to you, because you know what? That's exactly what I would have told her. You were saying the kind of things that I tell her.'"
Chmerkovskiy and Zendaya finished the season in second place. The DWTS pro credited the young star for their high ranking.
"At every point between our initial introduction and that second-place finish, Zendaya had been excellent," Chmerkovskiy shared. "I probably had one of the best seasons I ever had. … We're still like family: she became my sibling, the sister I never had."