'DWTS': Why Britt Stewart Couldn't Stop Crying When She and Johnny Weir Were Eliminated
Britt Stewart has no regrets about her first season as a pro on Dancing With the Stars. She spoke with Showbiz Cheat Sheet over the phone about this week's semi-finals elimination, her figure skating partner Johnny Weir, and why she couldn't stop crying after being eliminated from the competition.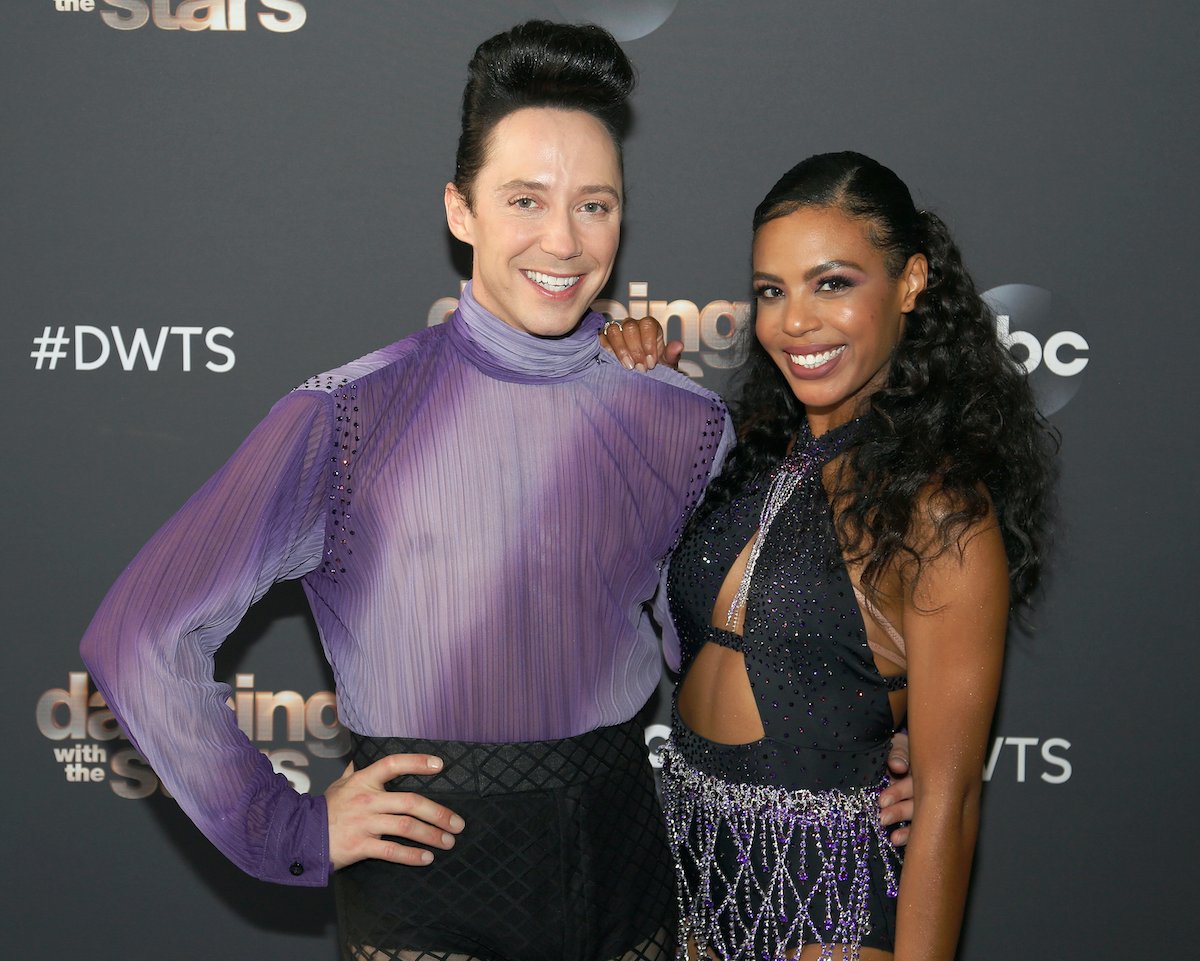 Johnny Weir and Britt Stewart are out of the running for the Mirror Ball
Weir and Britt were off to a great start in season 29. As a professional figure skater, many expected Weir to excel in ballroom dance. Stewart explained to Showbiz how drastically different ballroom is from competitive skating. 
Regardless of his lack of dance experience, Weir worked to learn the skills necessary to succeed in the ballroom. Just as many fans were, Stewart admitted she was shocked when she and Weir were eliminated from the competition during semi-finals.
"We were very shocked," she told Showbiz. "First of all, we are both so grateful and so blessed to have the season that we had. I have zero regret [and] I would not take back one moment for anything. I am so pleased with how Johnny performed [in the] semi-finals, but also the entire season." 
Of course, Stewart and Weir wanted to make it to the finale, if only to show off their final dance moves.
"We were really hoping to get the chance to do our freestyle," Stewart added. Monday's double elimination also sent Skai Jackson and Alan Bersten home.
Britt Stewart says 'Dancing With the Stars' is a popularity contest
Competing on DWTS requires dedication. But practice isn't the only thing required to win the Mirror Ball. A couple needs fans to vote. 
"It's such an amazing season and there's so much talent," Stewart conceded. "Dancing With the Stars is a dance competition, but at the same time, it's also about popularity and who has a lot of fans and who the audience is enjoying [at the] moment."
As the couple with the smallest fan base, Stewart said she and Weir knew what they were up against. 
Britt Stewart 'couldn't stop crying' when she and Johnny Weir got eliminated
During our conversation, Stewart admitted she spent a lot of time crying Monday night. But it's not for the reasons fans might think. Of course, Stewart was upset to be out of the competition. Her tears weren't out of sadness, though. Stewart was crying tears of joy. 
"I couldn't stop crying because I was so happy," she said. Stewart called Weir a "counterpart" she feels blessed to have met.
Being partnered with Weir allowed Stewart to be her authentic self each and every Monday. 
RELATED: 'Dancing With the Stars': Why Cheryl Burke Feels Disconnected From the Show
"We got to send a message to so many people to be authentically themselves," Stewart said of her joy.
From the time that we first met, I looked at Johnny and I said, 'We are very 2020.' Dancing With the Stars has never had a partnership like our team. We really pushed the boundaries between gender and sex and race and sexuality [this season]. We really blended those lines. So I'm proud of that.
Though their DWTS journey has come to an end, Stewart plans to keep Weir in her life. "This won't be the last of what Johnny and I do together," Stewart concluded. "We're already trying to think of other ways that we can work together and still be in each other's lives." 
Stay tuned to Showbiz Cheat Sheet to see what the future has in store for Stewart and Weir.