Dylan Barbour Doesn't Need You to Tell Him How 'Lucky' He Is to Have Hannah Godwin
Though a new season of The Bachelor is fully underway, Bachelor in Paradise fans are still fully invested in Dylan Barbour and Hannah Godwin. The pair remains the only couple that is still engaged after their whirlwind romance on the beach this Summer. In fact, the only other couple this is still together post-paradise is Dean Unglert and Caelynn Miller-Keyes, which is a surprise to most fans of the franchise. Of course, fans can't help but cheer the couples on, but Barbour wants people to know that he doesn't need them to fully appreciate his fiancée.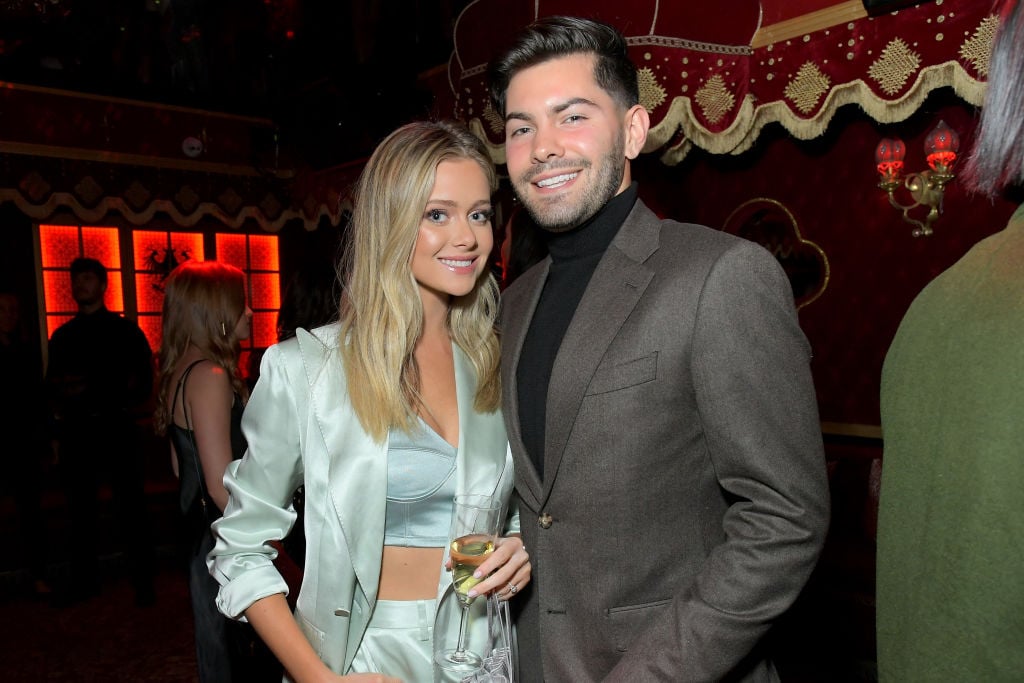 As an influencer and a model, Godwin is no stranger to posting pretty pictures of herself. The Bachelor alum is currently on a trip with Modeliste Magazine in Punta Cana. The magazine focuses on fashion, travel, and beauty and put together an influencer trip at the Chic Mansion. Thus far, Godwin has had the opportunity to take a mojito making class, connect with local wildlife, go swimming, eat delicious meals, and more. She's done all this whilst sampling and promoting products to her 1.5 million followers.
Hannah Godwin receives praise for an Instagram post
On January 15, 2020, Godwin took to her Instagram page to share a photo of herself in Punta Cana. She is sporting a full head of beach waves, dons a swimsuit, and is staring directly into the camera. "Hair so big it's full of secrets (& typically frizz lol). NOT TODAY THOUGH thanks to this @colorwowhair dream coat curl," the 24-year-old captioned the photo, making a reference to the iconic film Mean Girls.
Almost instantly, the post managed to rack up thousands of likes and positive comments on Instagram. "Haha love the caption!! Super cute shot of you 👌love that swimmie and you look so beautiful 💗hope you have a great rest of your week and have fun love!!💕" one Bachelor in Paradise fan wrote to Godwin. Other fans were impressed by the photo as well and tagged Barbour to make sure he understood just how lucky he was to have snagged Godwin as a fiancée. "Yasssss girllllll😍🔥 how lucky r u @dylanbarbour?!" one person exclaimed. "@dylanbarbour is a lucky man 🔥🔥🔥❤️❤️🙌🏻🙌🏻🙌🏻 " another fan co-signed.
Dylan Barbour knows he's lucky to be engaged to Godwin
Seeing the incessant tags, Barbour chose to speak out about them. "Everyone tagging me saying I'm lucky AS IF I DONT ALREADY KNOW MY FIANCÉE SLAYS," Barbour proclaimed, showing Godwin his seemingly ever-present support. Godwin was quick to show her appreciation for her fiancé's appreciation. "You little hot supportive dude, thank you," the model commented back. Barbour is actually famed for openly supporting Godwin whenever he can. Fans of the couple actually get excited when they manage to comment on one of Godwin's pictures before Barbour. In fact, Barbour has even called his Instagram page a fan account for Godwin. "Off. Hannah G Stan Account (she follows)," his Instagram bio reads.
No trouble in paradise
Fans certainly love the love that the couple shares and feel compelled to tell them all the time. "Remember watching BIP and how he only had eyes for her and fought for only her, and the decision came out perfectly, perfection..💜💜💜" one person commented. "You are beautiful and blessed to be with Dylan. The way he looks at you. Omg. Hold on tight to him!! You are both a gorgeous couple," another commented. Looks like there's no trouble in Paradise for Godwin and Barbour. We're sure Bachelor Nation can't wait for them to tie the knot.