Dylan Barbour Calls out Fans Who Are Saying Madison Prewett Shouldn't Have Gone on 'The Bachelor'
Dylan Barbour starred on Hannah Brown's season of The Bachelorette. While he didn't find love with the former beauty pageant queen, he went on to star in the most recent season of Bachelor in Paradise where he got engaged to his now-fiancé, Hannah Godwin (from Colton Underwood's season of The Bachelor).
Though Barbour's happily engaged, he still weighs in on Bachelor happenings on his social accounts. Perhaps he's especially invested in Peter Weber's season because the two are friends (they met on Brown's season).
So last night, during fantasy suites, Barbour took to Twitter to share his thoughts.
"I'm just hoping we see some good 'ole PG-13 fun tonight! #TheBachelor," he began the evening.
Peter Weber's fantasy suite date with Madison Prewett
As fans know, the drama in last night's episode (for once) had nothing to do with controversial contestant Victoria Fuller. Instead, most of the show was dedicated to Weber's fantasy suite with Madison Prewett. After hometowns, Madison told Weber she'd exit the show if he slept with the other contestants. Then, during the dinner portion of their fantasy suite date, she told the bachelor she was waiting to have sex until after she was married. She also checked in on her previous request.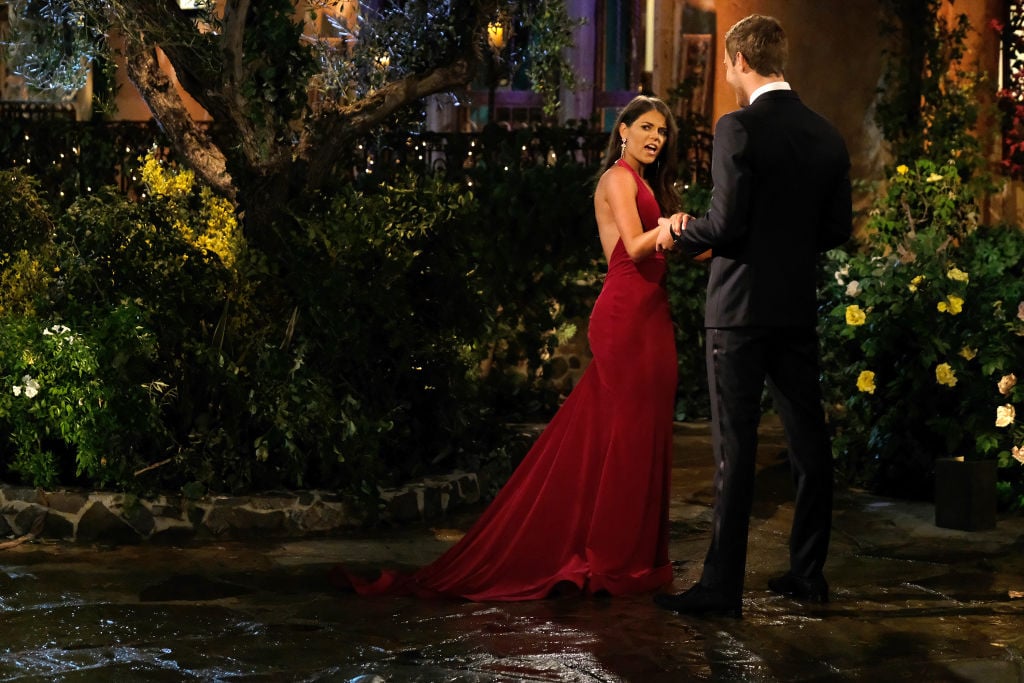 The pilot told Madison he'd been "intimate," and she walked off. The end of the episode suggested she made the decision to leave the show.
Twitter was ablaze with commentary about the situation. We stan Madison's high standards! What's the difference between Madison and Luke P.? Madison should have told Peter sooner she's a virgin. And so on.
Barbour also weighed in.
"the "why did you go on the show" take is so ignorant re: Madison #TheBachelor," he tweeted.
Bachelor Nation responds to Dylan Barbour's tweet about Madison Prewett
"Actually it isn't. Peter is infamous for windmilling, if it was such a strong dealbreaker; he was NEVER the guy for her in the first place," responded one fan.
Barbour responded: "They weren't dating nor getting engaged when Peter was on the bachelorette so again another terrible take."
Another fan responded: "she should've told him about saving herself way long ago.. I don't like her," to which Barbour replied: "do you tell someone you've known for a day how many people you've had sex with?"
One fan speculated that Madison was maybe hoping for more of a Colton Underwood situation.
"She didn't expect him to be a virgin. She expected that, if he said he loved her, he wouldn't bang the others to "try them on for size". Colton didn't sleep with his final 3. He told the other 2 he only wanted Cassie. Madison hoped for the same," they tweeted.
And one fan believes everyone's missing the point.
"Some of these comments are making me so mad. So many people don't actually understand what she was trying to say. SHE DOESNT CARE THAT PETER ISNT A VIRGIN!!! What she has trouble with is how someone can be in love with you and have sex with other women days before an engagement," they wrote.
Some fans are thinking when Weber's mom tells him to "bring her home" she's referring to Madison. So maybe the pilot will chase after her in the finale. Either way, it seems Barbour isn't too hopeful about his friend's ending.
"Pete they did you dirty don't let them tell you different," he tweeted last night.
Read more: 'The Bachelorette': Hannah Brown and Jed Wyatt Were at the Same Party This Weekend