Ed Sheeran's Net Worth Reflects Just How Much He Makes on Tour
Musician Ed Sheeran has been a fixture in popular culture for several years now. In fact, many might not know how he became such a big name. The Grammy winner went from struggling singer in England to worldwide sensation all in his 20s, and he has the wealth to show for it. Here's how he became famous and his estimated net worth.
Ed Sheeran rose to prominence with his single 'The A Team'
As a singer, songwriter, guitar player, and occasional rapper, Sheeran had a lot going for him. Still, it's hard for anyone trying to get their start in the music business. Sheeran began to gain traction with + (plus), his first album. The single, "The A Team," became a huge hit first in the UK., and then internationally.
Around this time, Sheeran wrote music for other artists, such as the song "Little Things" for One Direction. He caught the attention of country/pop star Taylor Swift, who brought him on as the opening act for her Red Tour. The two became friends and collaborators, which was enough to help his career soar. Sheeran's music appeared on TV shows like The Vampire Diaries and in films such as The Hobbit: The Desolation of Smaug.
What is Ed Sheeran's net worth?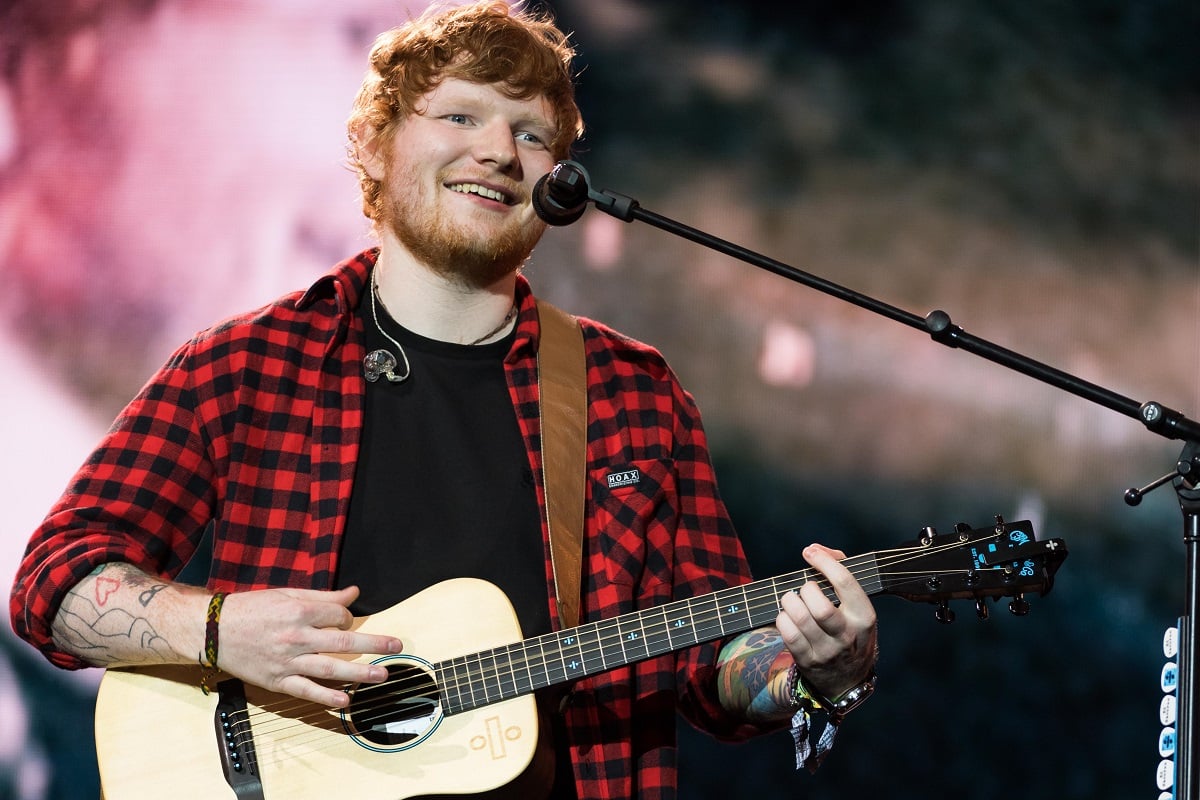 Given his success, Ed Sheeran's net worth is notably high. According to Celebrity Net Worth, he's worth around $200 million. Forbes notes he earned around $64 million in 2020, much of that for his ÷ (Divide) tour, which was the highest-grossing concert tour of all time.
Despite his incredible wealth, Sheeran doesn't like to spend a lot. In 2014, he told the Irish Examiner he bargain shops for DVDs, and even used his bank card from when he was a student. "If I had all my money in one account I would spend all of it, so I get an allowance," he explained.
While this likely isn't the case anymore, it's hard to imagine the guy who lived in Courteney Cox's house for months and wrote a song called "I Don't Want Your Money" is entirely focused on raking in the dough.
Ed Sheeran and his wife, Cherry Seaborn, have 2 children
Another reason Sheeran's spending habits have likely changed since his early career? He has others to provide for. After reconnecting in 2018, the singer married childhood friend Cherry Seaborn. The pair welcomed daughter Lyra Antarctica Seaborn Sheeran, in 2020. They kept Seaborn's pregnancy under wraps, and did the same in 2022. On May 19, Sheeran announced the birth of their second daughter.
The artist shared this news while headlining his +–=÷x (Mathematics) World Tour. The British singer was, appropriately, in the U.K. when he revealed the surprise to his fans on Instagram. Soon after, Sheeran released a new remix of his song "2step." What's more, he's done all of this coming off a recent court case.
Sheeran and frequent collaborator Johnny McDaid noted the "extraordinary strain" of the copyright case in an interview with BBC News. He spoke about how important it was for him to fight the claims around "Shape of You," having not done so for a similar case regarding a previous track. "We've now got to a point where we actually own all of the song again," he said, noting it wasn't "from a financial point of view, [it's] just to feel like it was our song again."