Ed Sheeran Once Lived in Courteney Cox's House
When living in the Hollywood bubble, some unusual friendships are bound to happen. While there's been a few very surprising ones, some are just more like a mother-son scenario. Or, at least so we think.
One like this is a friendship nobody expected: British pop superstar Ed Sheeran and Courteney Cox.
It turns out Cox and Sheeran hit it off, with former inviting latter to live in her Malibu home without charging any rent. When Sheeran was still a rising pop star, Cox seemed to sense he'd be shooting for the stars soon, something he paid back.
What did Sheeran do while living there? It turns out Cox might have created the perfect creative environment so Sheeran could increase his songwriting prowess.
Reaching the next plateau in his music career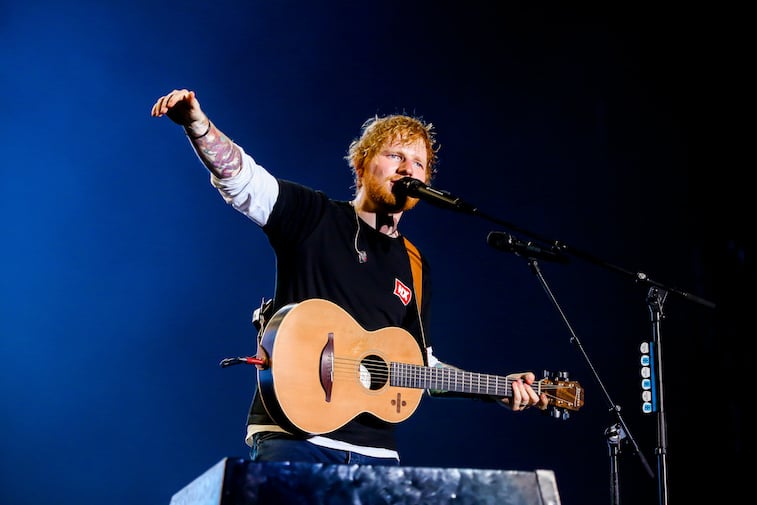 According to various reports on this Cox-Sheeran friendship, they were introduced by a mutual friend back in 2013. During this time, Sheeran had already found some major success in the music industry both in his native U.K. and in the U.S. His 2011 album (called +) shot to #5 on the U.S. Billboard charts.
He certainly wasn't some unknown when becoming friends with Courteney Cox. Nevertheless, his best music was yet to come. Most of his fans would say his real breakthrough as a musical superstar was with his next album (X).
Based on how Cox let Sheeran stay in her home and let him write music, his follow-up album might not have happened or been as successful without her providing him some sanctuary.
Is it true Cox created the best songwriting hideaway for a major artist? This might be an apropos gesture of generosity for other celebs who see an artist about ready to burgeon into superstardom.
There wasn't anything romantic going on
Some immediately assumed because Cox was letting Sheeran live in her home, they were maybe becoming a romantic pair. After all, Cox was fully divorced from David Arquette in 2013. Outside of Sheeran being younger than Cox, it wouldn't have been unusual for romantic age disparity in Hollywood.
No one really insinuated they were an item other than a few gossip columns. Proof of this was quashed when Sheeran managed to link Cox up with her eventual boyfriend/fiance (Johnny McDaid of Snow Patrol).
All along, Cox's generosity of allowing Sheeran to live in her home was possibly her sixth sense knowing what was ahead for latter. Sheeran has said he made the beds and made "cups of tea" to feel like he was a normal member of the household.
At the same time, he wrote some of the songs for his X album in Cox's house. Being in Cox's orbit also meant inevitably hanging out with other cast members of Friends.
Spending time with Jennifer Aniston as much as Courteney Cox
After his stint living with Cox, they still continued to hang out. In Thanksgiving of that year, he was invited to spend time at Jennifer Aniston's house. Everyone started whispering about a Friends reunion at the time, the first rumor of a million until news of the real thing came out recently.
Sheeran seemed to become an adopted member of Friends since he's been spotted hanging with Cox and Aniston numerous times ever since. The most recent reports had Sheeran doing an interesting double date with Cox in the West Hollywood area.
With Sheeran reportedly engaged to pro hockey player, Cherry Seaborn, he now considers her his real musical muse. Having them double-dating with Cox and McDaid made all the gossip sites blow up.
What's most interesting now is even though Sheeran admits to another woman being his musical inspiration, it seems Cox was as well. She just had the benefit of owning a beautiful mansion/retreat not many musicians have access to.