Eddie Van Halen and Other Rock Stars Who Welcomed Their Children Into Their Bands
Plenty of rock stars see their children follow in their footsteps, but few have had the pleasure of welcoming their children into their bands. Even fewer rock stars' children have replaced their parents.
Either way, it's often reassuring when rock stars' kids join their parents' bands. The music is always great. Here are 10 rock stars who've welcomed their children into their bands or were replaced by them altogether.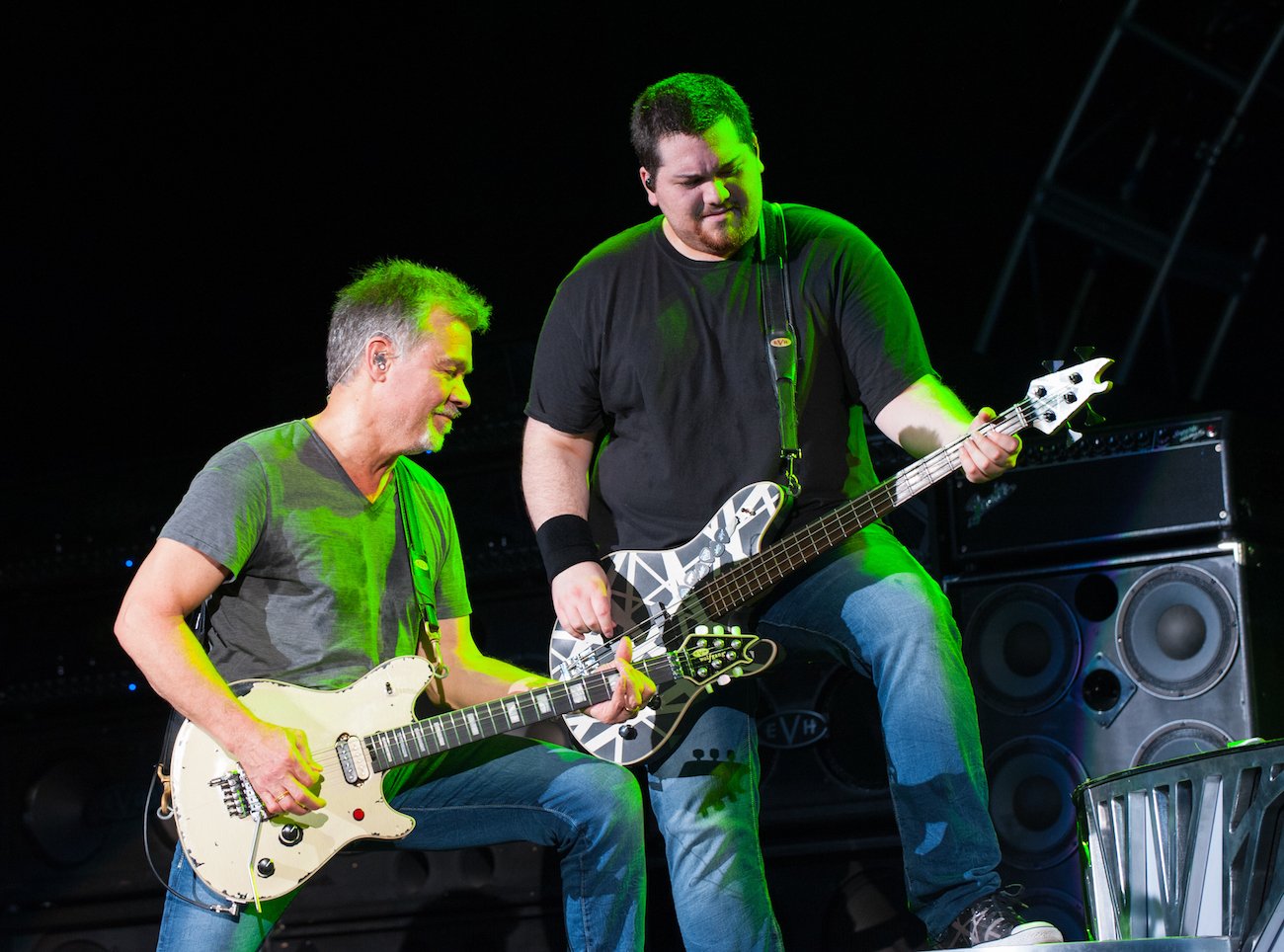 10. Led Zeppelin: John Bonham's son Jason Bonham
Fans knew they'd get a future John Bonham when they saw a four-year-old Jason Bonham behind a drum set in Led Zeppelin's concert film, The Song Remains the Same.
Nine years after John died in 1980, Jason jumped into his father's seat and became Led Zeppelin's drummer during Led Zeppelin's first-ever reunion at Atlantic Records' 40th Anniversary concert.
Later, Jason rejoined his father's bandmates in 2007 for Led Zeppelin's reunion concert at the O2 arena in London. Jason also plays drums in a Led Zeppelin tribute band.
RELATED: Why a Led Zeppelin Tour With Aerosmith's Steven Tyler Never Happened
9. Creedence Clearwater Revival: John Fogerty's son Shane Fogerty
According to Ultimate Classic Rock, John Fogerty's son, Shane, regularly tours with the ex-Creedence Clearwater Revival frontman. Shane also appeared on his father's Grammy-winning album, Blue Moon Swamp, in 1997.
8. Eagles: Glenn Frey's son Deacon Frey
Like Jason Bonham, Glenn Frey's son Deacon replaced his father in the Eagles after Glenn died in 2016. The band was going to call it quits. However, a year later, Deacon agreed to fill Glenn's shoes. He started to play guitar and sing at a couple of gigs. Deacon also accompanied the Eagles on tour in 2017.
RELATED: Linda Ronstadt Realized She Had to Cover This Song While Listening to It With 1 of The Eagles
7. Willie Nelson and his sons Lukas and Micah
Willie Nelson's sons, Lukas and Micah, have performed with him on stage a few times. They also have their bands Lukas and the Promise of the Real and Particle Kid.
6. Cheap Trick: Rick Nielsen and his son Daxx
Cheap Trick got a second Nielsen when guitarist Rick Nielsen's son Daxx Nielsen jumped in to replace drummer Bun E. Carlos. Daxx has also released several albums with his band, Harmony Riley.
RELATED: The Classic 1970s Rock Song That's Supposed to Sound Like ABBA
5. Tom Waits and his son Casey
Tom Waits oldest son, Casey Waits, is the drummer in his father's band. Casey also made his recorded debut in 2004's Real Gone.
4. Eddie Money and his children Desmond, Jesse and Julian
Eddie Money's three children, Desmond, Jesse, and Julian, have performed with the musician in his touring band. In Desmond's group, Dez Money and the Faze, the siblings also perform together. Jesse provides background vocals and Julian drums. They released their debut album in 2015.
3. Yes: Rick Wakeman and his son Oliver
Rick Wakeman's son Oliver filled in for his father as the prog-rock band Yes' keyboardist. Oliver filled in from 2008 to 2011. Before that, he had a successful solo career.
2. E Street Band: Max Weinberg and his son Jay
Bruce Springsteen and the E Street Band's drummer Max Weinberg had to leave mid-tour in 2009 to return as Conan O'Brien's drummer. So, his son Jay jumped in his seat. Jay has also played with Madball, Against Me! He also joined Slipknot in 2014.
1. Van Halen: Eddie Van Halen and his son Wolfgang Van Halen
Van Halen was already a family-oriented band with the Van Halen brothers Eddie and Alex Van Halen. But the late Eddie added another Van Halen when he replaced bassist Michael Anthony with his son Wolfgang Van Halen in 2006. Wolfgang was also a member of Tremonti from 2012 to 2017 and has started his solo career.
So, plenty of rock stars have welcomed their children into their bands. Some musicians have replaced their parents. We hope many more rock stars welcome their children into their bands, though. Fans know how many musicians have followed in their famous parents' footsteps. Why can't they share the stage more and give us some memorable family performances?
RELATED: Valerie Bertinelli Reveals Ex-Husband Eddie Van Halen's Last Words: 'Maybe Next Time We'll Get It Right'