Eddie Vedder Talks Ringo Starr Collaboration on 'Earthling' Single 'Mrs. Mills' and Another Beatles Connection
Eddie Vedder invited Ringo Starr to play drums on "Mrs. Mills" because the song has a deep connection to The Beatles.
Eddie Vedder's new album Earthsong includes a collaboration with The Beatles drummer Ringo Starr. The song, "Mrs. Mills," has an even deeper connection to the band and specifically Paul McCartney. So it was a real coup to get Starr on the track.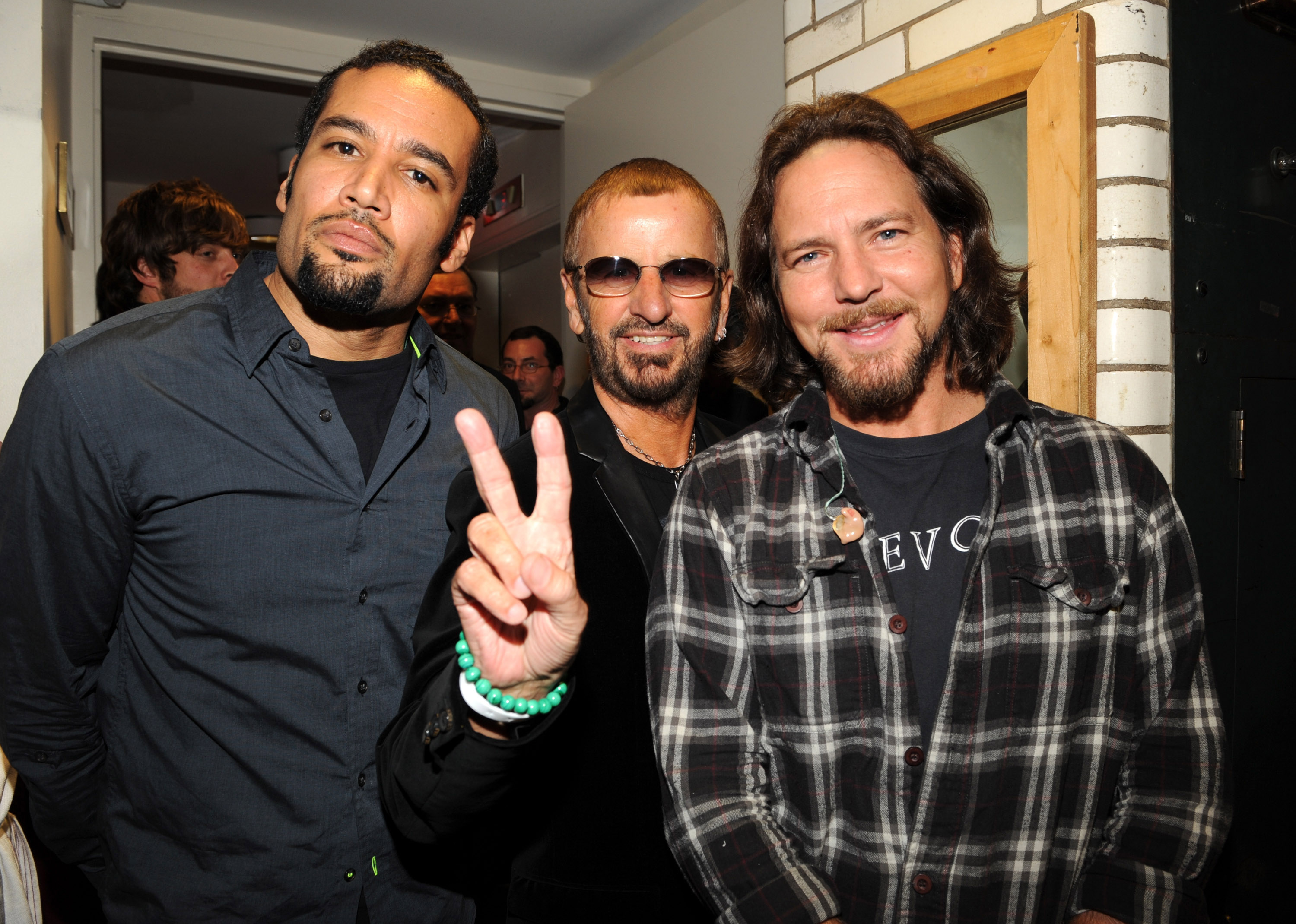 Vedder was a guest on the Smartless podcast on Feb. 14 to discuss Earthsong. When it came to the song "Mrs. Mills," Vedder explained why the song required a Beatle.
Eddie Vedder and Ringo Starr pay homage to The Beatles
"Mrs. Mills" has a piano medley and Vedder sings her story. It has a Beatles feel, although there's no mistaking Vedder's crooning for McCartney or John Lennon. If the drums sound like The Beatles too, that's because Ringo Starr joined Vedder to provide the song's rhythm.
"It did have a Beatle-esque feel to it," Vedder said on Smartless. "We thought about you'd kind of go for a Ringo type sound on the drums. We were able to reach him and he joyfully contributed and made it into something special. So we got to sit and record and play with Ringo. It was just a real education."
'Mrs. Mills' is about a piece of The Beatles history, too
Vedder explained that the song is inspired by the piano that was integral to The Beatles. McCartney had a special attachment to Mrs. Mills.
"There's a piano that resides at Abbey Road," Vedder said. "It was interesting to hear that Paul McCartney tried to purchase it to have it. I think it was the 'Lady Madonna' piano. They called it Mrs. Mills because it was left behind by a woman, Gladys Mills, who used to write english pub songs and singalongs. Her piano was left and they call it Mrs. Mills and it's still there because they refused to sell it to Paul."
Eddie Vedder had his own Mrs. Mills
Vedder couldn't the piano out of Abbey Road either, so he  got the next best thing.
"We had our own Mrs. Mills in California, the same model, Steinway," Vedder said. "The guy I was working with, Andrew, he had Elton John in there playing Mrs. Mills. Paul came in and played Mrs. Mills because they recorded a song together. Elton, we did a couple songs and he played the sh** out of Mrs. Mills. Then Stevie Wonder came in and Stevie was playing Mrs. Mills."
Mrs. Mills' independent spirit inspired Vedder's song.
"I started thinking about how this piano preferred not to be owned," Vedder said. "She just wanted to be there where all these fantastic men were laying their hands all over her and she liked it that way. So that's what the song is about."