Edward James Olmos Came Up With His Most Famous 'Miami Vice' Line on the Spot
Lt. Castillo telling Tubbs of back off is 1 of the greatest 'Miami Vice' moments. Edward James Olmos recalled making it up on the spot.
When Edward James Olmos got hired to play Lt. Martin Castillo on the Miami Vice series, he didn't have much preparation time. In fact, when Olmos fielded the call from showrunner Michael Mann, Mann said he needed Olmos on set (across the country) the following morning.
After some negotiating, Olmos agreed to take on Castillo, and he started watching the first episodes of Miami Vice as he packed. Right away, Olmos was blown away by the style of the Thomas Carter-directed pilot. But by the third episode, Olmos recognized a pattern in the lead characters' behavior.
Hot-shot vice detectives James "Sonny" Crockett (Don Johnson) and Ricardo "Rico" Tubbs (Philip Michael Thomas) always had something going on behind other characters' back, Olmos noticed.
"Crockett and Tubbs were dismissing the people they were talking to," Olmos said in a 2013 interview with the Television Academy. So on his flight in, Olmos figured out how his Castillo would neutralize Crockett and Tubbs. It began with the knockout punch of a line Olmos came up with in the moment.
Edward James Olmos surprised everyone with his Lt. Castillo interpretation on 'Miami Vice'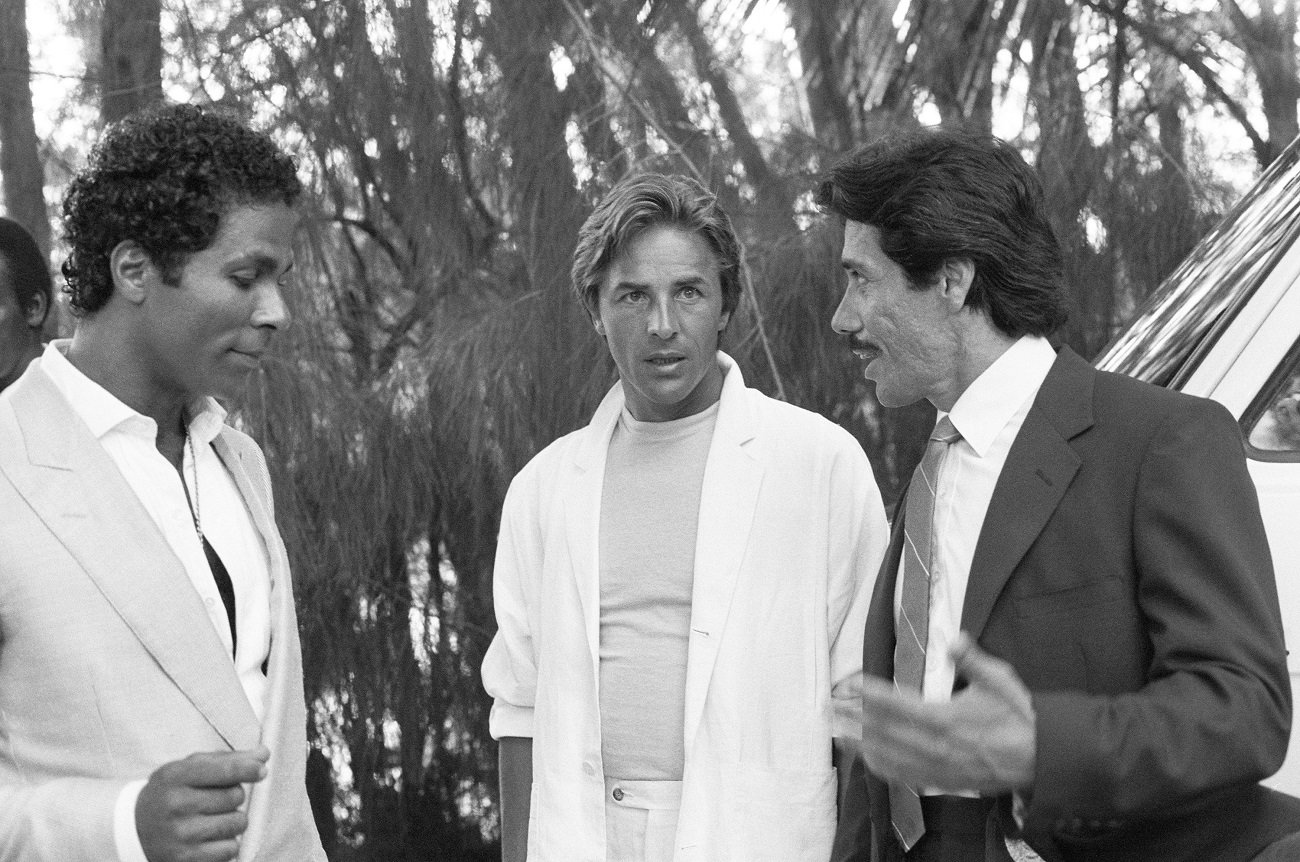 Prior to agreeing to play Lt. Castillo, Olmos insisted on getting creative control of his character. That came in handy when he arrived on the Miami Vice set. When he spoke to wardrobe about Castillo's clothing, he had them take a completely new direction and go simple.
Olmos did the same with Castillo's office. Though the set designer had set it up as a messy place full of clutter, Olmos had them remove everything. As for the way Crockett and Tubbs tried to get over on other characters, Olmos decided Castillo would put his foot down immediately.
Everything happened fast that first day on the set, but in his first scene as Castillo, Olmos found his way in. The action had Castillo, Crockett, and Tubbs on the scene of a murder — Crockett's high school sweetheart — in "One-Eyed Jack" (season 1 episode 6).
When Crockett notes that the killing was a signature move by a crime boss named Lombard (Dennis Farina), Castillo icily notes that "anybody can buy a 22 [caliber gun]." Then Tubbs gets very close to Castillo. He asks, "Whose side are you on?" Castillo's famous response wasn't in the script.
Olmos said he made up the famous line Castillo had telling Tubbs to get out of his face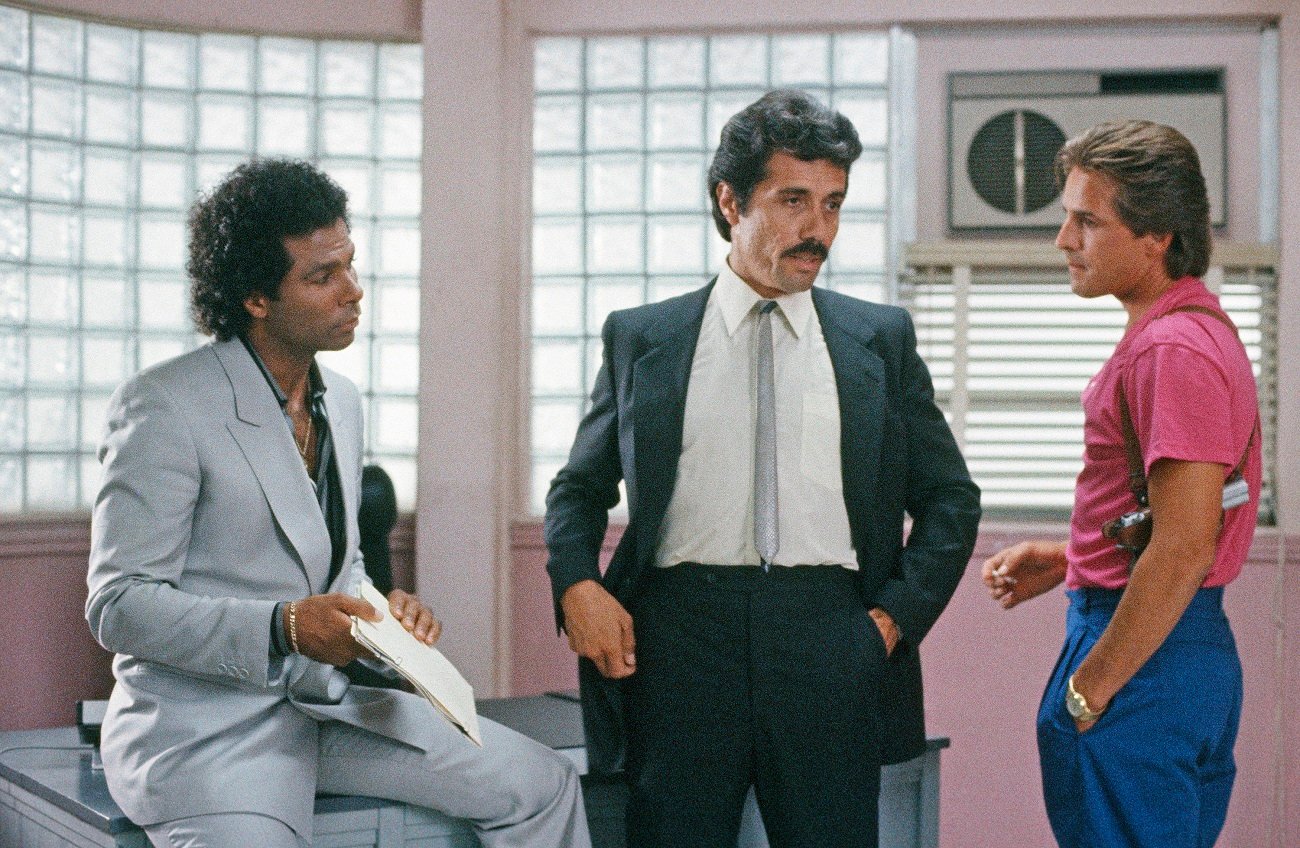 "I had found something on the ground," Olmos said in his Television Academy interview. "Literally, I found something there and I was looking at it. It was nothing, but I was looking at it." That distance — Castillo's sense of remove — clearly irked Crockett and Tubbs. And it helped Olmos' next line.
"When [Tubbs] finishes talking, I said, 'Don't ever come up to my face like this again,'" Olmos recalled. "And [shocked reaction]… That wasn't in the script. Crockett now had come over. He sees the reaction of Tubbs, and he [Thomas] was offended, as actor to actor."
If Olmos had planned to shake things up as Castillo, it worked from his first few lines. "Crockett grabs Tubbs and he pulls him away," Olmos recalled. "Because you feel like something was gonna happen — like he might even hit me." Olmos kept going with the approach for the first 10 or so episodes. "The guys could not dismiss me," Olmos said.