'Élite': Who is Carla's True Love ― Polo or Samuel?
Èlite's third season dropped on Netflix last week and the hit Spanish-language series seemingly wrapped up three years of storytelling. At the end of the trio of seasons, is it clear that Carla's (Ester Expósito) true love is Samuel (Itzan Escamilla)? Or is her true love Polo (Álvaro Rico).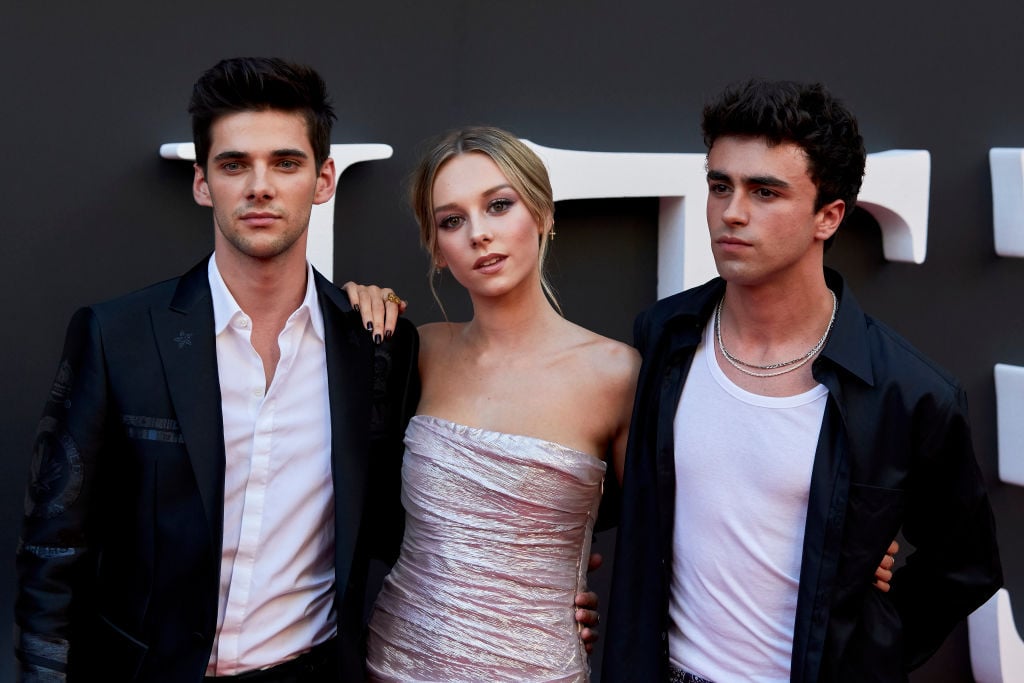 Polo was Carla's perfect fit (in a perfect world)
Polo and Carla were together for the first season before they slowly became more and more undone. While there was for sure love between the two, it seemed like their friendship was more so of a professional partnership with personal benefits.
But from the jump, as presented to viewers, there were always major holes in their relationship. Polo let Carla seduce Christian to appease her and then she brought Christian into their entire relationship in order to somehow be with them both and make Polo happy.
However, this all began to fall apart when Polo went behind Carla's back in order to have a sexual encounter with Christian himself, which he masterfully calculated, angering Christian as well. In the end, it turned out that Polo was the one on the outs and Christian and Carla became the couple. But Polo would stop at anything to win Carla back, though she acted like she wouldn't give him the time of day.
However, there was no doubt that Carla and Polo cared for each other very, very deeply and nothing about that aspect was one-sided. This was shown the most when she began to take charge and cover up Marina's murder after he killed her.
But at the end of the day, Carla was always willing to go there for the ones she loved. It was a full-circle moment when Lu accidentally killed Polo in this season's finale and Carla immediately took charge and worked to make sure Lu was not implicated.
Samuel and Carla were star-crossed lovers
Though it may have seemed to be a weird pairing for fans to begin with, Samuel and Carla, known by viewers of the show as the portmanteau Carmuel, ended up being one of the biggest ships in the show.
The relationship wasn't a real one at first, as Samuel was trying to get closer to Carla because he knew that she knew more than what she was letting on about Marina's murder.
In working to get close to her for information or to get her to slip up, Samuel ended up falling deeply in love with Carla ― and he did as well. Once she begins to find out what he's doing, Carla tries to dissuade Samuel from investigating the murder mystery and warns him about her father, who knows the truth and doesn't want them together.
At the end of the second season, it is revealed that the big mystery of the season, Samuel being missing, is not what it seems. Samuel was actually hiding out at Guzmán's grandparents' house in an expansive effort to get Carla to confess the truth about Marina's murder. She eventually confesses and Polo is arrested.
Samuel and Carla are no longer together and are at odds in the third season, although he tries hard to win her back. Even though she recanted her testimony, he understands why she did in order to save her family. By the end of the season, the two eventually find there way back together, although they part ways when Carla leaves to study abroad and Samuel has to go back to Las Encinas to finish his last year.
Did Carla have two true loves in Samuel and Polo? It's very possible. But for the same of the third season ending of Élite, Samuel and Carla are the true endgame.
The first three seasons of Élite are currently streaming on Netflix.