Why Elizabeth Taylor Only Granted Johnny Carson a Single 'Tonight Show' Interview
After decades of declining invites, iconic actor Elizabeth Taylor accepted one interview with Johnny Carson on 'The Tonight Show.' Why did she change her mind?
Late-night icon Johnny Carson hosted The Tonight Show for 30 years and interviewed 23,000 guests in that time. But legendary actor and icon Elizabeth Taylor only made one appearance, and she came late but with a purpose. What made her decide to sit down with Carson only months before his retirement?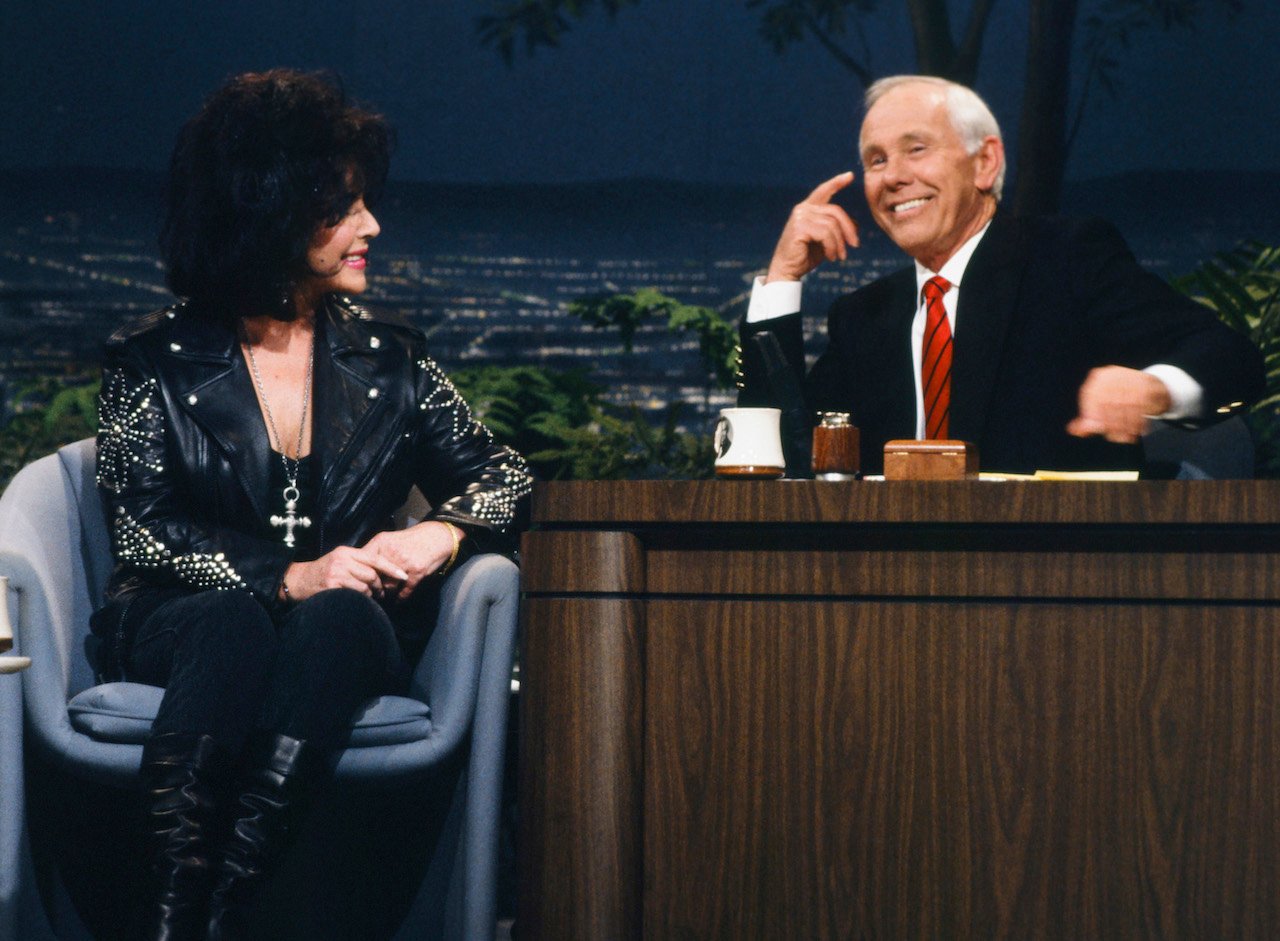 Elizabeth Taylor 'really wanted to thank' Johnny Carson
On Feb. 21, 1992, Taylor took a spot in the guest chair between Carson and Tonight Show co-host, Ed McMahon, for an interview which is now available on YouTube. Carson almost immediately pointed out how he'd been hosting The Tonight Show for more than 29 years and had been inviting her to come on for much of that time.
"Three and a half months to go and we finally got you here," he noted proudly. Naturally, he wondered what made the superstar change her mind about being interviewed for the show. And as it turned out, it was him.
"I'm not plugging anything. I have nothing to sell," she told him. "I really wanted to come on the show and thank you for 30 years of brilliant entertainment."
Of course, Carson seemed flattered by her response before joking it was time to move on to the next guest. Then, seemingly in all seriousness, he told her he was "just delighted [she] showed up."
Elizabeth Taylor thought she'd be 'terrified' of Johnny Carson's audience
Another aspect of Carson's Tonight Show that gave Taylor some hesitance was the audience. She admitted to him that she thought she would be "terrified" because she wasn't comfortable in front of live audiences. But after several minutes, she noted that she was pleasantly surprised by the experience.
"You're really not scary at all," she sweetly told the in-house viewers.
But she also let Carson know that she'd heard some of his jokes about her marriages, and she took the opportunity to jab him back with one of her own. When she told him she was a Pisces, he replied, "I was married to a Pisces once."
"I'm sure you were," she quipped, eliciting a look from Carson and a classic laugh from McMahon. Following Carson's death in 2005, McMahon released a book titled Here's Johnny to share memories from 46 years of friendship and Taylor's interview made the cut.
In the last pages, he wrote: "Of all that I keep remembering, no moment was sweeter than the night Elizabeth Taylor turned Johnny into her straight man."
Elizabeth Taylor went through 'the lowest valleys and highest highs'
During their chat, Carson asked the Cleopatra star what her secret to longevity in Hollywood was, and she said she didn't really know. But she shared a good guess.
"Perhaps it's because I am a survivor," she explained, "and I'm like a living example of what people can go through and survive."
More specifically, she told Carson she had been near death and had even been pronounced dead before. But she managed to stick around through "the lowest valleys [and] the highest highs."
Notably, Taylor seemed to have Carson captivated from start to finish. And in the end, they were both glad she decided to chat with him before the moment passed. Three months later, on May 22, 1992, Carson closed The Tonight Show with his last goodnight.