Ellen DeGeneres Accused of Being 'Entitled' After Joking That Coronavirus Quarantine Is 'Like Being in Jail'
Ellen DeGeneres is under fire after joking that coronavirus quarantine Is like being in jail. It didn't go over well.
Ellen DeGeneres made her return to her talk show gig, filming from her home, in hopes of bringing some joy to people during the coronavirus (COVID-19) quarantine and social distancing. It turns out that not everyone was so entertained by her joke that being quarantined is "like being in jail."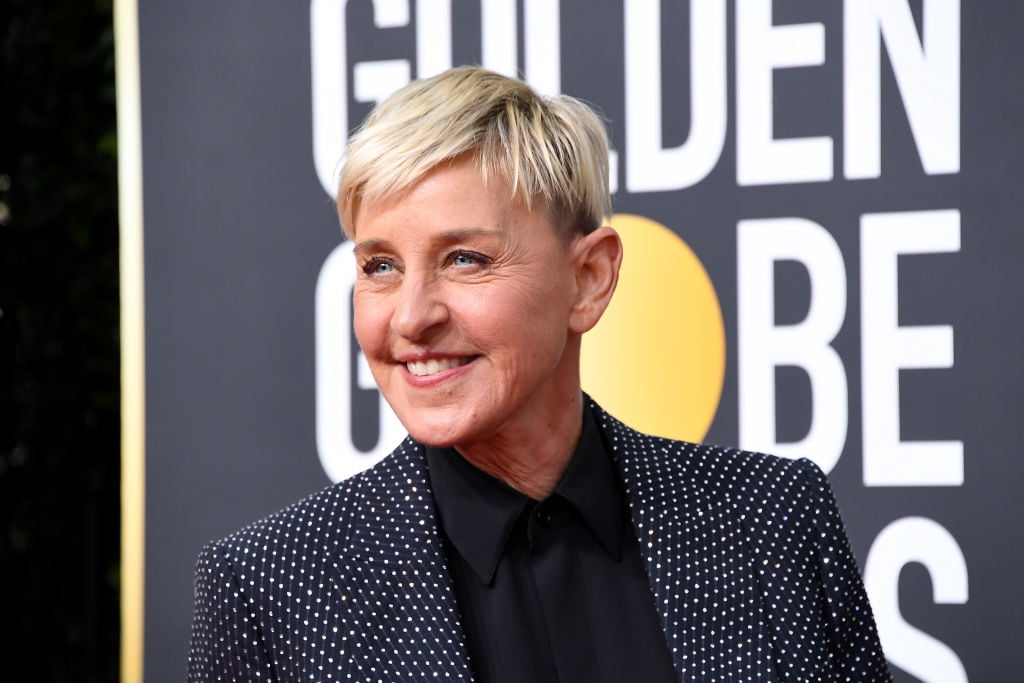 DeGeneres' show is back
Like some other talk show hosts, DeGeneres decided to bring her show back, with some adjustments, to entertain people who are social distancing and staying at home during the coronavirus pandemic.
On Monday, the host, who filmed the show in her living room, thanked essential employees, healthcare professionals, and "everyone who keeps us going." She began, "Thanks for not being here. I wasn't supposed to be doing my show from my house until next season."
DeGeneres continued, "I wanted to start doing my new show as soon as possible because it's really for people who are stuck at home and especially my staff and crew. I love them. I miss them, and the best thing I can do to support them is to keep the show on the air."
The comedian joked that she was doing the show in her living room because it has the best lighting, but also "all the other rooms in my house are filled with toilet paper."
"So while we're all stuck here, I want to help take your mind off of everything that's going on in the world. I've always wanted to have this show as a distraction, as a break from whatever's going on out there that may be unpleasant," DeGeneres noted. "If you're feeling down, I want to lift you up. If you're feeling trapped, I want to set you free. If you feel like you're going in the wrong direction, I want you to back that thing up."
She added, "It is a strange time and this is what we have to do right now." DeGeneres then gave a shoutout to her "crew," wife, Portia de Rossi, who is now her director and camera operator and her dog, who is the key grip.
DeGeneres shared how quarantine was 'like being in jail'
During the home edition of her show, DeGeneres said that they had been in quarantine for three weeks and it had been "nice, actually," explaining, "because we get to spend time together and talk and really get to know each other. Did you know that [de Rossi] was Australian?"
She also said that quarantine is "like being in jail," adding, "It's mostly because I've been wearing the same clothes for 10 days and everyone in here is gay."
She wrapped up the short video by saying, "I think that a lot of people out there need words of encouragement and that's what I want to do. I want to spread light where there's shade. I want to bring a glow where it's gloomy. I want to stick a candle where the sun doesn't shine."
People weren't impressed with her joke
Many people weren't impressed with the talk show host's quarantine joke since she's social distancing from her $27 million mansion. In 2019, Mansion Global reported that the Montecito, California home has a guest house, gym, and an infinity pool.
"What a great look for Ellen as thousands of people sit in actual jail cells just hoping for the best without soap and basic protections," Variety's Caroline Framke tweeted.
One Twitter user put it simply, tweeting: "Living in a 15 million dollar mansion is like being in jail? Seriously Ellen?"
"Except your 'jail' is a warm home, with access to soap, hot food, and you're not likely to contract a deadly virus because you're stuck in a 6×8 concrete cell with people who could potentially infect you with #Covid19," another critic tweeted. "What a sadly out of touch and entitled thing to say, Ellen."