Ellen DeGeneres Forgot Katy Perry Was Once Married To Russell Brand Even Though She Did a Whole Segment About the Couple on Her Show
Back in 2017, Katy Perry was a guest on The Ellen DeGeneres Show. During a segment of "Will You Perry Me?" DeGeneres forgot that the singer was once married to Russell Brand, even though the talk show host did a whole segment on her show about their marriage.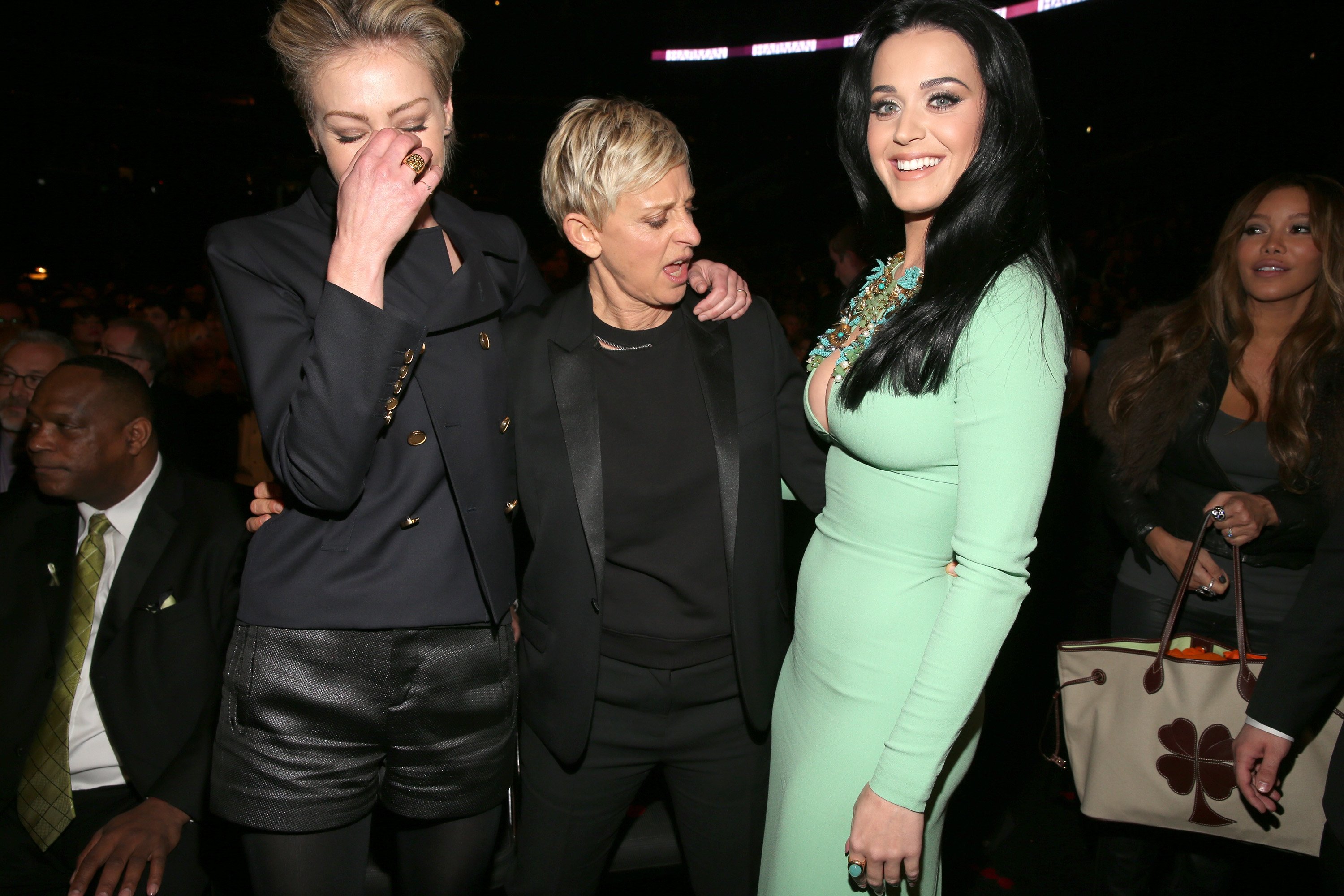 Ellen DeGeneres forgot Katy Perry was once married to Russell Brand
Perry sat down on The Ellen DeGeneres Show stage to play a game of "Will You Perry Me?," which involved the pop star choosing between two possible suitors for who she'd rather "marry." As DeGeneres was explaining the rules, Perry asked, "Do I have to get married… again?"
DeGeneres replied, "You were not married."
"I was when I was 25," said Perry.
"Were you?" asked DeGeneres
"Yeah, it's been a long time, honey," said the pop star. "No wrinkles, no lines."
"His name was Russell Brand," she added in a whisper.
RELATED: A Look at Ellen DeGeneres' Feud With Kathy Griffin
DeGeneres admitted that she "forgot about Russell" before Perry called the talk show host out.
"Remember you gave me some wedding gifts on this show?" she asked. "Cool, cool, cool, cool, cool."
After an awkward moment, DeGeneres said, "That'll be cut out."
"Yeah right," quipped Perry.
When Ellen DeGeneres interviewed Katy Perry about her marriage with Russell Brand
Back in 2010, DeGeneres had Perry on the show and they chatted about married life. The pop star spoke about how she liked when people referred to her as Mrs. Brand and how she was in the process of changing her name. The host also brought up the fact that Helen Mirren had a crush on Brand and Perry said the English actor should "step off my man."
Perry went on to say that her then-husband was "a handful," but she loved there never being a "dull moment." DeGeneres agreed that Brand is "fantastic in so many ways and he's also very calm. Like, he's a lot of different things."
Perry described her home life with Brand as "really fun."
RELATED: Martha Stewart Shut Ellen DeGeneres Down With the Best Response When the Talk Show Host Asked if She Knew What 'Sexting' Was
"A sense of humor is really important in our household," she said. "I think that's how we de-stress and, you know, we like to have a laugh. We're just really good friends."
"We have three cats at home, which is really fun. And I think our favorite time together is just being at home with our cats and, uh, having fun," she said with a wink.
The 2010 YouTube clip of the interview received a few comments from fans who came to the video "because Ellen forgot about Katy being married."
"coming here after having watched the recent interview of Katy on Ellen… where Ellen forgot that Katy was married to Russell!" commented one YouTube user.
"It's funny how Ellen forgot about Katy's marriage in Ellen show 2017," wrote another.
And several other YouTube users commented on the video wondering what happened to Perry and Brand's cats when they split.
We hope Kitty Purry, Morrissey, and Krusty are all still lovingly being taken care of today.