Things Got Super Awkward When Ellen DeGeneres Asked Justin Bieber Why He and Hailey Haven't Started Having Kids
Ellen DeGeneres is having a rough time of it as of late. Though the talk show host built her platform on kindness and generosity, DeGeneres has been accused of doing the exact opposite. Following the coronavirus (COVID-19) pandemic and DeGeneres moving The Ellen DeGeneres Show to her home, staffers accused her of fostering a toxic and mean work environment.
Since then, employees and celebrities have accused DeGeneres of being rude and asking invasive questions. Singer Mariah Carey even revealed the comedian bullied her into revealing her pregnancy, which she unfortunately miscarried shortly thereafter.
Though DeGeneres has vowed to do better, her recent interview with Justin Bieber raises a ton of eyebrows.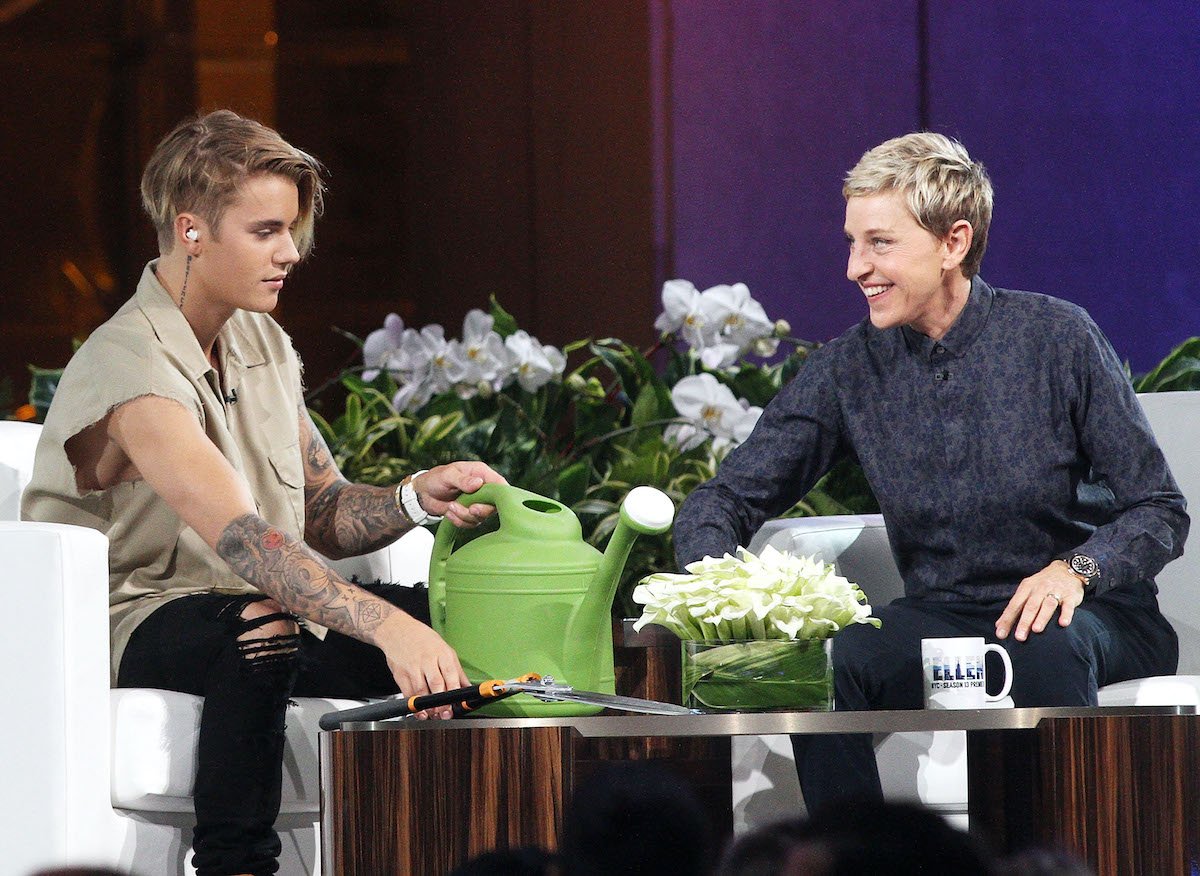 Ellen DeGeneres has made celebrities feel uncomfortable in interviews many times
With all of the hoopla surrounding DeGeneres, fans have taken a hard look at some of her past interviews where she's clearly made celebs feel uncomfortable. Last year, actor Dakota Johnson called out the comedian for flat out lying. DeGeneres claimed Johnson had not invited her to her 30th birthday. "Actually, no, that's not the truth, Ellen, you were invited," the Fifty Shades of Grey actor said.
Clips are also circulating of DeGeneres awkwardly calling Zac Efron and Taylor Swift a couple, and of her repeatedly mispronouncing The Patriot Act's Hasan Minhaj's name.
Ellen DeGeneres just asked Justin Bieber why he and Hailey Beiber don't have kids yet
The "Yummy" singer appeared on The Ellen Show to chat about spending Thanksgiving with his family, and his wife, Hailey, had proudly shown off her turkey on Instagram. Bieber explained to DeGeneres that while the supermodel took over the bird, friends brought side dishes, and they also have a chef.
The couple who've been married for two years often show off aspects of their lives, but they've been adamant about waiting to have kids. However, that didn't stop DeGeneres from asking a super personal question of the singer.
DeGeneres began her question by asking, "So did Hailey cook that turkey? Or did your chef cook it, and she posed with it?" Bieber responded, "Uh, no, Hailey actually did cook that, yeah, yeah, yeah."
The talk show host then jumped out of the left-field, asking, "How many kids are you going to have and when?"
Justin Bieber was clearly very uncomfortable with the line of questioning
Asking someone about family planning and pregnancy is super personal, which we're sure DeGeneres knows. Bieber, for his part, was clearly uncomfortable and answered the question quite tersely.
"I'm going to have as many as Hailey wishes to push out," he said. "I'd love to have myself a little tribe. But, yeah, it's her body and whatever she wants to do."
DeGeneres pushed further, asking, "Does she want a lot?" Bieber responded, "I think she wants to have a few.: Unfortunately, that was not enough to satisfy DeGeneres. She pushed further asking, "What are you all waiting for? You know you love kids. You're so good with kids. What's the holdup?"
At this point, a visibly uncomfortable Bieber took a beat before answering the question as carefully as he could. "I think the issue—There's not really an issue, but I think Hailey still has some things she wants to accomplish as a woman," he replied. "And I think she just wants to—yeah, I think she just is not ready yet, and I think that's OK."