How Ellen DeGeneres Knew Portia De Rossi Was The One
American comedian and actor Ellen DeGeneres has been hosting The Ellen DeGeneres Show since 2003. And the talk show host has also been with her now-wife Portia de Rossi for almost as long. The two celebrities started dating in 2004, and they officially tied the knot in 2008. Many celebrity marriages haven't lasted as long as DeGeneres' marriage has, and she once revealed exactly how she knew de Rossi was the lifelong one for her.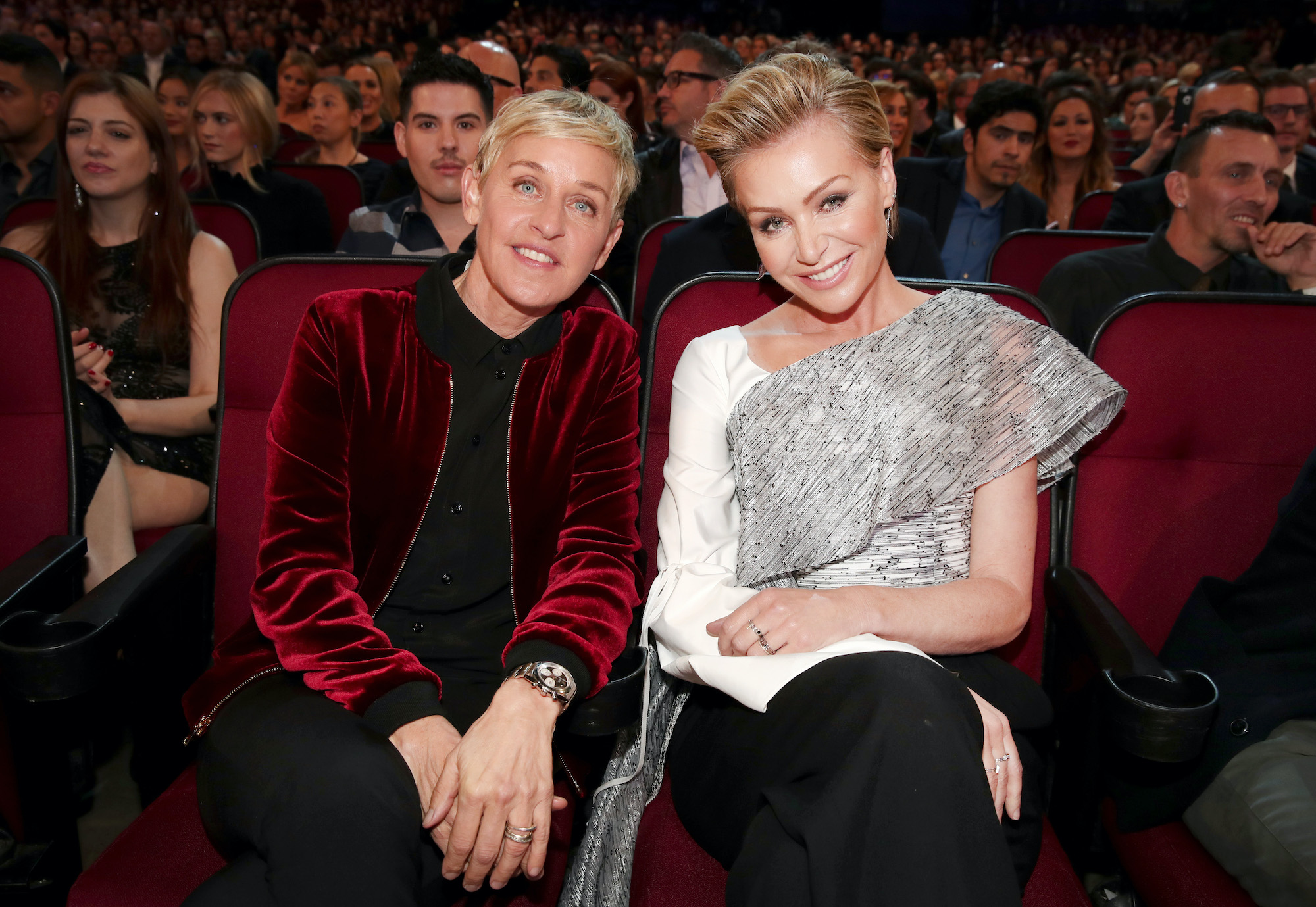 DeGeneres got her start in TV in the late 1980s
RELATED: Ellen DeGeneres Earns $84 Million a Year, Is One of the Highest-Paid Celebrities in the World
DeGeneres first rose to prominence as a stand-up comedian in the late '70s and early '80s, but it was her move to television that brought her to the masses. "DeGeneres's [stand-up comedy act] … caught the attention of Showtime, and the cable network named her Funniest Person of the Year in 1982," reports Britannica, noting that some of her first TV credits included brief stints on 1989 series like One Night Stand and Open House. Her big break came when ABC launched the Ellen sitcom in 1994, based on DeGeneres' real-life experiences.
"The show was actually called These Friends of Mine in its first season, but the name was changed to avoid confusion with another new sitcom, Friends," reports CNN. The show quickly became a pop culture phenomenon, culminating in a historic episode where Degeneres' character comes out as gay to her therapist (played by Oprah Winfrey). The public brand that DeGeneres built from her sitcom helped her launch The Ellen DeGeneres Show in 2003. The show has won more than 60 Emmy Awards and continues to be one of the most-watched talk shows on TV even as it enters its eighteenth season.
DeGeneres and de Rossi have been together since 2004
RELATED: What Is Portia De Rossi's Real Name?
De Rossi is an actor best known for her roles in Ally McBeal, Arrested Development, Scandal, and Nip/Tuck. The two began dating in 2004, and they began showing up in public together in the fall of 2005. "In one of their first public appearances as a couple, DeGeneres and de Rossi held hands at the 57th Annual Primetime Emmy Awards in LA," reports US Magazine. In June 2008, DeGeneres asked de Rossi to marry her, using what US Magazine describes as a "3-carat diamond ring."
The two didn't wait long after their engagement to get married. That same year, the state of California legalized gay marriage. "DeGeneres married de Rossi on August 16, 2008, in what was perhaps the highest-profile gay marriage after California legalized the unions," explains Biography. "In 2010, de Rossi was granted permission to legally change her name to Portia Lee James DeGeneres."
DeGeneres and de Rossi have used glowing terms to describe their love for each other
RELATED: What Is the Age Difference Between Ellen DeGeneres and Portia de Rossi?
"I ran into Ellen at a photoshoot [in 2004] and she took my breath away," de Rossi is quoted as saying in US Magazine, describing how she first met her wife. "That had never happened to me in my life, where I saw somebody and experienced all of those things you hear about in songs and read about in poetry. My knees were weak." Shortly after the two met, the media wanted to know whether it would be a lasting one. Even back then, DeGeneres was certain. 
"DeGeneres … [has] reached a different level of contentment with her actress girlfriend of two years," reported People magazine at the time. DeGeneres knew Portia de Rossi was the one when she said finding her made her feel "completion." "It doesn't take away from any of the relationships that I've had, 'cause I've had amazing relationships … But I feel like I found my perfect fit," DeGeneres said.