Ellen DeGeneres Deems Miley Cyrus 'Officially a Very Good Talk Show Host'
When it comes to currently active talk show hosts, we often think of the late-night crowd. But as far as daytime programming goes, the conversation goes nowhere without including Ellen DeGeneres. The star of The Ellen DeGeneres Show has on many of today's most popular celebrities, including musician and actor Miley Cyrus.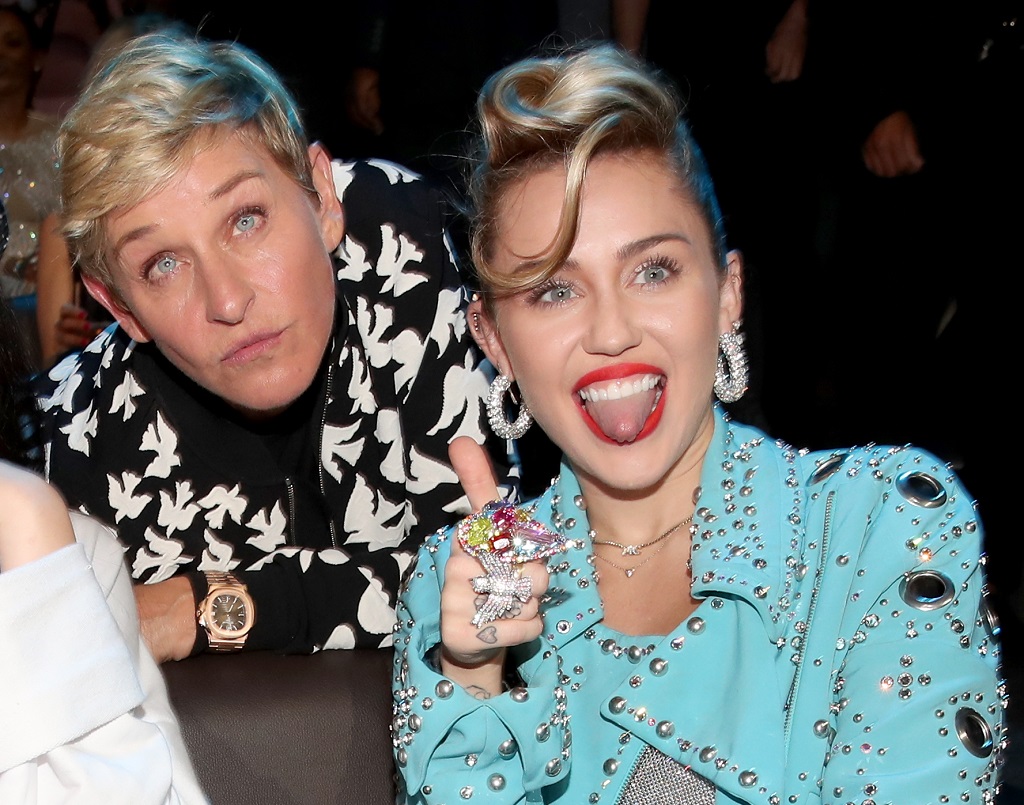 In March 2020, DeGeneres' program is taking a break due to the coronavirus (COVID-19) pandemic, which shut down production on everything from Grey's Anatomy to Marvel movies. But Cyrus has used the opportunity to make her own Instagram Live talk show: Bright Minded: Live with Miley. And she returned the favor by having DeGeneres on her show.
Cyrus has appeared on The Ellen DeGeneres throughout her career
Beginning in her Hannah Montana days, Cyrus came on The Ellen DeGeneres Show as a guest. She was, naturally asked a lot about her love life, as is often the case on these kinds of shows. But Cyrus also spoke about her career, and, if you watch the videos, you can really see her change over time.
In the above video from 2010, Cyrus is a bit uncomfortable, speaking about supporting gay marriage and wondering if she should be using her platform to say those kinds of things. DeGeneres, who married Portia de Rossi in 2008, encouraged her, saying, "I think it's important to share your opinion. Always. Good for you!"
She even guest hosted in the past
Over time, Cyrus has become a lot more outspoken. She continued to speak on the topic of LGBTQ rights over the years, coming out as queer and publicly dating a woman. And she's also become more confident with simply speaking her mind in general.
Cyrus got the chance to show off her talk show-hosting abilities in September 2016 when she guest hosted for DeGeneres while the latter was sick. Cyrus interviewed guests Idina Menzel and Sarah Jessica Parker on the show, during which time she dressed like DeGeneres and paid tribute to her signature dance moves.
DeGeneres on 'Bright Minded'
Three and a half years later, Cyrus began her own talk show, and invited DeGeneres on her March 23, 2020 episode. The pop star began by reading a quote of DeGeneres': "Look on the brighter side even if it means hurting your eyes." This is perfect for the theme of Bright Minded, which features Cyrus "connecting with special guests discussing how to stay LIT in dark times."
Cyrus FaceTimed with DeGeneres (who had technical difficulties) during the show. She revealed that she, like the famous comedian, had a DJ booth set up — though hers was a bit smaller, the perfect size for her dog, Emu. (She made it out of her boyfriend, Cody Simpson's, records.)
DeGeneres and Cyrus spoke about pet adoption, which is very important to both of them. At the end, Cyrus asked how she was doing in DeGeneres' professional opinion. "You're officially a very good talk show host," DeGeneres said. "You've taught me everything that I know," said Cyrus.