Ellen Degeneres Once Mortified Nicole Kidman for Not Clapping the 'Right' Way
Ellen DeGeneres has subjected Nicole Kidman to many things on 'The Ellen DeGeneres Show'. Here's a look at the time she embarrassed Kidman for clapping
While The Ellen DeGeneres Show remains under fire, fans are digging up old segments to dissect. One celebrity interview featuring Nicole Kidman showed a side of DeGeneres that many have deemed unkind.
Ellen DeGeneres didn't call out Antonio Banderas for his clapping style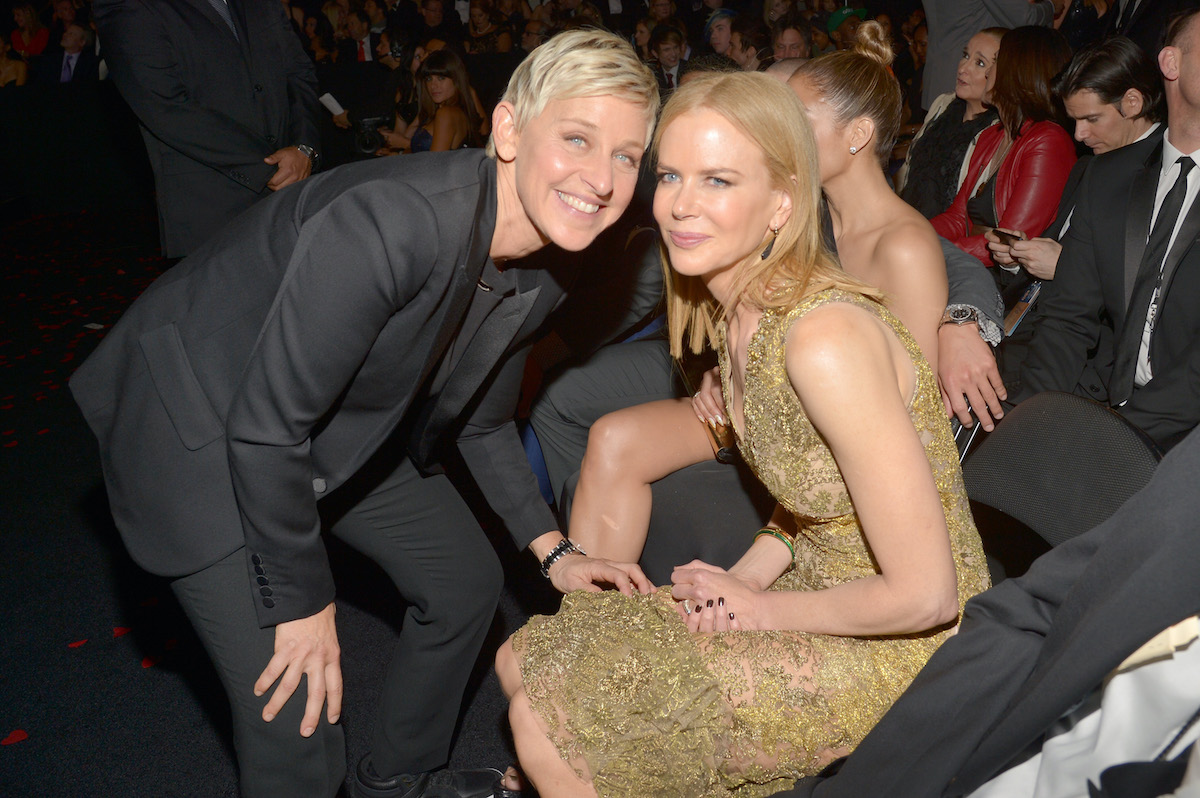 Sitting in the audience of a star-packed auditorium means having your every move watched. Banderas — who was nominated for The Genius — either forgot or didn't care about witnesses when sitting in the 2018 Emmy audience.
A camera panned to Banderas and his clap sent fans into a tailspin. The incident led to comparisons to Kidman's clap from the 2017 Oscars, which DeGeneres brought up during an interview on The Ellen Show.
When Banderas appeared on the show, she didn't do the same. However, in 2011, she did pull a prank on the actor where a staffer chatted Banderas up for a longer than a comfortable length of time. The YouTube clip lasts over 5 minutes. Banderas was a good sport.
That said, a trip to The Ellen Show may entertain the home audience but at the cost of celebrities and guest's comfort (and sometimes privacy).
DeGenerous once mocked Kidman for the way she claps
A May 2017 appearance on The Ellen Show proved a little uncomfortable for Kidman, who was there to promote her HBO series, Big Little Lies, and her film Lion. DeGeneres brought up the way Kidman claps, asking if the actor knew she clapped "in a different way" than everyone else.
"I don't clap like that!" Kidman said as the clip from the awards show played behind her.
"I do not clap like that! That is a weird lens!" she said, seemingly embarrassed. She asked DeGeneres not to show the video.
"The lens didn't do it to anybody else's fingers!" DeGeneres said. "How can you make any noise like that? You're not even really clapping."
"Because I borrowed … it's the Cinderella thing. You borrow these expensive jewels, and I'm like, 'I must not damage these diamonds!' Cause I have to give them back at midnight! And so I'm like, clapping," she said, demonstrating.
DeGeneres said she was being "a little too cautious" with the diamonds," before asking Kidman to show how she claps now.
"I worked on it," Kidman said. She then proved it by clapping.
Kidman later elaborated on why she claps this way
Kidman must've felt her explanation on The Ellen Show wasn't enough. In an interview with The Kyle and Jackie O Show, she added that "it was really awkward."
"I was like, 'Gosh, I want to clap.' I don't want to not be clapping, which would be worse, right? 'Why isn't Nicole clapping?'" she said, adding that the ring she wore was 119 carats of Harry Winston diamonds, including a "cluster ring."
"It was really difficult because I had a huge ring on that was not my own," she said. "It was absolutely gorgeous, and I was terrified of damaging it. It's like, is there not more important things to be focused on than the seal clap?"