Ellen Degeneres Once Revealed She Didn't Know Why Anne Heche Broke up With Her: 'I Feel Betrayed'
Over the last few months, The Ellen DeGeneres Show has gotten a lot of flack for alleged "toxic workplace environment" claims. It brings past relationships with Ellen DeGeneres to light. One of her more prominent romances — with actress Anne Heche — happened at the precipice of her public "coming out." Why did it end?
How Ellen DeGeneres and Anne Heche met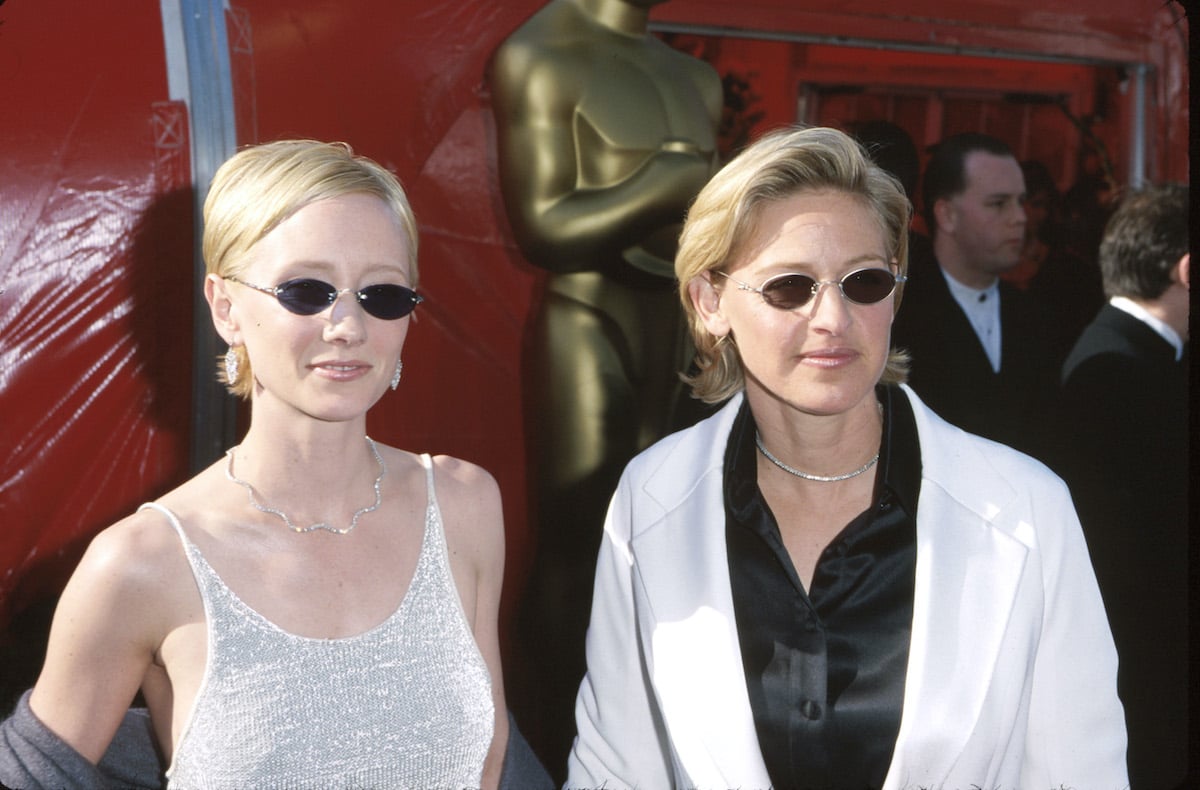 In 1997, DeGeneres was at the height of fame. The stand-up comedian stood among Hollywood's A-list celebrities with her hit sitcom, Ellen.
During a Vanity Fair Oscars party, DeGeneres met Heche with one caveat: DeGeneres hadn't yet come out to the world, or on her show.
"I saw Ellen across a crowded room, not knowing anything at all, except that I was just drawn to her," Heche told Oprah in a now-deleted YouTube Clip (via InStyle).
Heche said in other interviews the timeline of their relationship going public was complicated. That VF party occurred on a Sunday night.
"Tuesday was her coming out episode of the Ellen show. Wednesday was the press junket for [my movie] Volcano. Thursday was the opening of Volcano," she told the Irish Goodbye podcast in 2018.
Heche took DeGeneres to the premiere. Heche alleged that 20th Century Fox said they'd terminate her contract, and her future roles if she did so.
"We went to the premiere –—these are the stories that I know people don't know — we went to the premiere, we were tapped on the shoulder, put into her limo in the third act and told that we couldn't have pictures of us taken at the press junket. And both she and I were fired that week," she said.
The two stayed together despite DeGeneres' hesitance about showing affection in public.
"I didn't want to hold hands. I had never done that in public," she later told The Los Angeles Times. "And yet there was this attitude of, you know, 'You're going to be on the cover of Time magazine and say you're gay but you're not going to hold hands? You deserve to hold hands as much as Tom [Cruise] and Nicole [Kidman]. Or Tom [Hanks] and Rita [Wilson].' So I have to take responsibility for participating in [that]."
The breakup 'confused' DeGeneres
After more than three years of dating, DeGeneres and Heche broke up. ABC News reported that the split happened in late summer 2000, just weeks after househunting.
"Unfortunately, we have decided to end our relationship. It is an amicable parting, and we greatly value the 3 1/2 years we have spent together," a statement read at the time. "We hope everyone will respect our privacy through this difficult time." 
However, in the same LA Times interview, DeGeneres revealed her shock, claiming she didn't see the breakup coming.
"She walked out the door and I haven't spoken to her since, I don't have the answers," she said. "I would love to have them myself. I would ask all of the questions that everyone else wants to ask…. I'm left with everybody else wondering what happened. I don't know, I feel betrayed."
After the breakup, Heche was hospitalized — something she attributed to years of alleged abuse throughout childhood. She detailed the events in her memoir, Call Me Crazy in 2001, and spoke about it with Barbara Walters on ABC's 20/20.
"I think everything I've done in all my insanity was trying to get my parents to love me," she said via E! News. "My father loved movie stars. I decided I needed to become famous to get his love. My mother loved Jesus, so I wanted to become Jesus Christ. I wanted to save the world to get her love."
Regardless of all that happened, Heche described DeGeneres as "radiating."
"I think at certain times in people's lives you just radiate an energy and a glow of fabulousness. And that was her. I had never seen anybody so lit up," she said.
Are DeGeneres and Heche friendly now?
The Ellen Show has been under fire as of late, leaving some to wonder what former partners and friends think.
DeGeneres is happily married to Portia de Rossi (for over a decade) and Heche is a busy mother of two. A lot of time has passed, but it doesn't appear as though the two are friends. Still, Heche has a few things to say about the controversy.
"I haven't spoken to Ellen in years. I'd listen to the people who have," Heche told Mr. Warburton.
"Our time was a beautiful part of my life and one that I wear with honor. I was a part of a revolution that created social change, and I could not have done that without falling in love with her. I'm proud to have been part of a revolution that helped move equality forward, but there is still work to do," she added.
How to get help: In the U.S., call the RAINN National Sexual Assault Telephone Hotline at 1-800-656-4673 to connect with a trained staff member from a sexual assault service provider in your area.