Ellen DeGeneres Once Said Something About Ashton Kutcher's Son That Gave Him a 'Complex'
Ellen DeGeneres and Ashton Kutcher seem to be quite close. The two of them are neighbors and even know each other's family. During one instance, DeGeneres even made a comment about Kutcher's son. However, Kutcher admitted that DeGeneres' comment gave him a 'complex' about his child.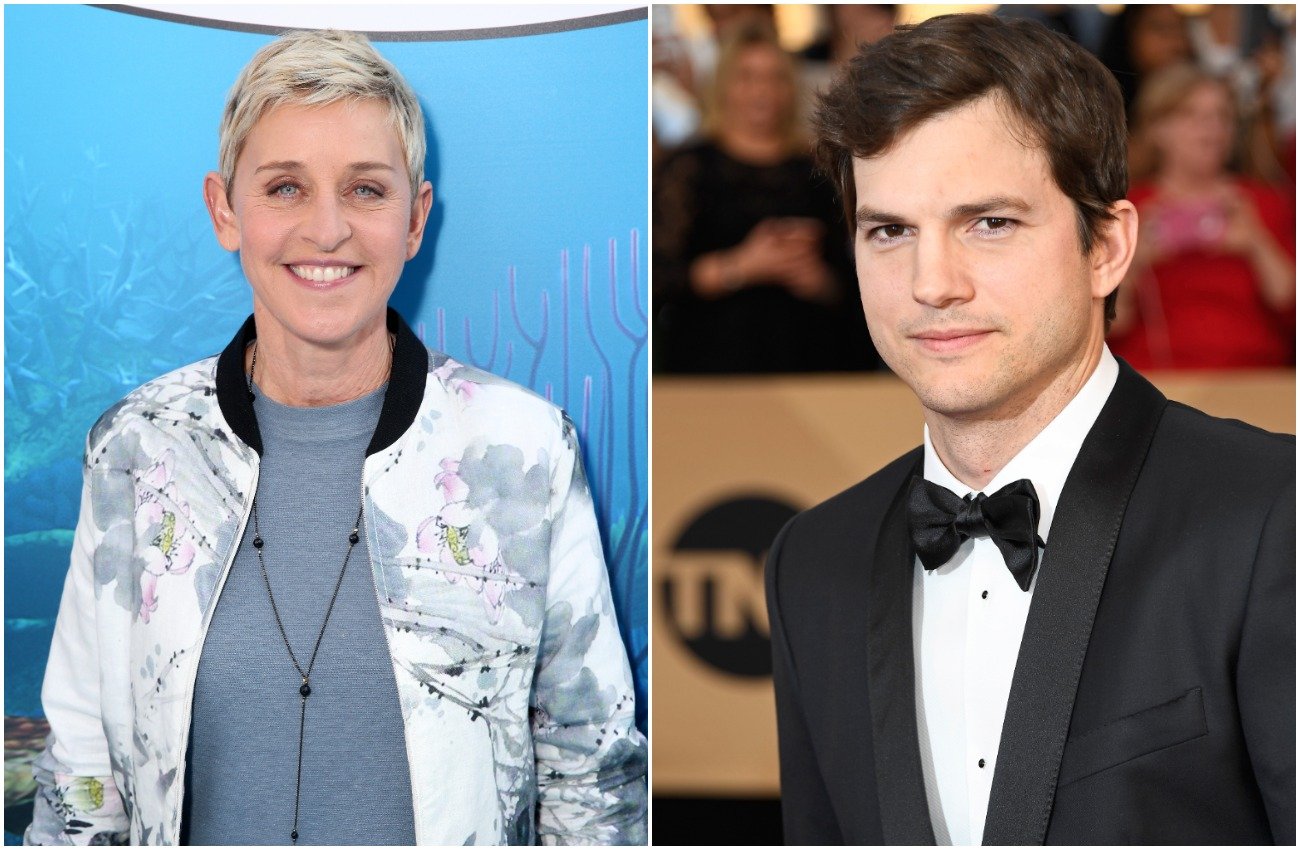 How many kids does Ashton Kutcher have?
Kutcher has been married to fellow That '70s Show actor Mila Kunis since 2015. The couple has a daughter named Wyatt, who was born in 2014. Then, two years later, they welcomed a son named Dmitri.
Although both Kutcher and Kunis are successful entertainers and can give their kids a very privileged upbringing, the two stars still try to not let their kids become too spoiled. For example, they have opened up about not giving Wyatt and Dmitri presents for Christmas because they are too young to really appreciate them.
Kutcher and Kunis are also among the list of celebrities who will not give their kids trust funds. As Kutcher explained on Dax Shepard's Armchair Expert podcast, "My kids are living a really privileged life, and they don't even know it. And they'll never know it, because this is the only one that they'll know. I'm not setting up a trust for them. We'll end up giving our money away to charity and to various things."
Ellen DeGeneres gave Ashton Kutcher a 'complex' with something she said about his son
RELATED: Mila Kunis Admits Husband Ashton Kutcher Used to 'Do Her Homework' While Filming 'That '70s Show'
When Kutcher visited The Ellen DeGeneres Show in 2018, he and DeGeneres spent some time talking about his family. DeGeneres shared with the audience that Kutcher, Kunis, and their kids go for walks in the morning around the neighborhood. However, DeGeneres pointed out that their son Dmitri "never walks."
"[Kutcher] never puts him down," DeGeneres said. "He's always on his back."
Meanwhile, Kutcher explained by saying that it's easier to carry Dmitri on his back in a hiking backpack, especially since Dmitri was only 2 years old at this point. "Otherwise, it's like a whole wrangling session with the kid," Kutcher said.
He also shared that DeGeneres' comment now gave him a "complex" about carrying his won. Kutcher joked, "Okay, so now I take him out of the thing once we get to purview of your house and try to dish him along so I don't have to hear about it anymore."
Ashton Kutcher has defended Ellen DeGeneres amid her controversy
RELATED: How Mila Kunis Got Over Not Liking Ashton Kutcher and Ended up Married to Him
It doesn't seem like Kutcher was too hurt by DeGeneres' comment, however. The two of them seem to still be on good terms.
In the summer of 2020, DeGeneres found herself in a huge scandal concerning her alleged mistreatment of staff members on her show. DeGeneres was accused of promoting a toxic work environment and not paying her employees during the coronavirus (COVID-19) pandemic. Her likeable public persona was also brought into question when people alleged that DeGeneres is not as kind as fans think.
A former employee told Buzzfeed News of the contradiction between what fans see of The Ellen DeGeneres Show and what was happening behind the scenes, "They pull on people's heartstrings; they do know that's going to get likes and what people are going to go for, which is a positive message, but that's not always reality."
Some celebrities have come out in defense of DeGeneres, including Kutcher. He tweeted in August, "I haven't spoken with @TheEllenShow and can only speak from my own experience. She & her team have only treated me & my team w/ respect & kindness. She never pandered to celebrity which I always saw as a refreshing honesty. When things aren't right she handles it and fixes."