Ellen DeGeneres Reveals the Moment All of Her Staff Walked Out on Her
Like most people, Ellen DeGeneres had a pretty rough year in 2020. But in addition to having to deal with the coronavirus (COVID-19) pandemic, reports started coming out about DeGeneres' alleged mistreatment of the people working for her. For months, it seemed that the fate of The Ellen DeGeneres Show was in limbo. But in the end, it wasn't DeGeneres' attitude that caused her staff to run out on her.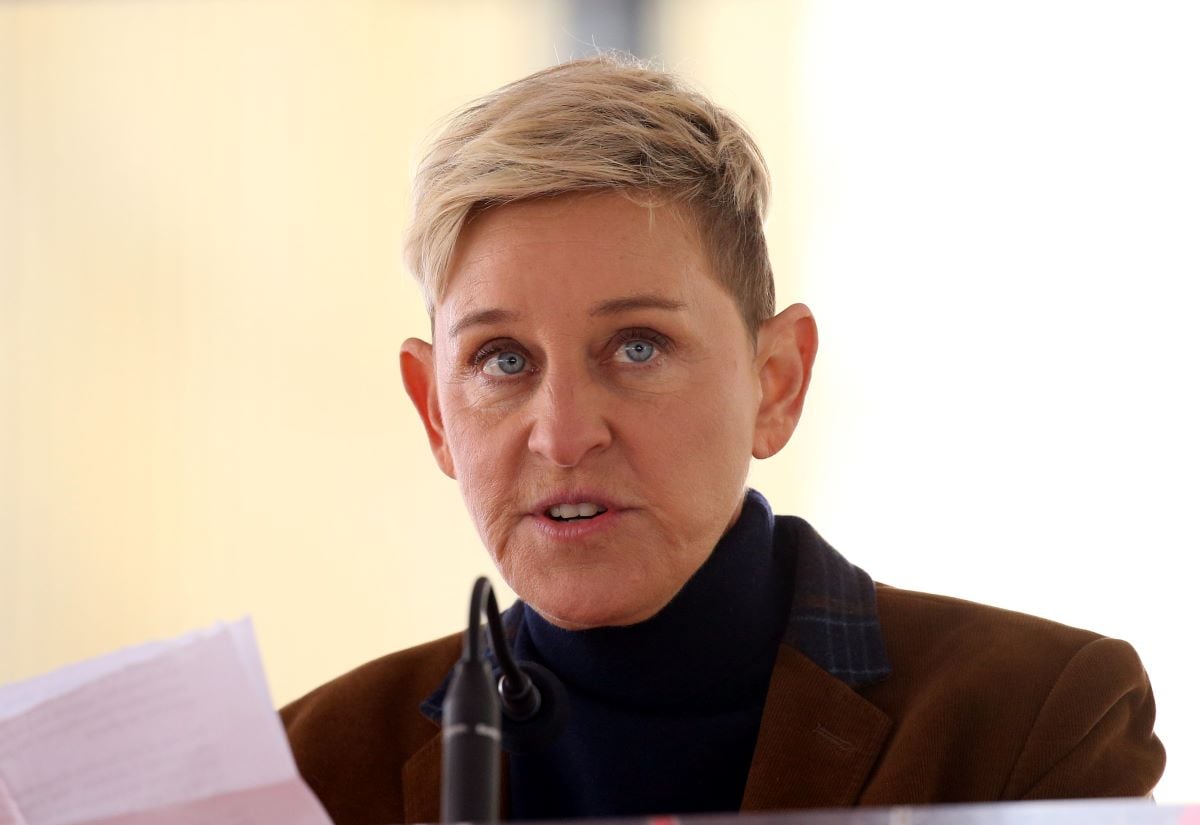 Ellen DeGeneres tested positive for COVID
In December, DeGeneres took to her social media channels to reveal that she had tested positive for COVID.
"Hi everyone, I want to let you all know that I tested positive for Covid-19," she wrote. "Fortunately, I'm feeling fine right now. Anyone who has been in close contact with me has been notified, and I am following all proper CDC guidelines. I'll see you all again after the holidays. Please stay healthy and safe. Love, Ellen."
Prior to testing positive, DeGeneres had interviewed several guests in person. Justin Bieber, Dianne Keaton, Lil Nas X, Bryan Cranston, and Leslie Odom Jr. had all been in the studio within 14 days of DeGeneres testing positive.
As a result of her test, the show was put on hold until January.
Ellen's staff left her
On Wednesday's episode of The Ellen DeGeneres Show, she recounted finding out she was positive and how her staff reacted.
"I was getting ready to tape the show that you were going to be here for, and I was in hair and makeup, getting my face powdered and my extensions put in and then my assistant, Craig, walks in and says, 'You've tested positive for COVID,'" she said. "And then everyone around me ran away. It's funny, people just really get scared. Some have not come back since." 
She called out producer Andy Lassner in particular.
"I left the studio immediately and our COVID safety team informed everyone that I had been in contact with," she said. "They told Andy Lassner, and when he heard he literally ran at full speed off the lot, which is amazing, I didn't realize that you could run, Andy. I thought it was just the slow walking."
Even DeGeneres' wife Portia de Rossi left DeGeneres alone too.
"I had to quarantine, and Portia made me sleep in a different room on a different bed because she wanted the race car bed all to herself," she said.
Rumors of 'The Ellen DeGeneres Show' being canceled
The drama with DeGeneres started in February when beauty vlogger Nikkie de Jager, NikkieTutorials, talked about her experience with DeGeneres while on De Wereld Draait Door.
"Let me say that there's a big difference between this show and Ellen DeGeneres, and I'm saying that in favor of this show," de Jager said on the show, according to a translation by Sebastian Williams. "It's nice that you say 'hi' before the show. She didn't."
Then in March, podcast host Kevin T. Porter started a Twitter thread that accused DeGeneres of being "notoriously one of the meanest people alive."
Later, BuzzFeed News seemingly corroborated these accounts by speaking to a current employee of The Ellen DeGeneres Show and 10 former employees. One said they were "fired after taking medical leave or bereavement days to attend family funerals." Another said she left the job after unending comments about her race, and many of them reported they were not allowed to speak to DeGeneres directly.
After the report came out, producers Ed Glavin, Mary Connelly, and Lassner released a statement saying how heartbroken they were at the reports and promising to do better.
"It's not who we are and not who we strive to be, and not the mission Ellen has set for us," the statement read, according to HollywoodLife. "For the record, the day to day responsibility of the 'Ellen Show' is completely on us. We take all of this very seriously and we realize, as many in the world are learning, that we need to do better, are committed to do better, and we will do better."