Ellen Degeneres' Wife Admits She 'Changed So Much' Since Being With Her
Ellen DeGeneres and Portia de Rossi have been together for years. Portia admits that she changed a lot after meeting Ellen. Find out why.
Ellen DeGeneres has been making headlines lately for all of the wrong reasons. The talk show host has been under fire for several allegations regarding a "toxic work culture" at The Ellen DeGeneres Show. DeGeneres' "Be kind" motto seems to mask a laundry list of bad behavior regarding her treatment of staff. Yet despite the allegations, DeGeneres' wife, Portia de Rossi, is sticking by her side. The actress admits that she's "changed so much as a person" since meeting Ellen. Keep reading to find out why.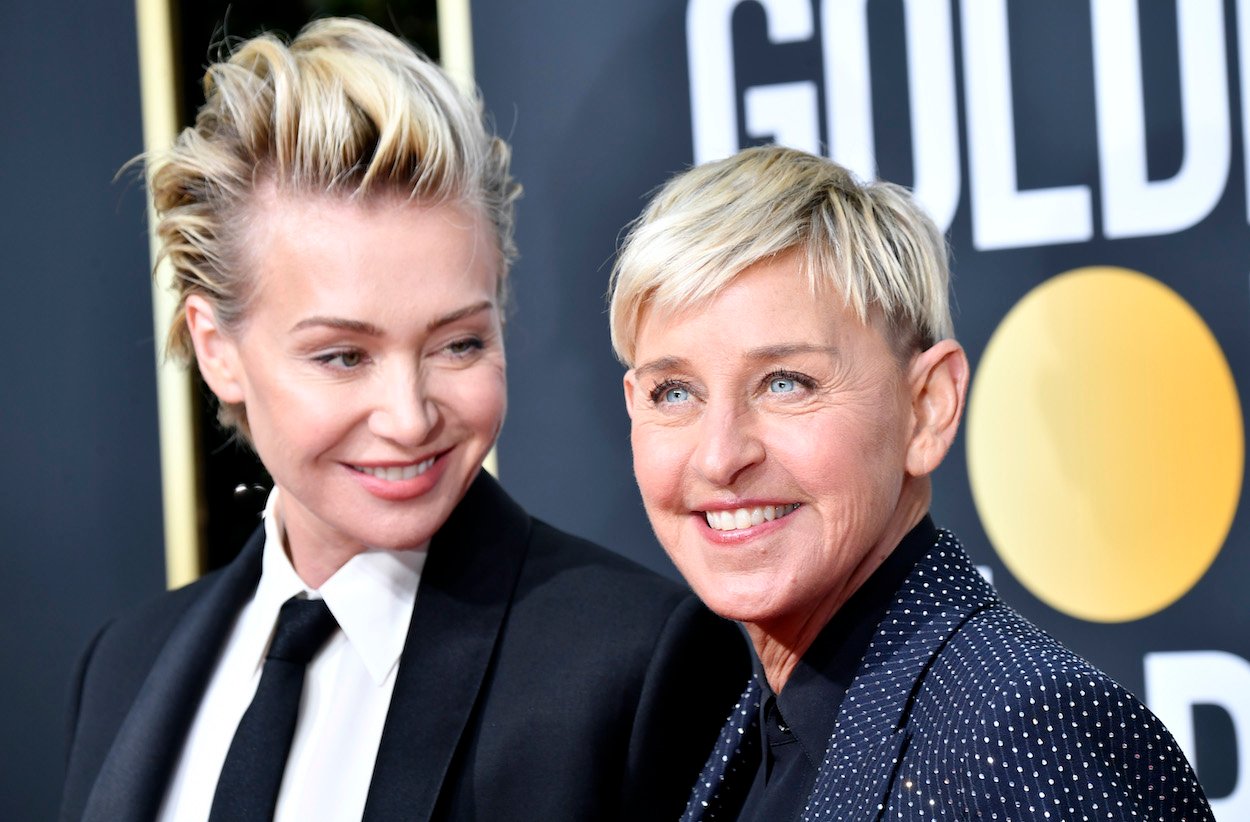 How did Portia de Rossi and Ellen DeGeneres meet? 
De Rossi says from the moment she first laid eyes on Ellen, she knew she was "the one." Yet despite her feelings, De Rossi admits it took her three years to tell DeGeneres how she felt because she was not "an openly gay person." 
"We actually met socially and I just felt that immediate draw," de Rossi gushes. "We did talk a little bit, and then over those three years, we saw each other at parties. But the one time that was the most significant was during a photoshoot. I just walked over to say 'Hello' to her and I couldn't believe it, but she turned around and it was like an arrow was shot through my heart." De Rossi continues, adding how overwhelmed the experience made her feel. "I felt weak at the knees," she confesses, "and I was overwhelmed with how I felt. But then it took me about 10 months to get the courage to actually do anything about it."
How Portia de Rossi has 'changed so much as a person' since meeting Ellen
De Rossi spills the details on how DeGeneres has changed her "so much as a person." According to the Scandal actress, the talkshow host taught her how to be vulnerable and more open with her feelings. She reveals,
"I've changed so much as a person since I've met Ellen. I used to think that the way to be strong was to be tough. I used to think that to be independent was to not need anyone, but she has taught me that the more vulnerable you are and the softer you are, and the more you allow people into your life and your heart, the happier you are and the more valuable you are to other people. Ellen has completely changed the way I look at life."
Portia de Rossi's responds to the backlash Ellen DeGeneres is receiving
Most Hollywood scandals tear couples apart. Yet for De Rossi and DeGeneres, the spouses seem closer than ever. It seems as though nothing can sever the marriage between these two. De Rossi proves her loyalty as a wife as she continues to stick by DeGeneres' side throughout this whole scandal.
 The actress turned to social media to announce her support for DeGeneres. The Instagram post says "I Stand By Ellen" in big white letters. In the caption, de Rossi writes, "To all our fans…. We see you. Thank you for your support."