Ellen Pompeo Is 'Terrified' to Let Her Daughter Watch 'Grey's Anatomy' Because of 1 Izzie Scene
Grey's Anatomy has the distinction of being one of primetime television's longest-running and most popular dramas, and it is the show that put Shonda Rhimes' brand of chaotic storytelling on the map. The series premiered in 2005, and it's currently in its 18th season. While fans have long speculated whether the series is nearing its inevitable conclusion, the heart of the show is certainly Ellen Pompeo's portrayal of titular character Meredith Grey.
Pompeo's career has been defined by portraying the doctor in all her dramatic twists and turns, and it's certainly something she'll want to share with her own children at some point. However, there's one specific scene involving a long-gone character that gives Pompeo pause.
Ellen Pompeo has played Meredith Grey for nearly two decades
Prior to landing the part of Meredith Grey, Pompeo had seen a smattering of success in Hollywood. After a few guest television appearances in the late 1990s, she focused her attention on film, landing small parts in movies like Catch Me if You Can (2002) and Old School (2003).
Without a doubt, though, the 2005 Grey's Anatomy role forever changed Pompeo's career. She will always be associated with the fictional surgeon that has become one of television's most compelling characters. While Pompeo has always been gracious and positive about her role, even she admits that she has likely been in the part "too long," noting that she's forgotten entire scenes from past episodes.
One disturbing scene with Izzie gives Ellen Pompeo pause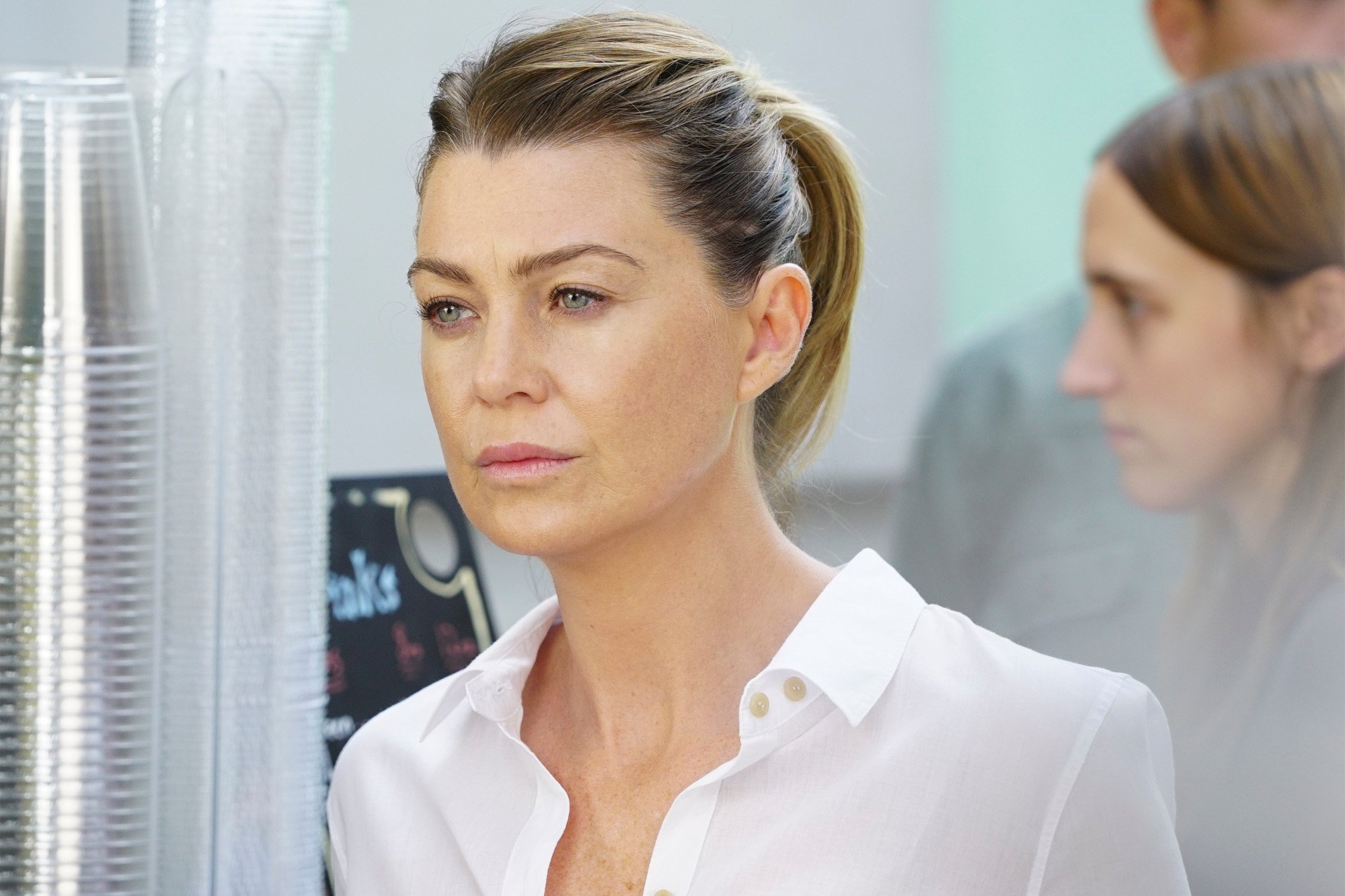 There's at least one scene, however, that Pompeo has no chance of forgetting. In fact, it keeps her from sharing the show with her daughter. As Insider reports, Pompeo has a 12-year-old daughter named Stella Ivery. Many of the tween's friends tune into the occasionally-racy (especially for primetime) drama, but Pompeo has declared it inappropriate for her daughter.
Speaking in more detail about the decision, Pompeo pointed to one particular scene from years ago that stands out. While Pompeo admits that she doesn't remember every single scene in detail and that some of the explicit content may have been implied rather than shown, she's certain of one thing. "Listen, there's one scene, for sure, where a character — not me — had sex with a ghost. Had oral sex with a ghost," Pompeo recounted in the podcast Tell Me with Ellen Pompeo.
The scene she's referring to most certainly did happen. It was part of a plot line that has been at the center of much debate and more than a little ridicule. When Izzie (played by Katherine Heigl) lost the love of her life, Denny, after a scheme she concocted to get him an organ donation went horribly wrong, she just couldn't say goodbye. The infamous "ghost sex" scene pushed what could have been a melodramatic and powerful moment of grief into the absurd for many viewers.
Pompeo knows that eventually her daughter will be old enough to watch the show, and she's "terrified" of her getting to this scene.
'Grey's Anatomy' has faced many ups and downs
While Pompeo may have Izzie's ghostly romp in mind as the line she won't cross with her daughter, but there are plenty of moments in Grey's Anatomy that have left fans with their jaws on the floor. From harrowing deaths of main characters to bizarre plot lines full of trauma to twisted love triangles that keep people guessing, the series is full of over-the-top drama.
Some scenes, naturally, stick out as particularly wild examples, but the truth is that the entire series is built on unbelievable drama made personal through the lens of the characters that the viewers have come to know and love. Once Pompeo's daughter finally does sit down to see her mother's work, there will likely be more than a few questions to answer — ghost sex included.
RELATED: 'Grey's Anatomy' Season Finales Ranked Worst to Best, According to IMDb