Elton John Didn't Return Patti LaBelle's Tupperware But Made Amends in an Extravagant Way
Elton John forgot to return Patti LaBelle's Tupperware but more than made up for it.
With six decades to her credit as an entertainer, Godmother of Soul Patti LaBelle is a legend.
Long considered a force in pop culture for her music, style, and famous cooking skills, LaBelle is a history-maker, actor, mom, chef, and superstar vocalist.
She's also besties with some of the world's biggest stars, including Oprah, Gladys Knight, and Elton John. LaBelle has a few stories about her tight friendship with John and one of them involves lost Tupperware.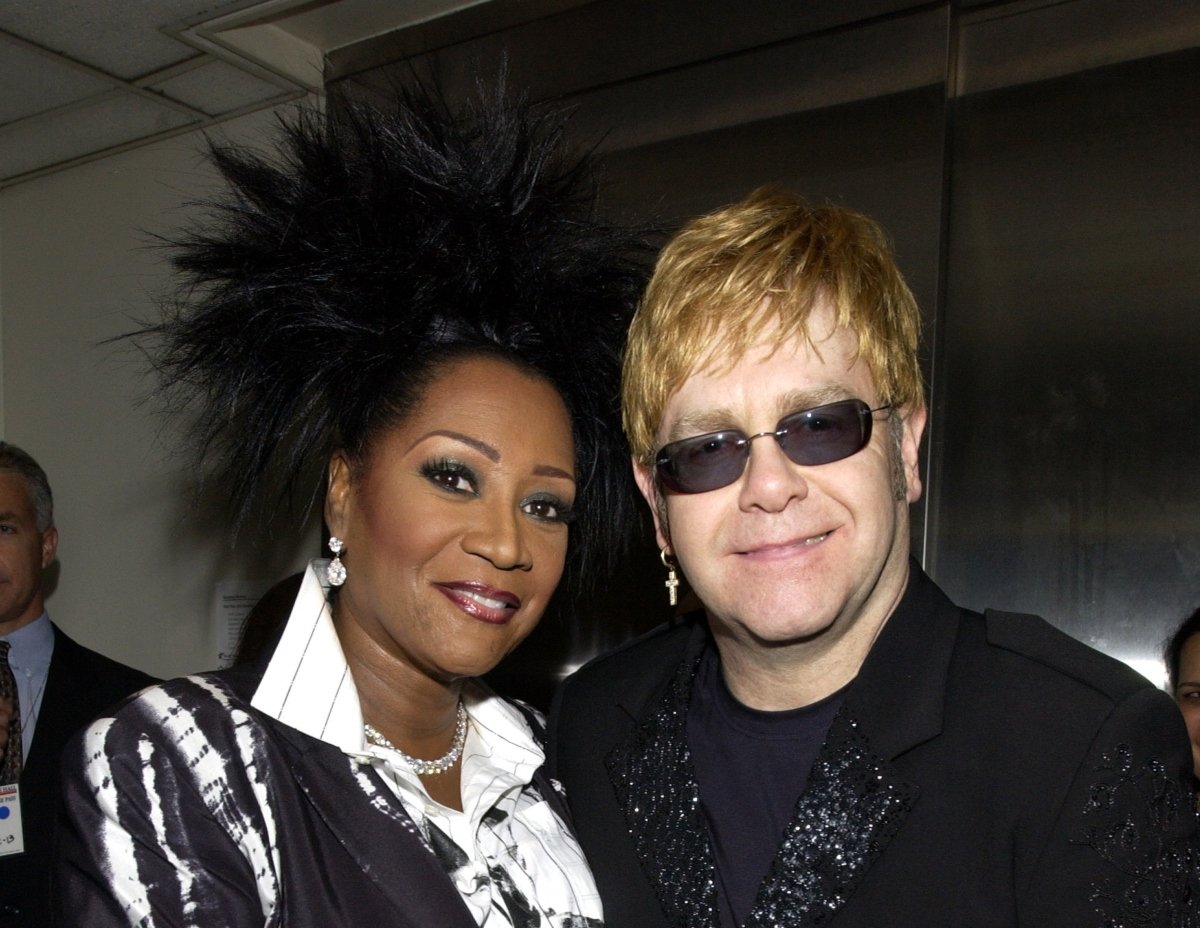 Pattie LaBelle and Elton John first met in 1966
Before she became Patti LaBelle and before he became Elton John the solo artists, these two musicians were trying to make it big with their respective groups. Though they had some hits in the U.S., back in 1966, Patti LaBelle & The Bluebelles went overseas to England to promote their music. That's when they met Reggie Dwight — who'd later change his name to Elton John.
He was part of a band called Bluesology and they played backup for LaBelle's group and other American acts. They toured England together for months. According to Rocket Man: The Life of Elton John, LaBelle's groupmate Sarah Dash said they all became friends with "Reggie."
In the book, LaBelle is quoted on how they used to hang out with Bluesology and play Tonk. She recalled how Reggie Dwight was wonderful at playing piano but not at playing cards.
"I might have sent him home with an empty pocket, but I never let him leave with an empty stomach," she said. "After I won all his money, I cooked Reg the biggest, spiciest dinner he'd ever tasted. After we ate, we sat around and talked — about music, about the States, about his dreams."
They've remained friends since then and the food/gambling tale is one LaBelle loves to tell.
That time Elton John didn't return LaBelle's Tupperware
When LaBelle visited The Meredith Vieira Show back in 2015, she was asked about her time on tour with The Rolling Stones and Elton John in his early days.
She reminisced about those times when he was her group's piano man and how she cooked for John. One time, she sent him home with Tupperware and he didn't bring it back. Years later she joked with him about it and to make up for it, he gave her a diamond ring.
LaBelle didn't go into detail about why he chose to gift her with a such an elaborate token of appreciation, but she thought it was a nice gesture.
Decades later, LaBelle and John are still close
LaBelle, John, The Rolling Stones, and other groups all came up around the same time. When LaBelle (the group) hit it big with their "Lady Marmalade" single, they toured England and the U.S. in 1975. John showed up for their shows in London and in the States.
He's since recorded with his friend Patti LaBelle and they've also performed together at concerts and charity events. LaBelle once shared that John is fond of soul food, but these days if they can't get together for meals, he can just grab one of her cookbooks. No Tupperware or diamonds needed.