Elton John Had a Specific Person in Mind When He Sang 'The B*tch Is Back'
When Elton John broke through with his first top-10 hit, "Your Song," listeners got a classic love song with a tender message. Bernie Taupin, John's lyricist for the past six decades, penned lyrics that anyone of any age could sing along to without embarrassment.
That innocence wouldn't stick for long in the career of the great songwriting duo. By the time John started his run of No. 1 hits in America, the themes and lyrics were much wilder. "I Think I'm Gonna Kill Myself," from John's Honky Chateau (1972), offers a perfect example.
The trend continued with Goodbye Yellow Brick Road (1973), which featured "Jamaica Jerk-Off" on the first side. In early 2020, Taupin looked back on that album with amusement. "It is a pretty blue record," he told the Los Angeles Times. "I was a young kid, a horny 23-year-old, among a lot of other horny twenty-somethings."
When fans picked up Caribou (1974) the following year, Taupin and John had one of their most audacious song titles to date. It came right up front as the opening track of the album: "The B*tch Is Back."
The song title came from Bernie Taupin's wife, Maxine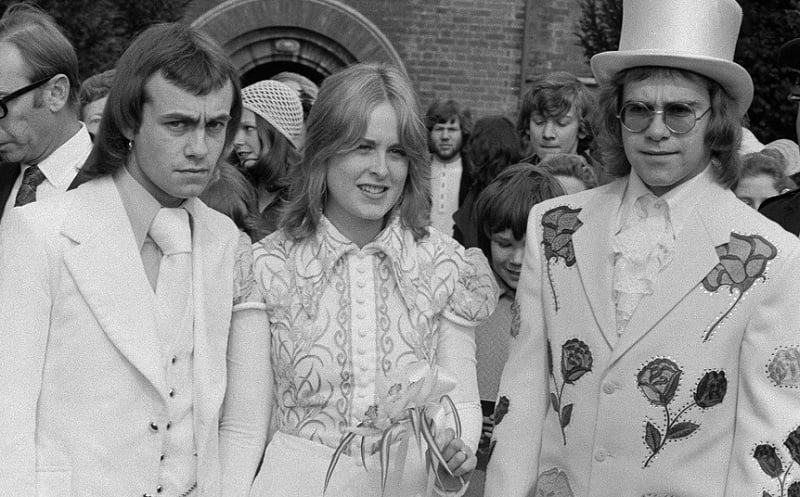 Songwriters get ideas from all sorts of places. For example, Taupin wrote "Tiny Dancer" for his wife, Maxine, whom he married in 1971. While she wasn't a "seamstress for the band," she did know her way around a thread and needle.
"When we were touring and Elton and I were shopping, we would often go to tourist stores," Maxine Taupin told The Hollywood Reporter in 2019. "[Elton] would buy these little round patches that I would sew on his denim jacket and his jeans."
That may have been the extent of her sewing, but she had plenty more to offer John and her husband as far as the songwriting process went. In fact, Taupin said she originally came up with the title to "The B*tch Is Back."
"Everyone knows [that] came from something I said," she told THR. While she and her husband were visiting John at the end of a tour, the phrase apparently just jumped out of her mouth.
Maxine Taupin was referring to Elton John himself as 'the b*tch'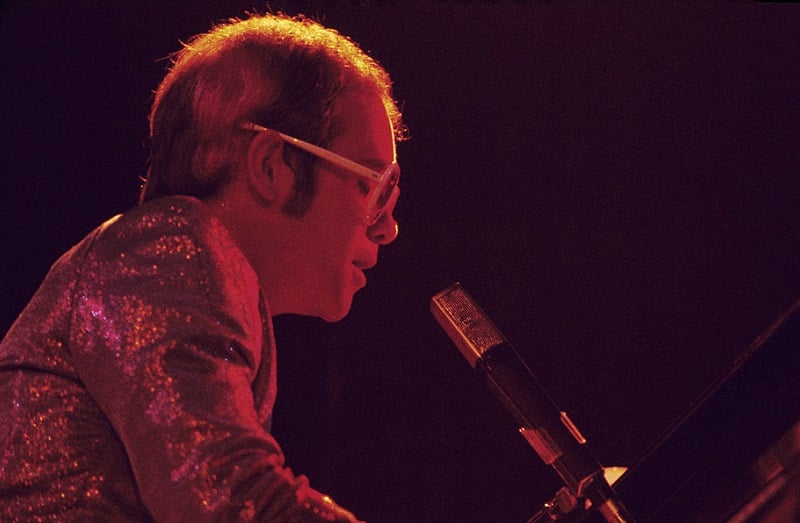 If you've ever read the tales of a band on tour in the '70s, you know how wild things could get — and much can go wrong in the way of travel, personnel, etc. And the Taupins found John at the end of one of those tours in the early part of the decade.
"[Elton] was telling us about what went on, how exhausted he was and this happened and this didn't and just on and on and on," Taupin told THR. "I looked over at Bernie and rolled my eyes and said, 'Oh, the bitch is back.' And we all just started laughing hysterically."
John would adopt it as something of a theme song. "This is a song not referring to anyone in the audience, but mainly to me," he told an audience in 1974 before launching into the track. "I'm a b*tch, I'm a b*tch, oh, the b*tch is back," he sang. And despite the problems some DJs had playing the song, it still reached No. 4 on the Billboard charts that year.
Also see: When David Bowie Grabbed the Reins From Queen During the 'Under Pressure' Sessions