Elton John Hates His Bald Head So Much He Put a Wig on for Intruders
Coming to terms with growing older can be stressful, but sometimes it's a source of funny stories, like the time Elton John threw on a wig for intruders.
Developing a passion for one's aesthetic is fundamental to pop stardom, a fact Elton John has internalized. The British music icon's career is full of hit songs and platinum albums. But visual styling also plays a part in his status, both for its vibrancy and social importance as a means of queer expression.
Still, Father Time comes for all, even decade-spanning celebrities. In many cases, accepting growing older can be stressful, but sometimes it's a source of funny stories. Cue the time Elton John donned a wig before confronting an intruder in his house. 
Elton John became the biggest star of his era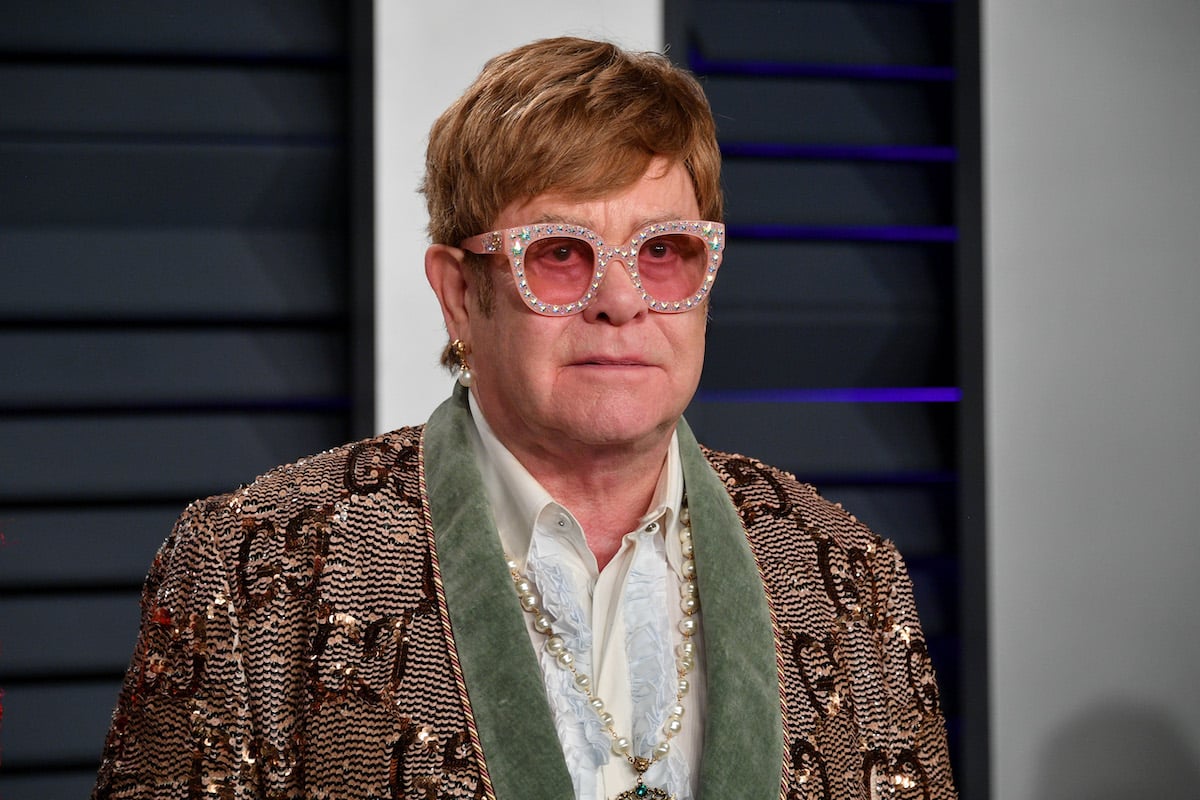 John learned how to play the piano when he was a kid and began playing professionally as a teen. His first group was the blues band Bluesology in the '60s. But he came into his own as a solo artist while creating original material in the '70s alongside writing partner Bernie Taupin. 
Elton John was the first person to notch seven consecutive number-one albums, a feat he accomplished in three years from 1972 to 1975. And between 1972 and 1976, he had six singles reach number one on the Billboard Hot 100.
He never hit those heights again, but he maintained his relevance throughout the following decades. John reintroduced himself to a new audience by co-writing five songs for The Lion King soundtrack — "Circle of Life," "I Just Can't Wait to Be King," "Be Prepared," "Hakuna Matata," and "Can You Feel the Love Tonight" — the last of which won an Oscar for Best Original Song. It remains the only soundtrack for an animated film to be certified diamond by the Recording Industry Association of America.
During his illustrious career, John has sold over 300 million records, won six Grammies, and earned a knighthood in 1998 for his music and commitment to charity. 
Elton John admits hair loss was a harsh blow to his ego
The aging process hits most people hard, and Elton John's success couldn't insulate him from that fact. He began losing his hair in the '70s, and two attempted hair transplants only made matters worse. The procedure involved "strip-harvesting," where hair from the back of his head was removed and attached to the crown. 
"The sound of the hair being removed was disconcertingly like a rabbit gnawing its way through a carrot," John wrote in his autobiography, Me: Elton John Official Autobiography (via The Daily Mail).
He made a point to wear a hat in public for over a decade to hide his shame. A bad dye job in the '80s didn't help, and Elton John has worn wigs ever since. His commitment to keeping up his appearance is so extreme that he even wanted to look presentable during what he thought was a home invasion. 
"I pulled on my dressing-gown and crept out. Then halfway down the corridor, I realized I didn't have my hairpiece on," John recalled. "So I rushed back to the bedroom, reasoning that if I was going to be bludgeoned to death by intruders, at least I wouldn't be bald when it happened."
It turned out the intruders were plumbers fixing a leak in the kitchen. They apologized for waking him but stared at John in a way that prompted him to examine himself in the mirror. 
"Stopping off in the bathroom, I realized that the workmen weren't bedazzled by the sight of the legendary Elton John. They were bedazzled by the sight of the legendary Elton John with his wig on back to front."
The Rocket Man still has a few more shows before retirement
Elton John is in the middle of a prolonged retirement tour. Kicking off in 2018, Farewell Yellow Brick Road was meant to be a three-year worldwide experience, but it had to be extended until July 2023 because of the pandemic. 
Although he is near the end of his career, John still has the creative energy to release new music. Last October, he released The Lockdown Sessions, a mix of revisited old material and new songs, made in collaboration with other artists. The lead single, "Cold Heart" with Dua Lipa, was John's first number-one hit in Britain in 16 years and made him the first solo artist with top 10 singles in the United Kingdom across six decades. 
The Lockdown Sessions also features songs with Stevie Wonder, Young Thug, and Stevie Nicks. In addition, John released a Christmas duet with Ed Sheeran, "Merry Christmas," and Regimental Sgt. Zippo, which was recorded in 1967 and 1968 but was shelved in favor of John's debut album, Empty Sky.