Elvis Presley: Graceland's Restricted Upper Rooms Remain as They Were the Day He Died
There were few places on Earth that Elvis Presley could be himself. One of the most significant places was his home, Graceland, in Memphis, Tennessee. The outside world constantly wanted a piece of the King of Rock 'n' Roll, but inside the confines of Graceland, Elvis was safe. He was even safer in his restricted rooms on the upper floors that could only be accessed by invitation from Elvis himself.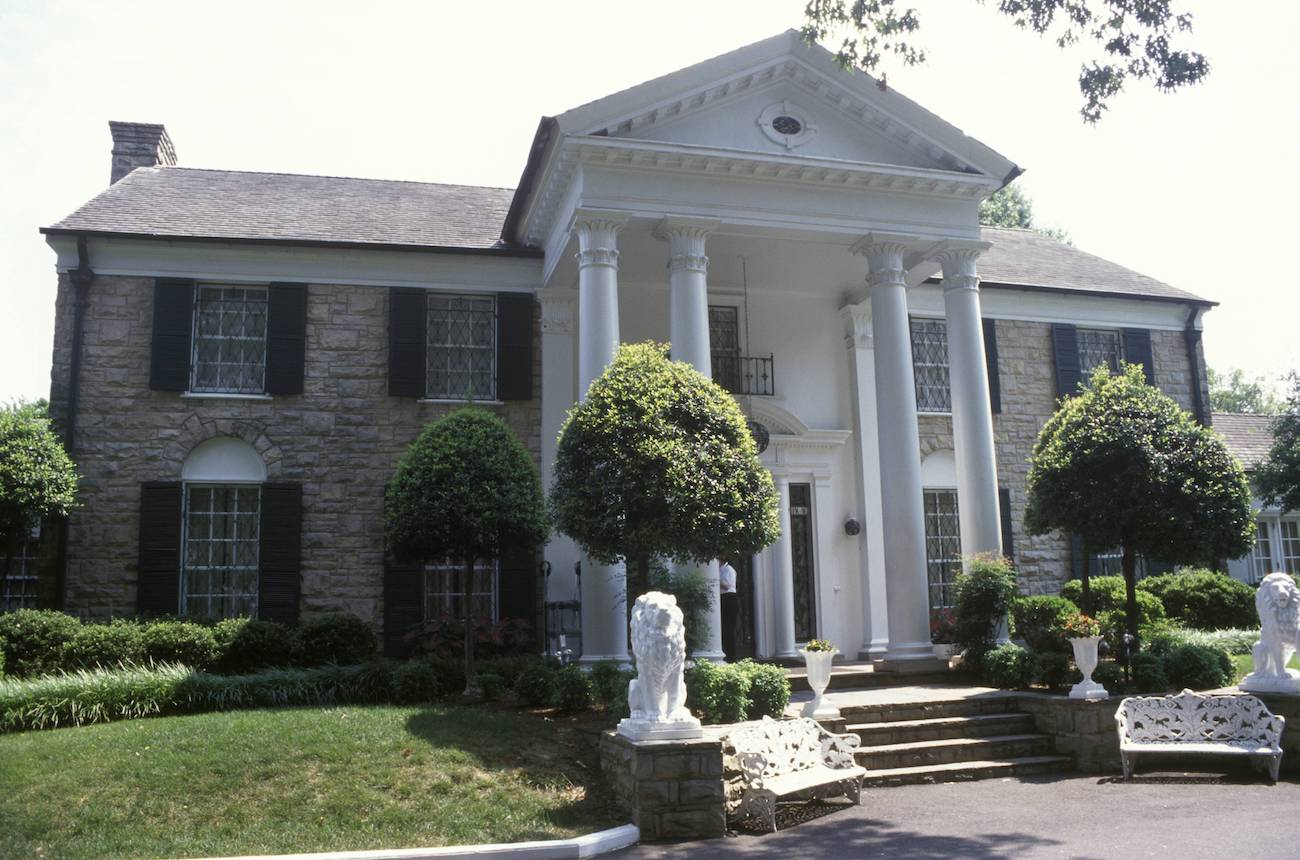 Elvis Presley's daughter Lisa-Marie didn't touch his upstairs rooms after he died
Ginger Alden, Elvis's girlfriend, told Closer Weekly that Elvis used to wear a jeweled robe while he played the organ in his office upstairs. "There was this soft pink, indirect lighting that was left on. It was magical," she said.
Visitors could only access those upper rooms by invitation from Elvis only. Linda Thompson, another girlfriend of Elvis's who stayed with him at Graceland from 1972 to 1976, says his bedroom was "black, red and gold. … And no — the windows were ever opened." He also kept his rooms cold enough to hang meat. Lisa- Marie, Elvis's daughter, slept next door.
"He and I spent a lot of time together upstairs. That part of Graceland is basically his room and my room," Lisa Marie said. "He'd set up a little chair in my room, and [we'd watch] TV."
Graceland opened for tours in 1982, but the upstairs has never been open to the public, just like it was off-limits when Elvis was alive. Lisa-Marie has kept everything about her father's rooms the same as they were on the day he died in 1977. The last record he played on his turntable is still in place, a recording by J.D. Sumner and the Stamps. "The books, the videos, everything is there still. The Godfather, Citizen Kane, Pink Panther, Bruce Lee — all of his videos," said Lisa Marie. "It's a beautiful sadness. [But] it's very comforting to me."
Related: Here's Why Priscilla Presley Was 'Nervous' to Leave Elvis Alone
Elvis Presley felt completely at ease at Graceland
Elvis might have bought Graceland for his parents in 1956, but the house has become synonymous with him and his larger-than-life music career. Dropping all the baggage of being one of the world's most iconic figures at the door, Elvis could be himself.
"It was a safe place, he knew the staff, and he had everything he needed there," a family insider told Closer Weekly. "If he wanted to see someone, they would come to him."
Lisa Marie says that her father used to take her out for late-night rides in the golf cart he gifted her. "He was astoundingly funny and mischievous," she said. "There is not one bad memory. There was always a lot of energy and life in the house."
"Graceland held all of the memories he cherished most of his ex-wife, Priscilla, his daughter and his mother," a friend added. "He'd walk around the grounds, and he loved watching television in his beloved Jungle Room."
One thing's for sure; you don't have to go upstairs to feel Elvis's presence at Graceland. It's like a perfectly kept time capsule.