Emeril Lagasse Reveals the 1 Dish of His 'People Go Crazy' For
Emeril Lagasse has many recipes but there's one dish "people go crazy" for at his restaurants. The celebrity chef, who dominated Food Network in the 1990s and early 2000s with his TV programs such as Emeril Live and The Essence of Emeril, now has 11 restaurants across the country. Among the many dishes served at each one, customers can't get enough of one particular menu item that's been around since the beginning of Lagasse's days as a restauranteur.
'People go crazy about' Emeril Lagasse's banana cream pie
In a 2014 interview with First We Feast, Lagasse talked about the 10 dishes that have made his career, one of them being a dessert. Known for his catchphrases "Bam!" and "Kick it up a notch!" the now-60-year-old chef and restauranteur revealed his banana cream pie is a standout among guests.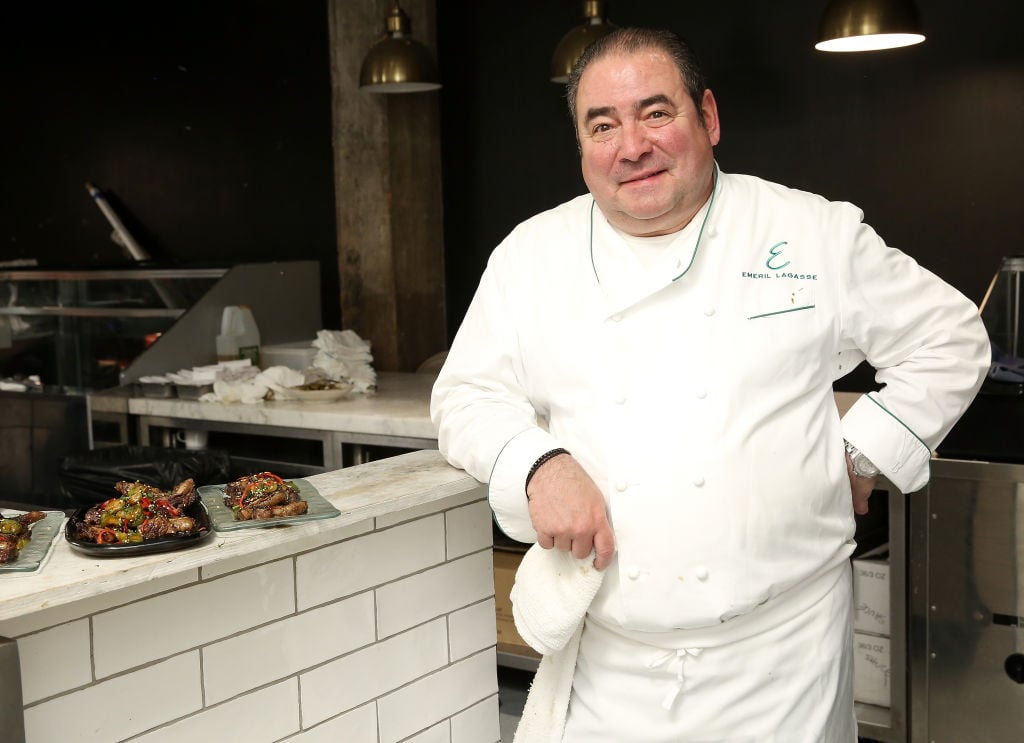 "I can't even begin to tell you how many of these we've sold," Lagasse said referring to his Banana Cream Pie with Caramel Drizzles and Chocolate Sauce.
He continued, saying it's a standout even among his other popular dishes.
"If there's one dessert—maybe even one dish—that people go crazy about, it's this one," Lagasse said. "There's something about the old-fashioned pastry cream layered with bananas, caramel, and finely shaved chocolate."
The chef went on to say he used to eat the dessert as a kid and wanted to elevate it.  
One look at the pie and it's easy to see Lagasse did indeed elevate the dessert.
"My mom would occasionally buy a banana cream pie when I was growing up. It was tasty, but it was nothing like this one," he said before adding, "I wanted to bring those childhood tastes back, but make them decadent."
According to Lagasse's website, the banana cream pie has "been on the menu since day one" when he opened his first restaurant, Emeril's New Orleans, in 1990, and "continues to be one of the most popular desserts."
Today, the confection is on the menu at six of Lagasse's restaurants; Emeril's New Orleans, Emeril's Coastal Italian, Emeril's New Orleans Fish House, Lagasse's Stadium, Emeril's Chop House, and Emeril's Fish House.
Lagasse's banana cream pie recipe
For those who aren't lucky enough to live near one of Lagasse's many restaurants, the chef shared his banana cream pie recipe.
To accompany the recipe, there's also a step-by-step video from none other than Lagasse himself. 
As expected, the pie is packed with bananas — about nine — and heavy cream. Other ingredients include eggs, egg yolks, sugar, cornstarch, and vanilla bean. The crust is made from graham cracker while the top is piled high with whipped cream, caramel sauce, chocolate sauce, and chocolate shavings. The pie is a labor of love and will need to be made in advance so it has time to chill for a minimum of four hours. 
As Lagasse would say, "kick it up a notch" by making this wow-worthy dessert at home and don't forget to say "bam!" a few times during the cooking process for good measure.