'Emily in Paris': Fans Disappointed With Emily, Gabriel, Camille in Season 2, Concerned for Season 3
Emily in Paris Season 2 debuted on Netflix on Dec. 22, 2021. Fans flew through the second season and already have strong opinions about Emily (Lily Collins) and Gabriel (Lucas Bravo). Find out what fans disliked most about their relationship in season 2. Plus, fans take issue with Camille's (Camille Razat) portrayal and express concerns about the future of the show.
[SPOILER ALERT: Spoilers ahead for Emily in Paris Season 2.]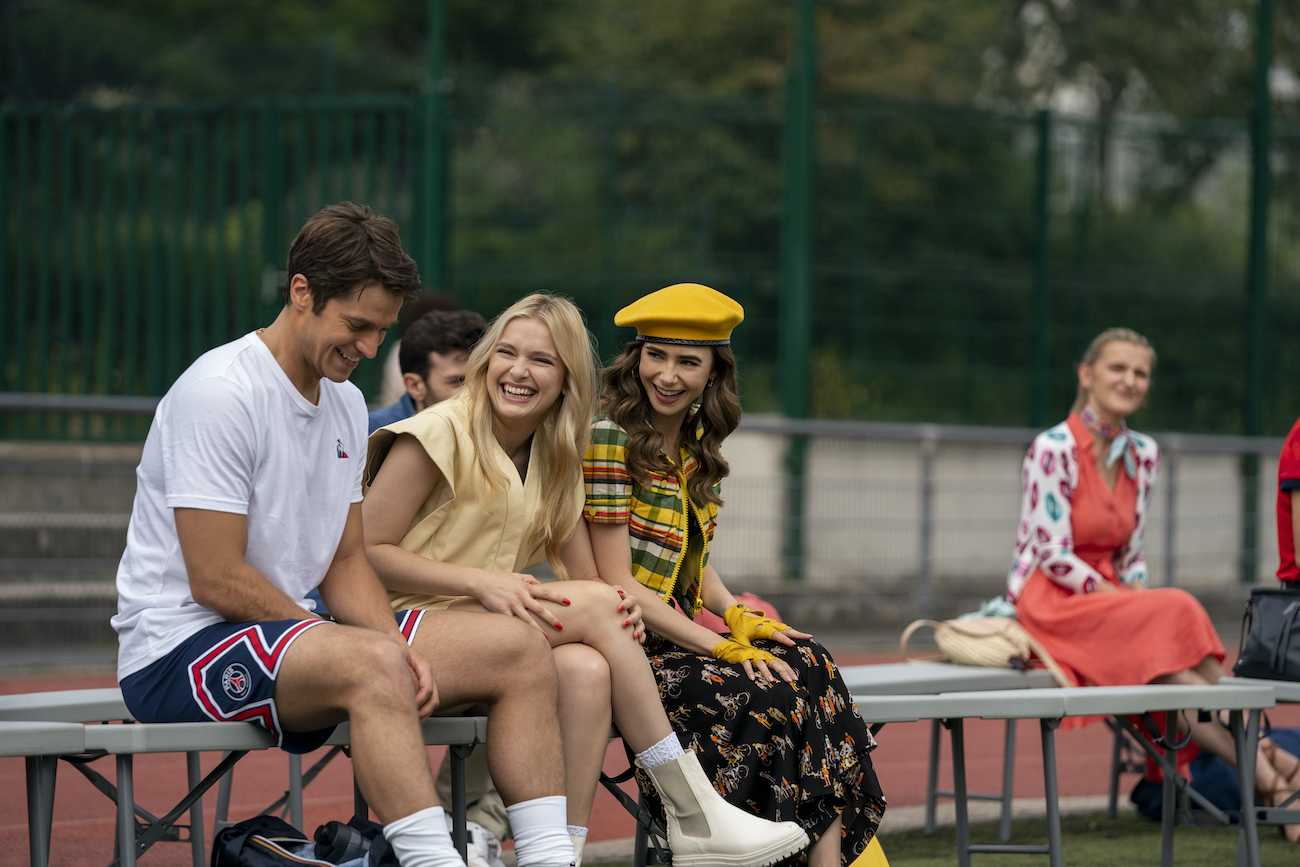 'Emily in Paris' fans dislike Emily pursuing Gabriel 
Season 2 picks up right where season 1 left off. Emily flirts with the idea of being with Gabriel for the first half of the season 2. But when Camille finds out about Emily and Gabriel sleeping together, Emily's goal shifts slightly.
She begins avoiding Gabriel and suppressing her feelings for him. She also works on getting him and Camille back together while trying to rebuild her friendship with Camille. 
Many fans of Emily and Gabriel's "will-they-won't-they" narrative, which resurfaces throughout season 2. "I can't believe this show wants us to want Emily and Gabriel together," a fan shared on Reddit. They think Emily's actions make her "impossible to root for," calling the "amount of betrayal … completely staggering." 
"I really want to like [Emily in Paris] because it has glamour and escapism, but this premise just ruins it," they add. "I guess I'll probably just quit watching this …"
Gabriel is a boring character to some 'Emily in Paris' fans 
While many fans dislike the way season 2 "villainized" Camille, others find the character of Gabriel to be lackluster. "Why did they make his character so boring?" writes a fan in a separate Reddit thread.
"What is his personality outside of being a chef?," they continue, pointing out how the character isn't "particularly funny or caring or impulsive or troubled or passionate or expressive or….anything." Like those fans who think Emily and Gabriel don't belong together, this fan doesn't think he is a great character for fans to love. 
Fans are disappointed with Camille being villainized in 'Emily in Paris' Season 2
Other fans are disappointed in the way Emily and Gabriel's relationship "villainized" the character Camille. "No matter how much they tried to villainize Camille, I still sympathized with her rather than Emily and found it impossible to root for the lead character," said a fan in a Reddit comment. 
Throughout Emily in Paris Season 2, Emily dislikes the thought of losing Camille as a friend, so she works to get Camille and Gabriel back together. But many fans were upset by Emily's actions, perceiving them to be selfish in motive. 
"Emily is so obsessed with being perceived as a 'good person' that she instead becomes psychotically manipulative," said a fan of the Netflix series. "People like this are THE WORST." 
"Yes! I know this isn't a realistic depiction of life by any means but sometimes you can just tell she'd avoid tons of embarrassing situations if she just told the truth in advance," another fan pointed out. 
'Emily in Paris' fans concerned about season 3 narrative 
Netflix has yet to confirm another season of Emily in Paris. But fans are already concerned about where the story will go regarding Emily Cooper and Gabriel. 
Despite Emily's season 2 love interest Alfie (Lucien Laviscount), fans still don't believe she's entirely over Gabriel. That was furthered in the season 2 finale, when Emily knocks on Gabriel's door presumably to profess her love for him, only to find Camille moving her stuff into his apartment. 
"I feel like this never-ending love triangle between Camille, Gabriel, & Emily is going to ruin season 3 for sure," yet another fan says regarding the future of the show. 
Stay tuned to Showbiz Cheat Sheet for updates on the future of Emily in Paris. Stream seasons 1 and 2 on Netflix now.