'Emily in Paris' Season 2: Lily Collins Spills the Tea on Emily's New Love Interest
Find out who Emily could fall in love with in season 2 of 'Emily in Paris' straight from the star herself — Lily Collins.
Emily in Paris fans are eager for season 2 of the Netflix series. In a recent interview, Lily Collins teased where Emily's relationship with Gabriel (Lucas Bravo) stands in season 2. Plus, the actor revealed information regarding a new love interest for Emily in season 2, Alfie. Here's how Emily's romances could play out in the new season.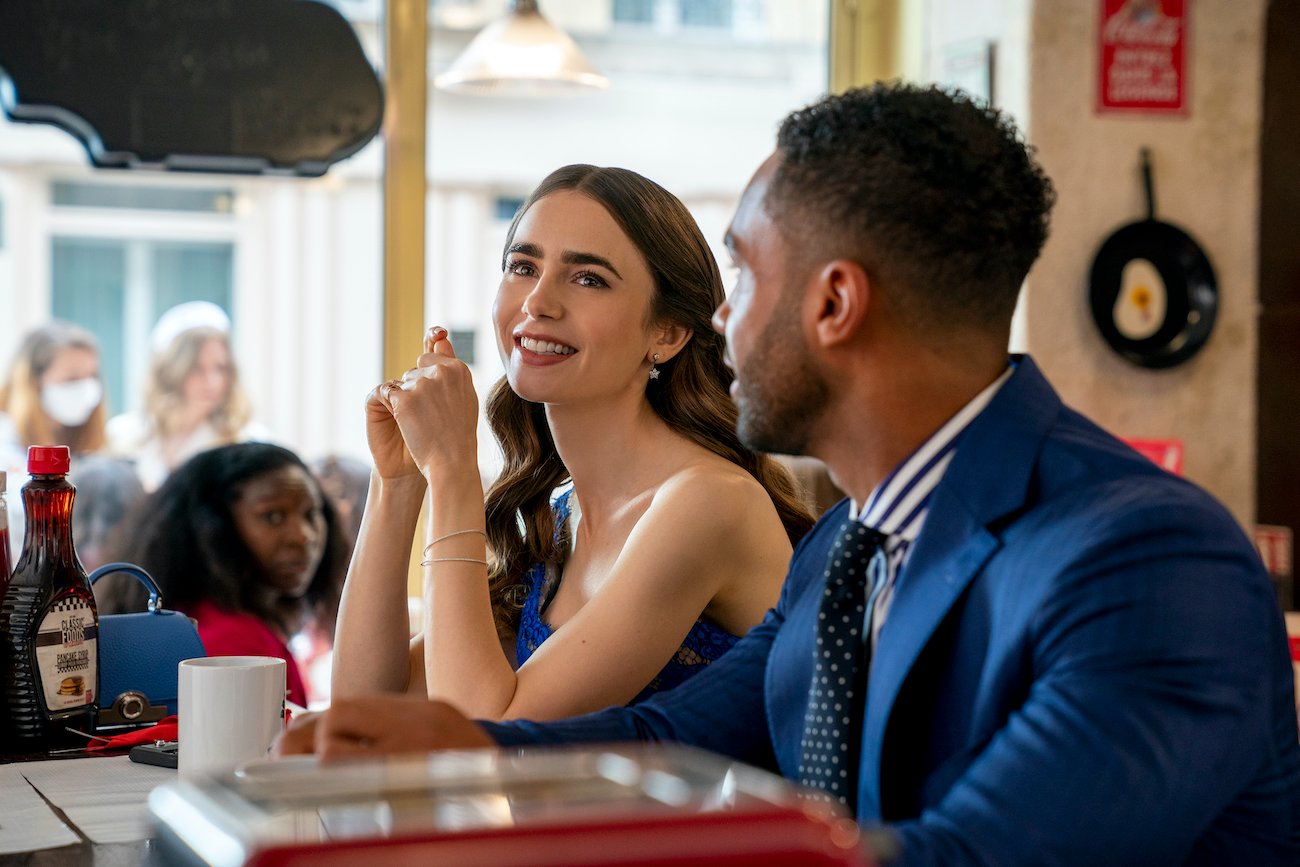 'Emily in Paris' Season 1 ends with a cliffhanger 
At the end of season 1, things are going well for Emily, the American abroad who managed to get un-fired by Savoir's intimidating Sylvie (Philippine Leroy-Beaulieu). Riding the high of a successful fashion stunt for Pierre Cadault (Jean-Christophe Bouvet), Emily finds out Gabriel and Camille (Camille Razat) broke up because of his decision to move to Normandy. 
But whether or not Gabriel and Camille are officially over is unclear. "That's the thing … we don't know," Collins told Collider. "As an actor it's so funny, because in TV you sometimes don't know what's going to happen next. There are so many possibilities for the future with this show, in so many different ways with all the characters. That was kind of the experience of reading the episode during the table read is like, we were all turning pages going, 'Where are we going next?'"
After spending a romantic night together, things get suddenly complicated when Antoine (William Abadie) agrees to finance his restaurant for Gabriel. Emily's left in a state of confusion at the conclusion of Emily in Paris Season 1. 
Lily Collins teases a new romance in season 2 of 'Emily in Paris'  
Lucien Laviscount plays Emily's potential love interest Alfie in season 2 of Emily in Paris. As Collins teased to Glamour, "it's important to Emily that she's able to start to see romance elsewhere." The actor says Emily and Alfie's romance begins in a "fun and unexpected" way. 
"They meet in French class and they both are equally intrigued but aggravated by one another in a very playful cat-and-mouse-type way," said Collins. "[They] both challenge one another. It's really fun to see Emily sparring with him, but also be in situations and conversations with someone who is emotionally available in ways that Gabriel wasn't necessarily. It's also going to add a lot of humor." 
Collins thinks Emily in Paris fans might be surprised to find themselves on "Team Alfie," especially those fans who were "Team Gabriel" in season 1. "I think that they're going to get a little surprised when all of a sudden people start to feel like, 'Maybe this is the guy that Emily should be with,'" the actor said.
"I think that that's going to be fun to see how people start to either solidify or change their opinions. Emily wants to do the right thing, but she's also at a point in her life where she's very work-driven and exploring her options. She's valuing herself a little more than she used to … and that's when this new person comes in, and you get to see how that jars and excites her." 
Emily's season 1 romances 
Gabriel wasn't Emily's sole French romance in season 1 of Emily in Paris. She also had a fling with Camille's 17-year-old brother Timothée (Victor Meutelet). Plus, she had a brief romance with Mathieu (Charles Martins), the nephew of couture designer Pierre Cadault. 
As Emily in Paris creator Darren Star teased to Collider, "we haven't really seen the potential of that relationship yet. I think Emily's is going to have some surprising choices to make next season."
Could this mean Emily will have to choose between Mathieu and Alfie? Watch Emily in Paris Season 2 beginning Dec. 22, 2021.