'Emily in Paris' Might Have Had a 'You' Easter Egg — Did You Catch It?
Emily in Paris might have given You fans a small taste of the crossover they've been asking for. The two Netflix shows are complete opposites: You follows a stalker-turned-murderer who will stop at nothing to be with the woman he loves, while Emily in Paris follows a bubbly American marketing professional as she works and finds love in Paris. Still, fans of both shows want them to meet in the middle now that their lead characters are in the same city. Has a possible You Easter egg in Emily in Paris hinted at crossover potential?
[Spoiler alert: The following story contains spoilers for the You Season 3 finale and Emily in Paris Season 2 Episode 3.]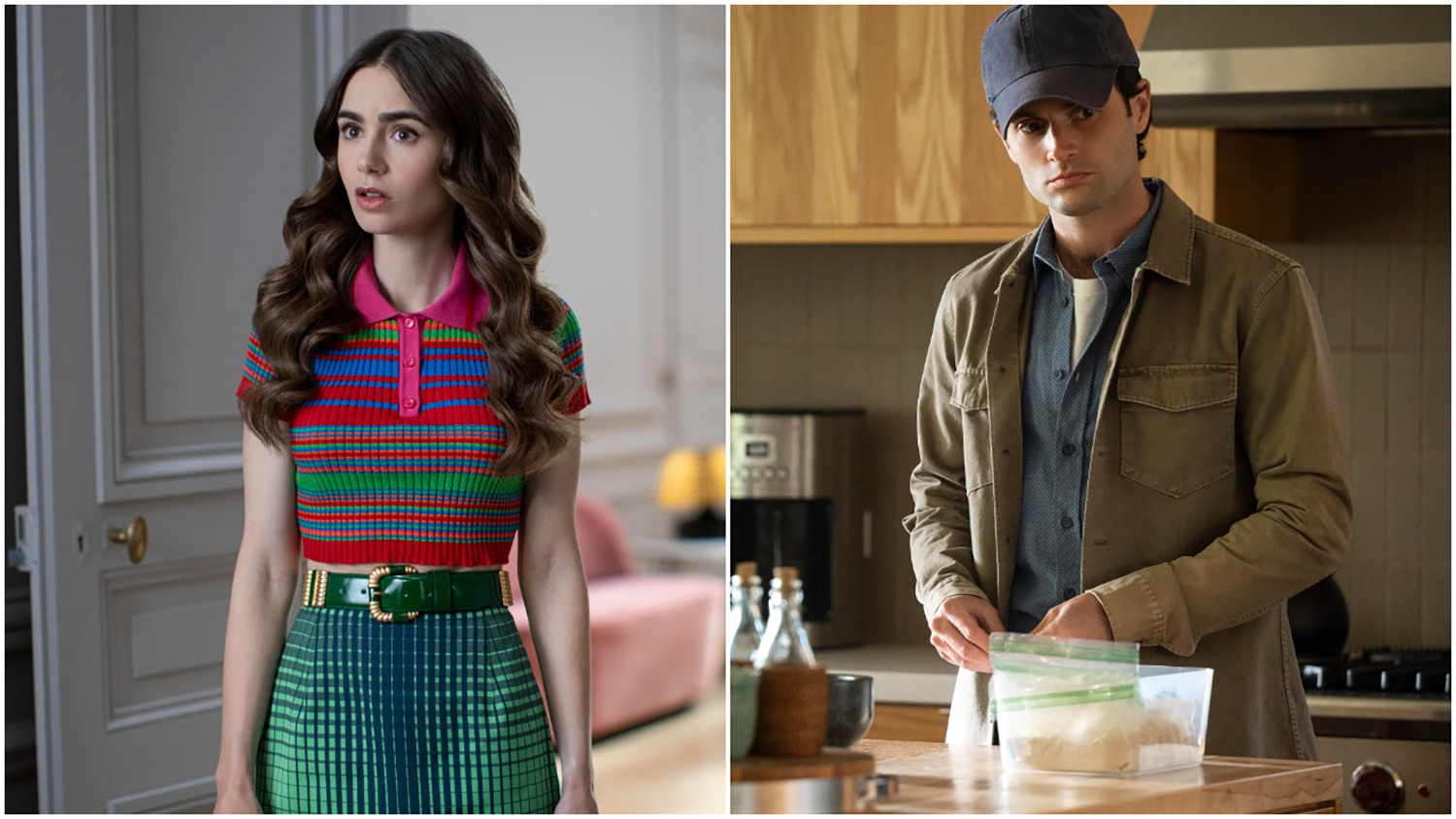 Joe Goldberg fled to Paris in the 'You' Season 3 finale
In the twisted You Season 3 finale, which hit Netflix in October, Joe Goldberg (Penn Badgley) committed one final crime in the U.S. He killed his wife, Love Quinn (Victoria Pedretti), and left their son, Henry, with his friend Dante (Ben Mehl). Joe covered his tracks and quickly left the country for Paris. His motivation for doing all of this? To find Marienne (Tati Gabrielle), Joe's obsession during season 3 and the woman he believes is his true love.
Joe landed in Paris and changed his name to Nick. Meanwhile, Emily in Paris fans couldn't help but wonder if he would cross paths with Emily Cooper (Lily Collins). Many took to social media after You Season 3 to beg for a crossover.
"If You S4 is set in Paris, Joe will probably find Emily in Paris and start stalking her," one fan wrote on Twitter at the time.
"Ok but, can the plot of Emily in Paris Season 2 be her meeting Joe Goldberg?" another user added.
'Emily in Paris' might have included a 'You' Easter egg
Emily's life in Paris is already complicated without Joe's obsession. In season 2, which arrived on Netflix on Dec. 22, she dealt with the aftermath of sleeping with her neighbor, Gabriel (Lucas Bravo), who happened to be in a long relationship with Emily's new Parisian friend Camille (Camille Razat). At the same time, Emily also had a few other potential love interests, making things even messier.
One particular scene in Emily in Paris Season 2 could hint at a connection between the Darren Star vehicle and You. As E! reported, in season 2 episode 3, Emily's coworker Luke (Bruno Gouery) tried to offer some advice on her love triangle situation. His advice didn't make much sense in Emily's case, but it might have perked up the ears of You fans.
"Don't waste time with girls or thinking about Marianne No. 1 or Marianne No. 2," Luke said. "Just never date a woman named Marianne. Never." 
There's a very high chance that the name drop was solely a coincidence. After all, Marianne is a French name, which means there are probably a few of them in Paris. However, it's also possible Netflix wanted to tease fans of both shows.
Could an 'Emily in Paris' x 'You' crossover arrive in the future?
Netflix has yet to confirm any sort of official crossover between Emily in Paris and You. At this time, Netflix has not yet renewed or canceled Emily in Paris Season 3.
On the other hand, You is already confirmed for a fourth season. Showrunner Sera Gamble told Newsweek that it would take place in Europe.
"Putting him in Europe is exciting because a lot of people in Europe watch the show, and the world has become smaller, so it's fun to expand his map and think about other possibilities," Gamble said.
You Seasons 1 through 3 and Emily in Paris Seasons 1 and 2 are now streaming on Netflix.
RELATED: Cardi B Wants a 'You' Season 4 Cameo After Penn Badgley Twitter Banter