Emily Ratajkowski Explains Exactly How She Uses Her Sex Appeal for 'Survival'
Emily Ratajkowski has made an incredible name for herself as a model and actress. She appeared in the music videos for Maroon 5's "Love Somebody" and Robin Thicke's "Blurred Lines" in 2013, and from there, her career skyrocketed. She has since appeared in Sports Illustrated's swimsuit issues, though she recently revealed that the woman fans see as the super model isn't actually who she is in real life. Ratajkowski recently said that she uses her sex appeal as a "survival" tactic.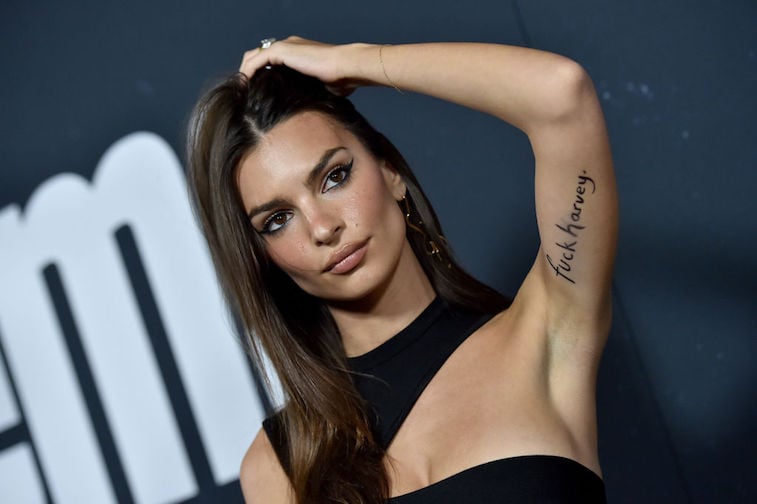 Ratajkowski said she never wanted to be famous
Born in London, Ratajkowski lived across the pond until she was five; she then moved with her parents to San Diego, where she was raised. Growing up, she always loved theater, and she started getting involved in modeling and acting from a very young age. Ratajkowski ended up modeling for catalogs such as Nordstrom and Kohl's as a teenager, and she started to audition for some television roles as well.
Ratajkowski left college after one year in order to pursue modeling full time. After trying for a while to break into the industry, she landed a cover shoot for the magazine treats! back in 2012. From there, Ratajkowski started to get more notoriety. She eventually was cast in several music videos, including the mega hit "Blurred Lines" in 2013, along with "Fast Car" by Taio Cruz. But Ratajkowski recently revealed in an interview with British GQ that she never actually wanted to be famous. "Fame wasn't something I had really expected or really wanted — although deep down probably every 20-year-old girl wants to be famous a little bit," Ratajkowski said.
She appeared in the Sports Illustrated swimsuit issues in 2014 and 2015
Ratajkowski's big break might have come from music videos, but she received much more recognition than that shortly after. The model made it big when she appeared in two consecutive Sports Illustrated swimsuit issues in 2014 and 2015.
She'd received plenty of recognition for her appearance in other ways, too. Ratajkowski was named "Woman of the Year" by Esquire magazine's fans back in 2013, and she had become largely regarded as one of the sexiest women in the world, per media outlets such as Maxim and FHM. Rolling Stone labeled her one of its 20 hottest sex symbols in 2013.
The model recently revealed that she uses her looks for 'survival'
Though Ratajkowski is largely known for her looks, she recently revealed in her British GQ interview that who she is on the outside isn't at all who she is on the inside. "I think, for me, the way I use my image and as a model and capitalize off of it has been very much about survival, rather than a representation of who I am," Ratajkowski said. "Modeling was an amazing way to make money and gain stability; fame came with that and it was a bizarre thing." Ratajkowski essentially uses her sex appeal to make money and provide for herself, though it isn't what defines who she really is.
Ratajkowski went on to say that she finds the fame and beauty that celebrities have to be "blinding" and didn't realize what she was getting herself into when she pursued her current career. These days, Ratajkowski is still modeling, but she's settled down and started a new chapter of life with her husband, Sebastian Bear-McClard, who she married in 2018.