Eminem Gave Elton John a Diamond-Encrusted Sex Toy As a Wedding Gift
Elton John and Eminem seem like an unlikely pairing, but the two prolific musicians have been a part of each other's lives for years. Their friendship was first rooted in things they had in common, and has since blossomed into a love and understanding for each other's lives.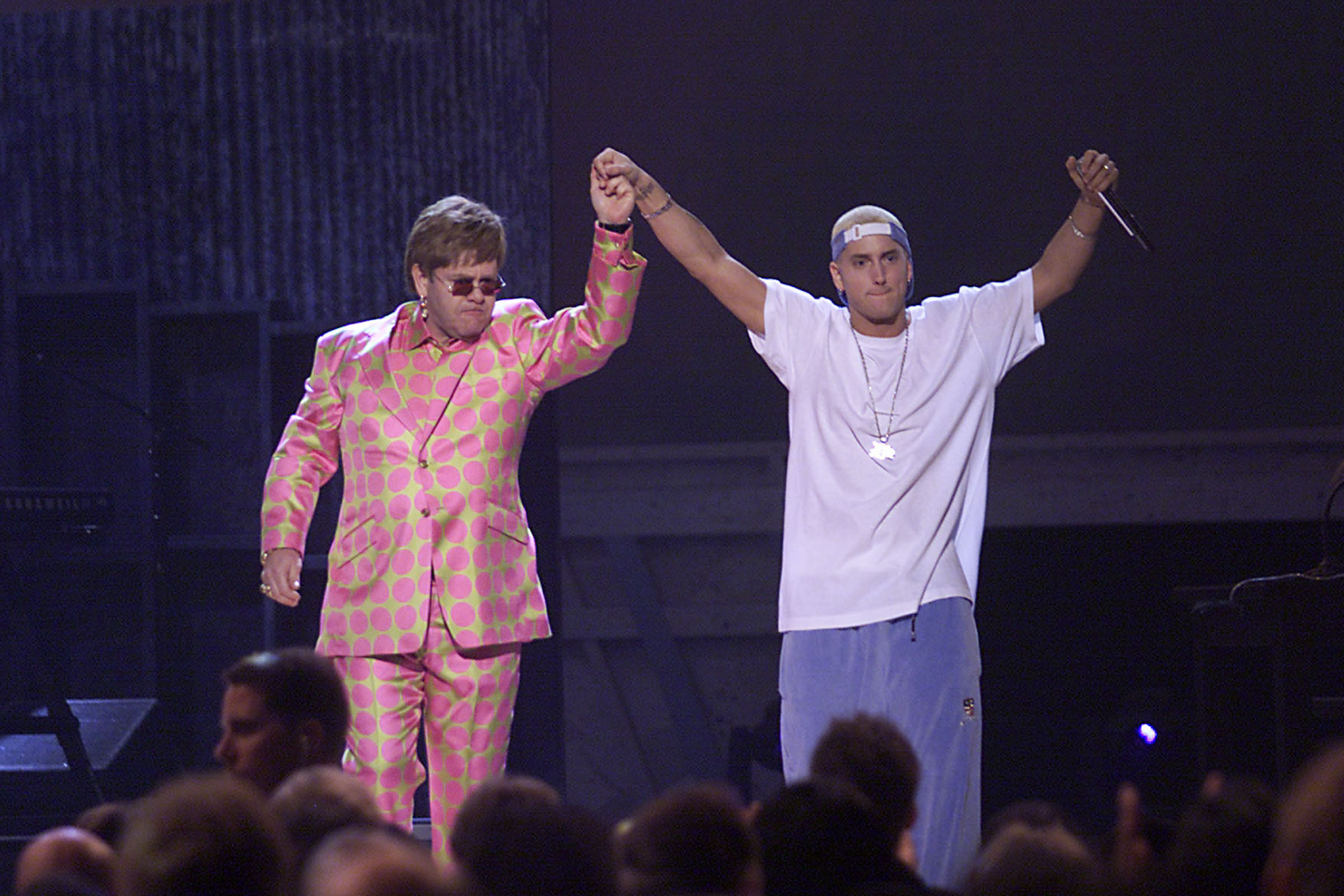 Eminem and Elton John's relationship
Eminem and Elton John's friendship dates back over a decade. In 2008, Eminem began living a sober lifestyle after having spent years addicted to prescription medication. John has been sober for over three decades, and acted as a mentor of sorts for Eminem at a time when he needed one.
Slim Shady spoke about John's care for him in a 2011 interview with Rolling Stone.
"I speak to Elton. He's like my sponsor. He usually calls me once a week to check on me, just to make sure I'm on the up-and-up," he revealed.
"He was actually one of the first people I called when I wanted to get clean," he continued. "He was hipping me to things, like, 'You're going to see nature that you never noticed before.' S*** you'd normally think was corny but that you haven't seen in so long that you just go, 'Wow! Look at that f***ing rainbow!' Or even little things — trees, the color of leaves. I f***ing love leaves now, man. I feel like I've been neglecting leaves for a long time."
Eminem gave Elton John diamond-encrusted sex toys
John himself is a fan of the "Lose Yourself" rapper. In a 2017 appearance on The Graham Norton Show, the "Rocketman" singer spoke freely about his appreciation for Eminem and his music. They performed Em's song "Stan" together at the 2001 Grammy Awards; John stood in for Dido during the performance, and joked to Norton that he "took the L out of Dido."
"We became friends, and we've been amazing friends ever since. He's an amazing guy," John said. "I just adore him."
When John entered a civil partnership with his now-husband David Furnish in 2005, Eminem gifted the couple with a unique gift.
"I got this package from Eminem," John recalled. "We had two diamond-encrusted c*** rings on velvet cushions. And I have to say, they have remained unused."
Elton John said Eminem isn't homophobic
Eminem has included homophobic slurs in his lyrics in the past, but John insisted that Eminem had never held those views himself. "He was accused of being homophobic by so many people because of his lyrics, which I thought was nonsense," John said. He used the story of the gift as an example of "how homophobic he isn't."
John defended Eminem against criticism of homophobia in a 2017 interview with Zane Lowe.
"He's got some interesting things to say," John said. "For me, Eminem was never homophobic. I listened to the whole Marshall Mathers album when I drove to a show in Southampton. I was floored by it and I thought, 'How can anyone think this is [homophobic]? He's just writing about the way things are — not how he thinks, the way things are.'"
RELATED: Eminem's Breakout Album 'The Marshall Mathers LP' Almost Had a Very Different Name