Eminem Net Worth and How He Makes His Money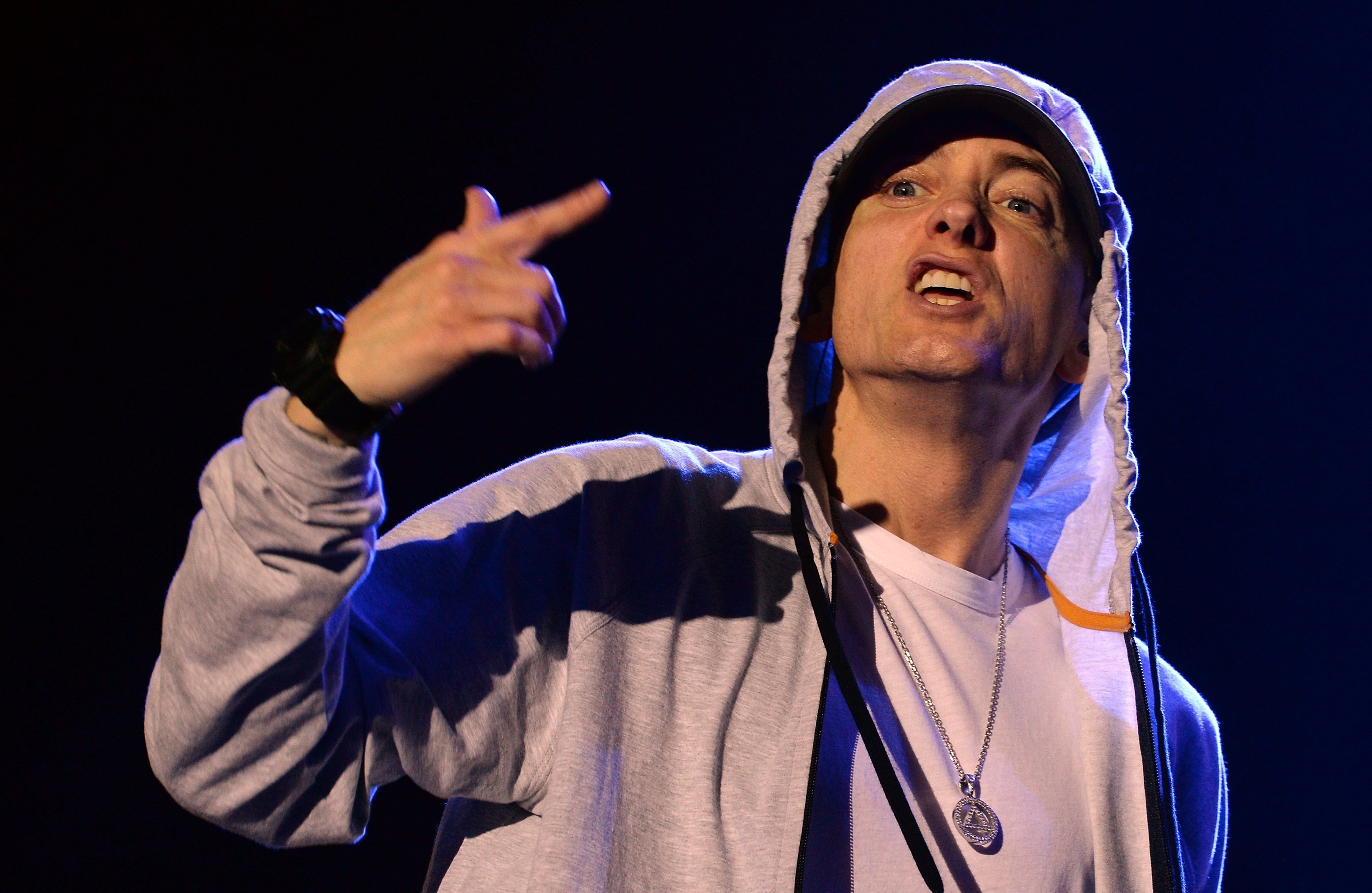 Eminem, also known as Marshall Bruce Mathers III, has become known as one of the best, and richest, rappers. The Grammy winner has been recognized around the world for his music. Here's Eminem's net worth and how he makes his money.
The early years
Eminem exhibited an interest in music at an early age. He first began rapping at the age of four. When he became older, he developed his rap skills during rap battles in the school lunch room, according to IMDb. He also reportedly sharpened his skills by voraciously studying the dictionary so he could learn new words to add to his verses. Although Eminem had musical talent, he had a tough time in school. The rapper failed ninth grade three times, so he decided to drop out of school.
Rise to fame
Eminem released his first album, Infinite, in 1996. The birth of his daughter, Hailie, inspired him to try to earn a living as a rapper. However, the album only sold 1,000 copies. Determined to keep pursuing his dream, he kept making music.
Eminem caught the attention of an Interscope Records employee after he came in second at the 1997 Rap Olympics in Los Angeles. His rap style was so unique Dr. Dre wanted to work with him right away. After Jimmy Iovine played a copy of Eminem's debut EP for Dr. Dre, he responded, "Find him. Now," reports Rolling Stone.
In 1999, Eminem's second album, The Slim Shady LP, had much more success. More than 10 million albums were sold worldwide, and more than 5 million were sold in the United States. It debuted at No. 2 on the Billboard 200 chart. His 2000 album, The Marshall Mathers LP, sold more than 22 million albums worldwide and 11 million in the United States.
Two years later, Eminem had his first No. 1 hit with the song Lose Yourself, which appeared on the 8 Mile soundtrack. He went on to release several more albums. The rapper shocked and delighted fans in August 2018 when he came out with a surprise album, Kamikaze.
Awards
As of 2018, Eminem has won 15 Grammy Awards and has been nominated 43 times. He has also won honors from the MTV Video Music Awards, People's Choice Awards, Teen Choice Awards, Broadcast Film Critics Association Awards, and ASCAP Film and Television Music Awards, among others. In 2009, Billboard magazine named him artist of the decade.
In 2018, Eminem took the No. 4 spot on Forbes' list of the richest rappers (Jay-Z took the No. 1 spot with a net worth of $900 million). According to the magazine, he's the best-selling rapper of all time and sold more albums in the United States than any musical act in any genre during the 2000's.
Eminem's net worth
Eminem earns money from more than just music. Like many other celebrities, he also makes money from endorsement deals. One of his most notable collaborations was when he starred in a 2011 Superbowl commercial for Brisk iced tea. Furthermore, the rapper also earns income behind the scenes as a producer, director, and writer. As of this writing, Eminem has a net worth of $230 million.
Check out The Cheat Sheet on Facebook!