Emma Stone Believes Her Deceased Relative Leaves Her Coins
Emma Stone has a strange theory about the coins she finds.
Emma Stone has become one of America's most sought-after Hollywood actresses. However, Stone's success didn't come overnight. Her success required a combination of hard work, diligence, determination, a sprinkle of luck, and maybe some ghostly assistance as well. Read on to learn more about Stone's rise to Hollywood A-lister status and some of her ghosts encounters along the way.   
A rocky start on the road to fame 
Stone made her grand entrance into the world on November 6, 1988. As a young girl, Stone grew up in Scottsdale, Arizona. However, she soon set her sights toward Hollywood after starting community theater at the age of just four.
Throughout her childhood in Scottsdale, Stone starred in a number of local theater productions. She loved acting in these small plays as a kid but was soon looking for something bigger and better. As a teenager, Stone uprooted her life and relocated to LA with the dream of making it big in the industry. 
While Stone set the bar high for herself, her first gig in Hollywood was short-lived. Once arriving in Hollywood in 2004, Stone's first gig was on a television show called The New Partridge Family.
Unfortunately for Stone, the only episode of the show to air was the pilot episode. Despite this initial setback, Stone would go on to star in a number of other television and cinema productions. 
Starring in everything from mainstream productions to independent films 
After guest-starring in a number of television series like Medium, Malcolm in the Middle, and The Suite Life of Zack & Cody, Stone redirected her attention to the film industry.
In 2007, Stone landed her first movie role as Jules in the film Superbad. Appearing in this 2007 film was just the beginning for Stone, who would soon build an impressive resume within the film industry.
Rather than just appearing in films, Stone began starring in them. In 2009, Stone starred in the film, Ghosts of Girlfriends Past. In 2010, she landed a starring role in the film, Easy A.
In 2011, Stone's film career started to ramp up during 2012 as she landed roles in three mainstream films, Friends with Benefits, Crazy, Stupid, Love, and The Help. Over the past 10 years, Stone's success has only continued to grow. Two of Stone's upcoming films are The Croods 2 and Cruella. 
Playing hide-and-seek with a friendly ghost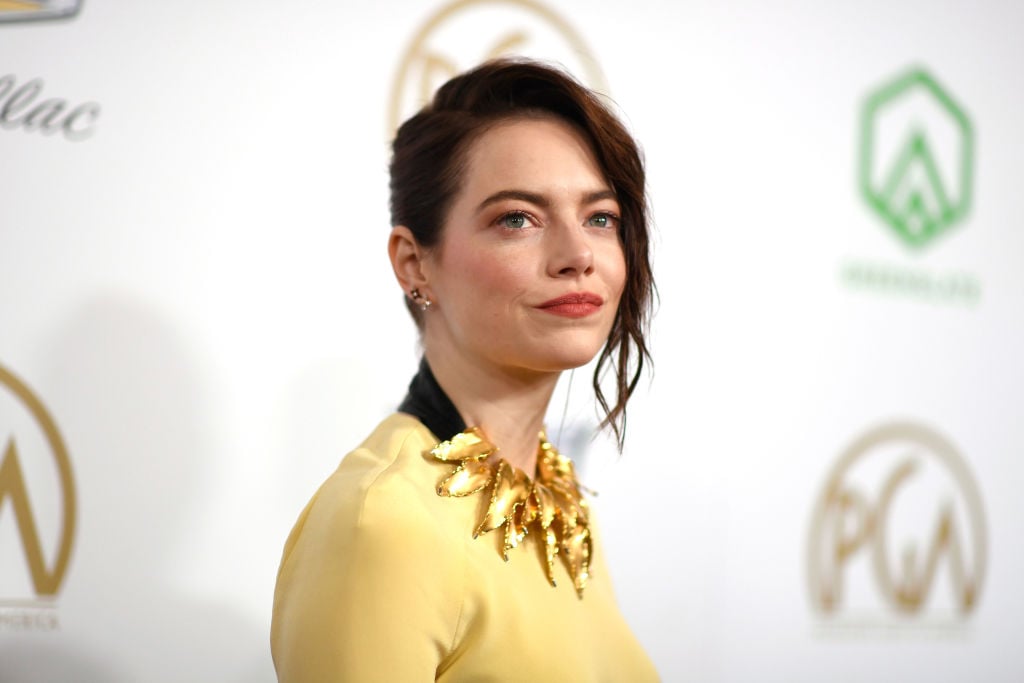 With all of her success, Stone has given many interviews and appeared on just about every American talk show out there.
In 2014, Stone made another appearance on the Late Show with David Letterman. During her interview, Emma revealed that she believes that she has had some encounters with some friendly ghosts over the years.
Stone revealed to Letterman that she believes that her long-dead grandfather leaves her quarters to find in the physical world. Stone's friendly ghost of a grandfather doesn't just bring her quarters but also brings them to other members of her family. 
Who's to say whether Stone finding quarters has to do with her grandfather or just mere coincidence. Regardless of whatever anyone else has to say about Emma's encounters, she is absolutely sure her grandfather is a friendly ghost that spends his days leaving quarters for his living family members to find.
Maybe Stone will be able to find some quarters from her grandfather on the set of her upcoming Disney film, Cruella, where she will star as the evil Cruella de Vil. Be sure to catch Emma's latest film when it releases in 2021.