Emma Stone and Michael J. Fox Have the Same Reason for Changing Their Names
Celebrities have an array of reasons for choosing their stage names. Sometimes they change their name by only a letter or two. Sometimes they're forced to alter their name for industry reasons. And in the case of Emma Stone and Michael J. Fox, that's exactly what happened.
Both Hollywood actors were forced to make small adjustments to their real names for the same reasons.
Emma Stone and her name change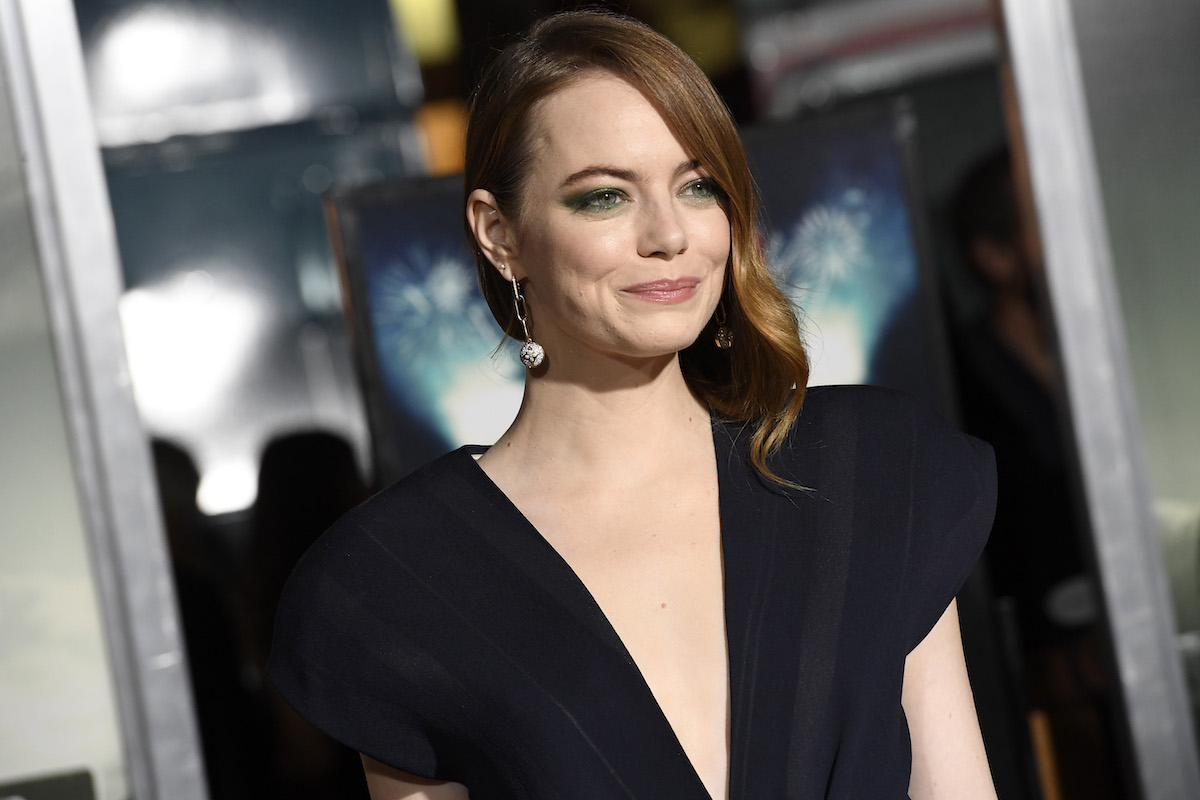 Stone is making waves in the film industry with her upcoming role as the infamous Cruella de Vil in Disney's Cruella. However, this isn't her first role to draw plenty of attention. The award-winning actress has taken on several notable parts in her career. Her biggest films include box office hits Easy A, The Help, Superbad, and Zombieland (and its sequel).
The Hollywood star has won more than 70 awards for her outstanding performances. But it was her unforgettable performance alongside Ryan Gosling in La La Land that earned her the prestigious Oscar that all actors strive to win.
RELATED: Barbra Streisand Changed Her Name to Be More 'Unique' But Not 'Too False'
You might not know that the superstar's real name isn't "Emma Stone." According to Grazia, she even changed her moniker a few times before it became the household name it is today.
"To ask a 16-year-old to pick a new name is an interesting prospect […] I was like, 'I'm going to be Riley. My name is going to be Riley Stone,'" the La La Land star said. "So my name was 'Riley Stone' for about six months, and I did a guest spot on Malcolm in the Middle, and one day they were like, 'Riley, Riley,' and I had no idea who they were talking to."
Following the funny incident, Stone decided to keep her stage name as close as possible to her real name: Emily Jean Stone.
Michael J. Fox and his name change
RELATED: Even Diehard Michael J. Fox Fans Don't Know His Real Middle Name
You likely know Michael J. Fox from his iconic turn as Marty McFly in the Back to the Future movie series that boosted his already thriving career. Many TV viewers also know him for his Golden Globe-winning performances in Family Ties and Spin City.
He even had his own show, The Michael J. Fox Show. Real-life events in the star's rise to fame from childhood heavily inspired the show. What viewers loved most about it was the added comedy, especially because some were afraid it would be more of a biography.
According to Snopes, it's been a long-standing rumor that Fox's middle name was "Jello," and many believed "when Michael J. Fox was a kid, he was given the chance to pick his own middle name, so he picked the name of his favorite dessert at the time." However, the rumor was false. His real middle name is perfectly normal: Andrew.
That means his full name is actually "Michael A. Fox."
What caused both actors to change their names
Most fans have heard of the Screen Actors Guild, but many probably aren't aware of one SAG membership requirement: Actors must have a different name from an already-registered member. According to BuzzFeed, that was the reason for Stone's and Fox's respective name changes.
"Michael Andrew Fox had to change his name because two people can't be registered under the same name in the Screen Actors Guild," the publication reported. "He didn't like the name 'Michael A. Fox' because it sounds literally like 'Michael, a fox,' so he went with Michael J. Fox, in tribute to actor Michael J. Pollard."
As for Stone, she had to change her name because "there was already someone — a model from Australia's Next Top Model — registered under Emily Stone."
Emma Stone and Micheal J. Fox aren't the only celebrities forced to rename themselves to become SAG members. In fact, you'd be surprised how many actors don't go by their real names for similar reasons.