Emma Thompson Bashed Donald Trump for 'Narcissistic Madness'
Emma Thompson isn't the first name one might think of when it comes to Donald Trump, but the former President once tried to make this so. Thompson, the highly-acclaimed British actor and writer, was shooting a movie about a presidential sex scandal when she got a call in 1997 from Donald Trump. She spoke about this call with Graham Norton.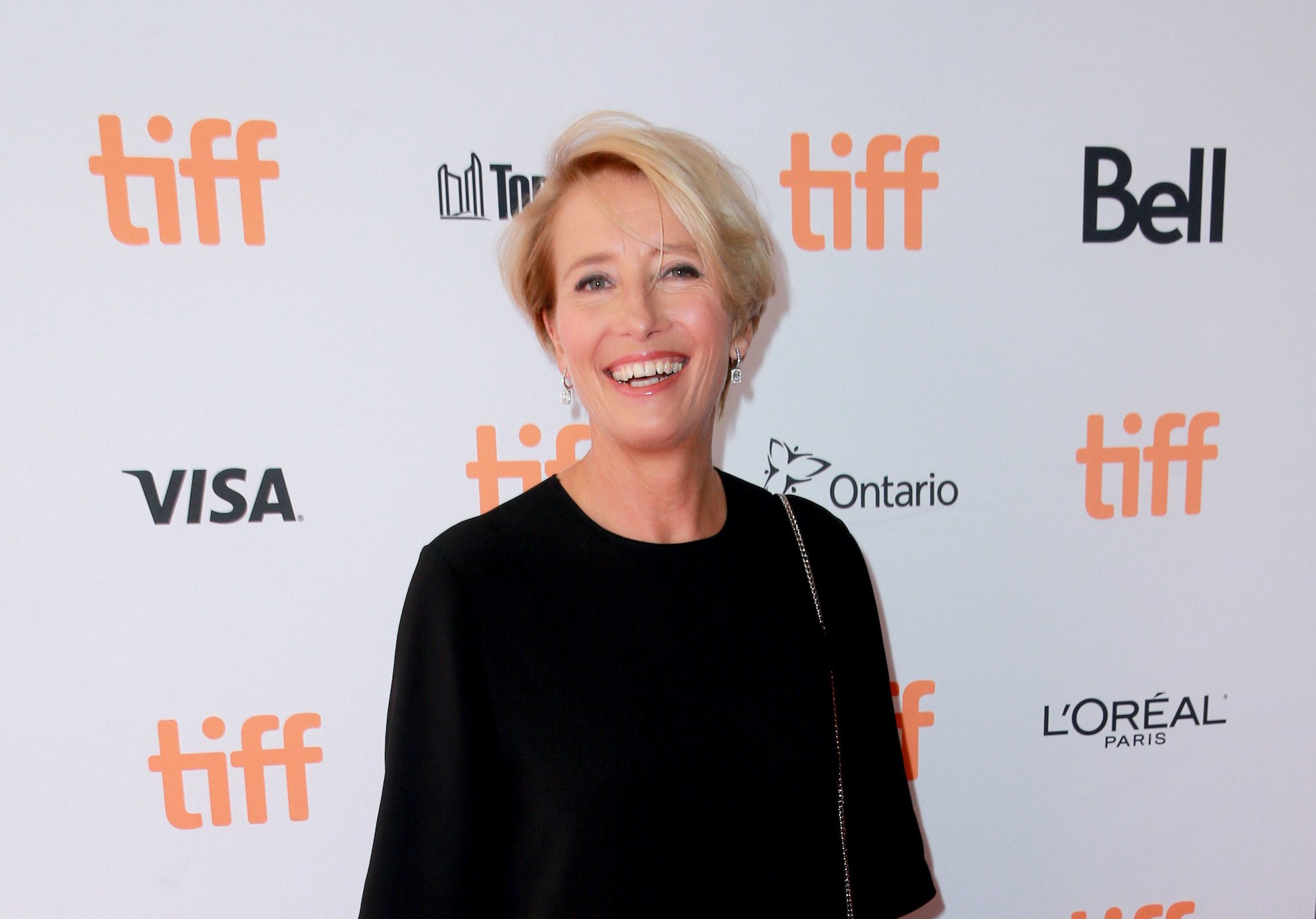 Thompson's career
Thompson got her start on British television. According to IMDb, her on-screen debut came in the comedy series There's Nothing to Worry About, and with every passing year, her star rose higher into the air. One of her most significant breaks came in 1989's Henry V, a Shakespeare adaptation that not only introduced her to a broader audience but then-partner Kenneth Branagh, too. 
From there, Thompson became a bona fide big-screen star, appearing in films like Junior, Sense and Sensibility, Much Ado About Nothing, and so much more. To this day, she remains one of the hardest working actors in Hollywood. Her role in films such as Love Actually has made her a household name. Her charm is on full display each time she appears on-screen. However, had she answered a call from Trump in 1997 differently, her career may have gone another way. 
Date with a future president?
RELATED: 'Love Actually': Emma Thompson Is Wearing a Fat Suit As Karen
Thompson recalled the future President's attempts at wooing her in a 2017 interview with Graham Norton. According to Thompson, Trump asked her on a date twenty years earlier. However, after seeing how he had conducted himself in the spotlight, rejecting the date was not that hard to do. 
Trump, a self-proclaimed lothario who famously spoke about his many conquests before rebranding as a conservative politician, has a long history of asking people out. Amid all the madness that happened throughout his presidency was a long list of famous women who had stories of his attempts to ask them out.
Norton asked Thompson what it was like to have Trump ask her out and detail her side of the story. At the time, Trump wasn't even a reality television host. He was mainly known for being loud and rich.
"I could've changed the course of history." Thompson joked. "We were doing Primary Colors, which was about the Clintons and about [Bill Clinton's sex scandal]. It was 1997, a long time ago. So, actually, one had only associated Senior Trump with tasteless architecture at that point. It's still a boundless sense of narcissistic madness, but I was in my little trailer, and it had a phone." Thompson was unwinding away from the set when that phone rang.
"It was Donald Trump," Thompson said, repeating his name several times. "Donald Trump was on the other line and going, 'Hi, it's Donald Trump here." Thinking that it was someone playing a prank on her, Thompson told him two words, "F*** off." Trump reiterated that he was, actually, the man he claimed to be and asked Thompson if she was interested in meeting him at one of his buildings and taking advantage of one of his apartments. 
What did she say?
According to Thompson, she told the famously audacious Trump that she would get back to him. According to Vanity Fair, Thompson said she does have one regret. Sitting next to Adam Sandler, she told Norton that she wished she had the opportunity to ruffle the future president's hair and embarrass him before it was too late. Everyone laughed.
Thompson's story isn't all that surprising to anyone who has followed Trump's rise to the White House. From Marla Maples to his current wife, Melania, to Stormy Daniels, Trump has often used women as a status symbol to show up in his arms at new events. Thompson laughed as she told the story, but she also spoke as though she dodged a bullet.
Whether Thompson could have changed the course of history, as she joked, or it's just an anecdote of life before Trump was a politician, it's another story that paints him as a strange man who sought fame at any cost.