Emma Watson, Daniel Radcliffe, & Rupert Grint Didn't Hang Out When They Weren't Filming 'Harry Potter'
When Daniel Radcliffe, Emma Watson, and Rupert Grint were cast as the golden trio in the Harry Potter movies, they had no idea how much their lives would change. Though the actors initially only signed up to be in two films, they would go on to star in all eight films. Portraying Harry Potter, Hermione Granger, and Ron Weasley was certainly the opportunity of a lifetime, but it certainly wasn't always easy.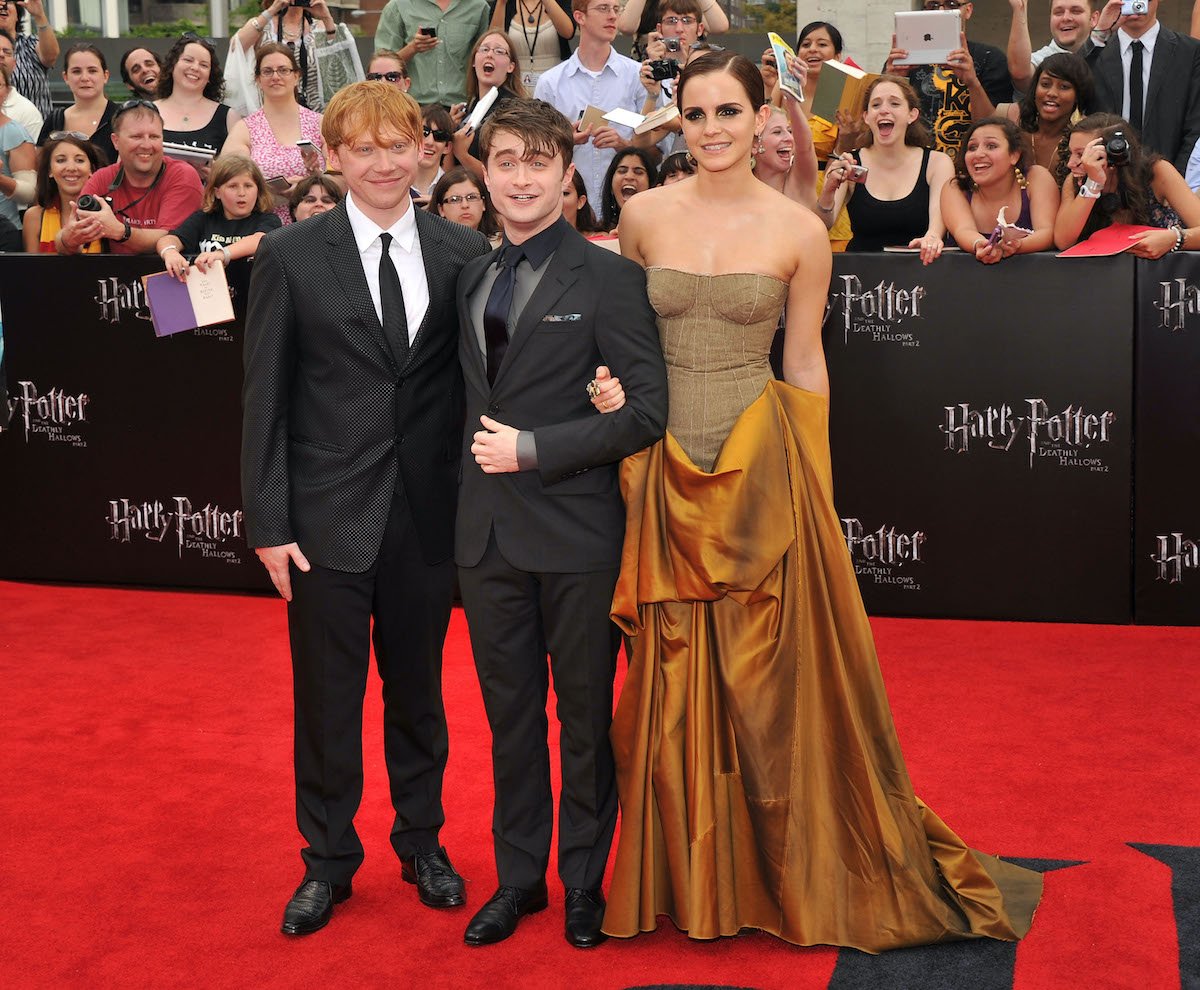 Starring in the Harry Potter franchise certainly had its perks. The three main actors earned millions of dollars from the films and achieved worldwide recognition. However, being in the films had its downsides. For over a decade, Grint, Radcliffe, and Watson lost a substantial amount of privacy. Furthermore, they missed out on a lot of childhood experiences because they were busy shooting the movies.
Emma Watson worked long hours while filming the 'Harry Potter' movies
In a conversation with Interview Magazine, Watson got candid about the long hours she pulled while filming the final two Harry Potter movies. The actor revealed that she was doing her best to film all of her scenes so she had some time to pursue her education. However, she still had to sacrifice her vacation time in order to make sure she could balance school and filming.
"At the moment, we're there at about 6:30 a.m., which means I'm picked up at about 5:45 a.m.," Watson shared when asked about her schedule. "We're filming both the seventh and eighth movies at once, and I'm trying to do all of my scenes now and through the summer so I'll be available for university come September. Though it already looks like I'll be working on Christmas and March breaks."
The last two 'Harry Potter' movies centered around the golden trio
Filming may have been arduous for Watson, but she was fortunate enough to have two other actors to commiserate with. Watson recalled that it felt right that the majority of her scenes in the final films were with Grint and Radcliffe. "In the last book, they've left Hogwarts, and they're traveling around together," Watson shared. "It feels right that it started with the three of us and it's ending with the three of us. It's about our friendship."
Because of their shared experiences, Grint, Radcliffe, and Watson developed very close bonds. However, Harry Potter fans may be surprised to learn that when the trio wasn't filming, they rarely hung out together. Despite their general affection for each other, they needed some much-needed time apart after each film wrapped.
Why Watson, Daniel Radcliffe, and Rupert Grint didn't often hang out when they weren't filming
"To be honest, we see so much of each other when we're working that hanging out together would be overload," Watson shared. Continuing on, she expressed love for her Harry Potter castmates. "I love them, but I need to see other friends off set. They're like my siblings now."