Emma Watson Quietly Revealed How Often She and Tom Felton Talk
'Harry Potter' fans may be surprised to learn about how often Tom Felton and Emma Watson actually speak.
Emma Watson and Tom Felton have been dodging dating rumors for years. Though the pair played enemies in the Harry Potter movies, their relationship off-camera couldn't be more different. They developed a strong friendship over the decade that they filmed and promoted the movies and are still in contact today. But what is their relationship like now, and how often do the actors speak?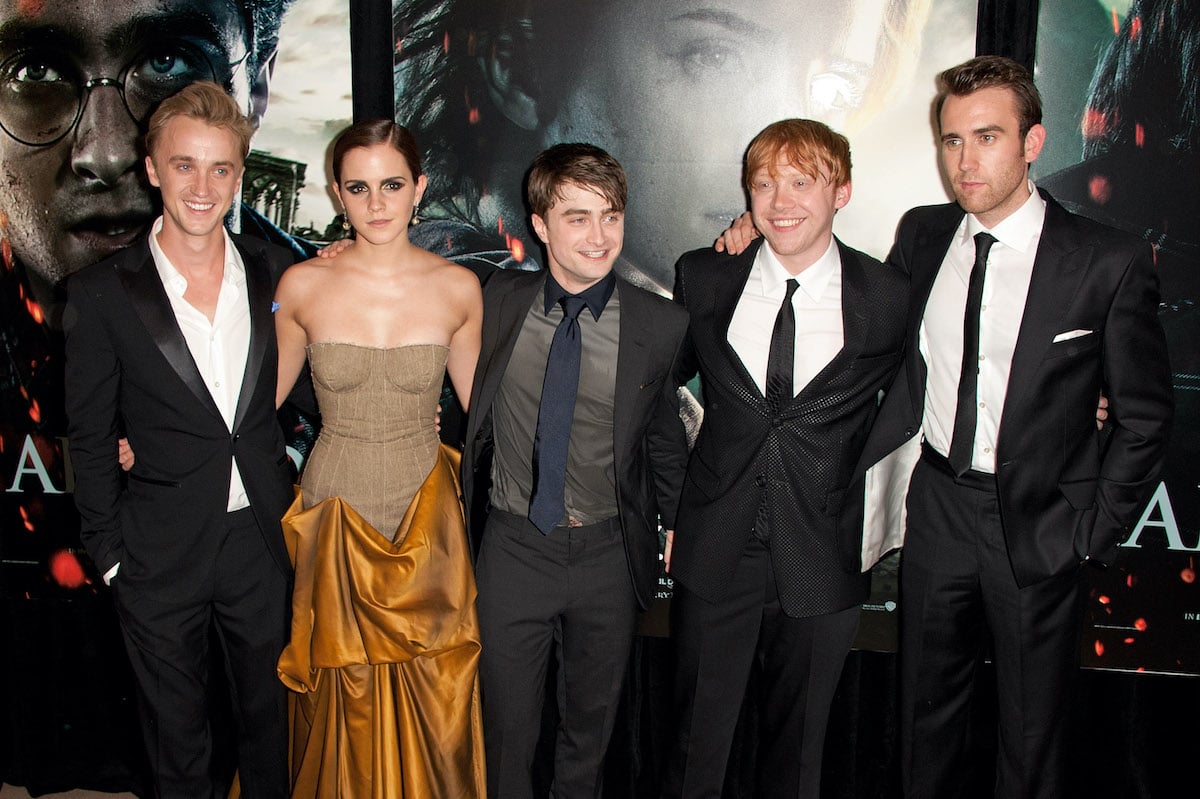 Emma Watson revealed that Tom Felton was her first crush
Watson admits that her connection with Felton was pretty instantaneous. In fact, Felton holds the title of Watson's very first crush. In Harry Potter 20th Anniversary: Return to Hogwarts, the Noah star recalled the moment she became fascinated with Felton. The young actors were asked to draw their idea of God, and Watson was completley taken with what Felton had come up with.
"Tom had drawn a girl with a backward cap on a skateboard," Watson recalled. "And, I just don't know how to say it, I just fell in love with him. I used to come in every day and look for his number on the call sheet; it was number seven. And if his number was on the call sheet, it was an extra exciting day."
The 'Harry Potter' actors are still in close contact today
Apparently, Watson wasn't too subtle about her interest in her fellow Harry Potter co-star. And it wasn't too long before the news got back to Felton. "Emma and I have always loved each other, really," Felton explained. "I think I was in the hair-and-makeup chair, and someone said something along the lines of, 'Yeah, she had a crush on you.'"
As Felton is two years Watson's senior, he didn't reciprocate the young actor's romantic feelings. However, he did think of her as a little sister and was very protective of her. Throughout the years, the pair have remained close. So close, in fact, that some fans even assume that there's a romance brewing. However, those assumptions don't seem to bother them. In an interview with Vogue, Watson admitted that she and Felton find it rather endearing. "We speak most weeks, and we just think it's sweet," she admitted.
Felton addresses dating rumors about Watson
Considering the actors speak on a near-weekly basis, some fans are still holding out hope that their relationship will turn romantic. Whenever the pair are spotted together, new dating rumors arise. Back in 2021, Felton was even asked if there were any truth to the rumors and he gave a sweet response about Watson to Entertainment Tonight.
"We are something, if that makes any sense," Felton shared about Watson. "We've been very close for a long time. I adore her. I think she's fantastic. Hopefully, she returns the compliment. As far as the romantic side of it, I think that's a Slytherin/Gryffindor thing rather than a Tom and Emma thing. I absolutely think the world of her." Clearly, the duo are just friends, but it's sweet that they share such a close connection, even if it's just platonic.