Emmy Winner Hannah Waddingham Wants to Share Her Trophy With 'Ted Lasso' Co-Star Juno Temple — Inside Their Adorable Friendship
Hannah Waddingham beat out Juno Temple for the Outstanding Supporting Actress in a Comedy Series at the 2021 Emmy Awards. The Television Academy recognized Waddingham's role as Rebecca in Ted Lasso, but she celebrated Temple's role, Keeley Jones, during her acceptance speech. Waddingham and Temple may play friends on-screen, but their friendship is even closer in real life.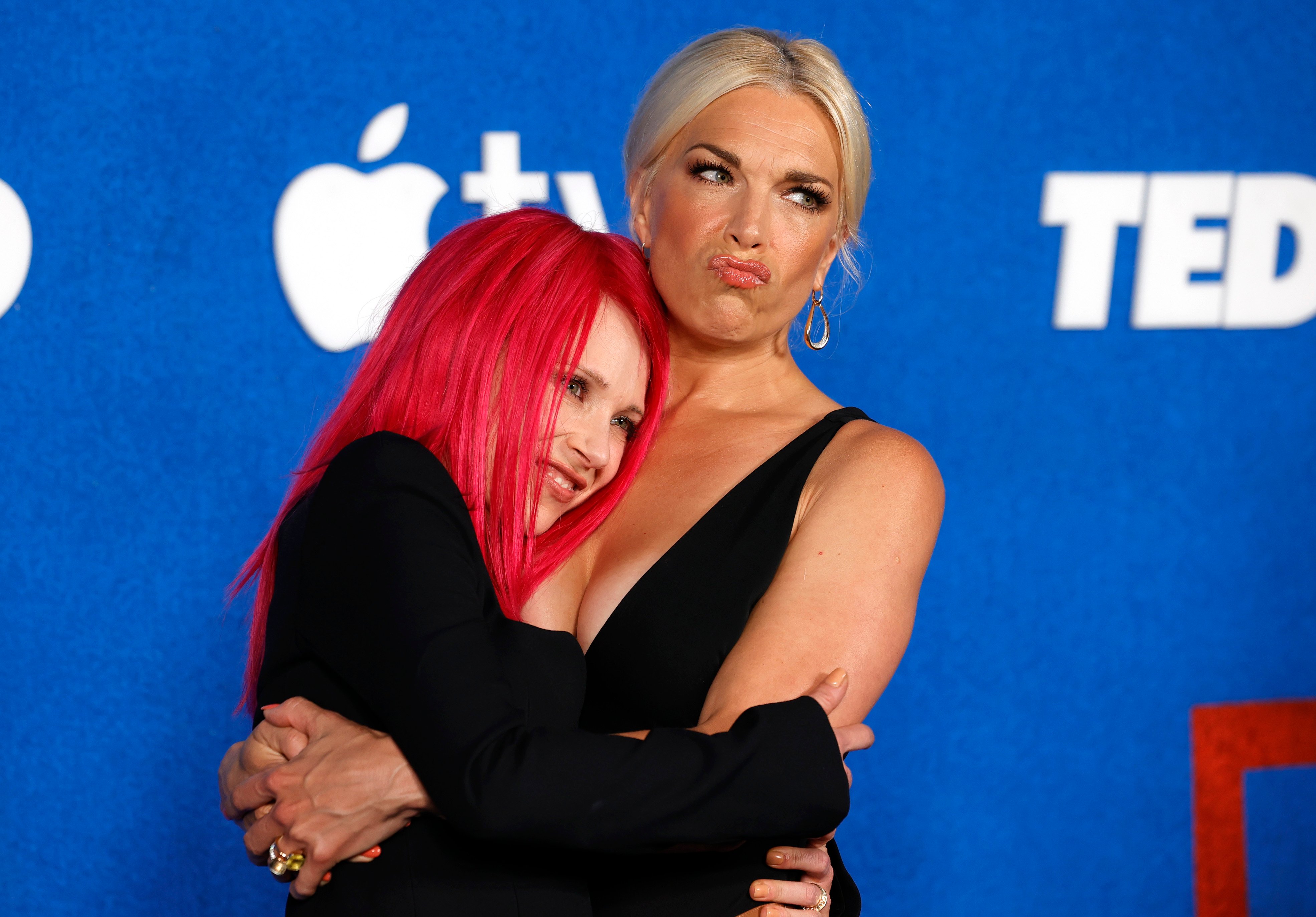 Hannah Waddingham's Emmy speech goes out to Juno Temple and the 'Ted Lasso' team
Waddingham was overwhelmingly grateful for her win at the 2021 Emmy Awards. "Jason, you changed my life with this and, more importantly, my baby girl's," she started, thanking her co-star Jason Sudeikis. "I'm honestly so privileged to work with you. I really am." 
"Juno Temple!" Waddingham continues. "I swear to God if I could break off one of her arms and give it to you because that's what you are to me — there is no Rebecca without Keeley." 
Waddingham concluded her speech with: "If you ever leave my life, I'm going to stalk you."
Rebecca and Keeley's friendship in 'Ted Lasso' is intentional
Waddingham plays the proverbial ice queen and owner of AFC Richmond, Rebecca, in the Apple TV+ series. Temple's role, Keeley, is a dynamic model and influencer who is seemingly Rebecca's opposite. 
On the surface, the two seem like natural-born enemies. But as Sudeikis explained to Variety, their friendship was an intentional subversion of expectations.
"We definitely wanted to play on the preconception that they're not going to get along," Sudeikis told the outlet. "These tropes have been around a long time, so why not use them to our benefit?"
Behind the scenes, Waddingham and Temple share just as much of a connection. "It was the most strange thing," Waddingham said. "It was just completely natural and effortless … and it's been like that ever since, both on screen and off."
What's more, Waddingham believes her job "would have been far harder" if Rebecca and Keeley were rivals. "I would've actually found that quite distressing."
Hannah Waddingham and Juno Temple's friendship is authentic
During an interview with The Hollywood Reporter, Temple talks about how her and Waddingham's roles come together and support each other as women, despite their differences. Temple describes the characters as "two women who want to support each other through whatever s*** gets thrown at them." 
Ironically, Temple and Waddingham's relationship mimics that of Rebecca and Keeleys. "It's something that happened offscreen as well — supporting one another through moments of personal brilliance and personal tragedy," she adds.
That support continued when 20 Emmy nominations came in for Ted Lasso. Temple and Waddingham were both nominated for Outstanding Supporting Actress in a Comedy Series — an experience Temple was glad she didn't have to go through alone.
RELATED: What Is 'Ted Lasso' Star Hannah Waddingham's Net Worth?
"I could not be more grateful that I get to go through this with Hannah because she is like a real-life guardian angel that came into my universe," Temple told Vanity Fair. "I was there with her when she won her Critic's Choice Award and it was magic. She might win [the Emmy] and I really think that would be exciting." 
And win Waddingham did. As she gave her speech, Temple sat in the audience shedding tears of joy for her friend.
Ted Lasso also snagged the Emmy wins for Outstanding Comedy Series, Outstanding Lead Actor in a Comedy Series, Outstanding Supporting Actor in a Comedy Series, Outstanding Casting for a Comedy Series, Outstanding Single-Camera Picture Editing For A Comedy Series, and Outstanding Sound Mixing For A Comedy Or Drama Series (Half-Hour) and Animation.