Emmys 2021: Adam Driver Gets a Shoutout From John Oliver's 'Last Week Tonight' Writing Team
Adam Driver has often been the subject of John Oliver's fantasies on Last Week Tonight. During the 73rd Primetime Emmy Awards, Oliver's writers were recognized with the Emmy for Outstanding Writing for a Variety Series. They dedicated their award with a special mention to the Annette actor.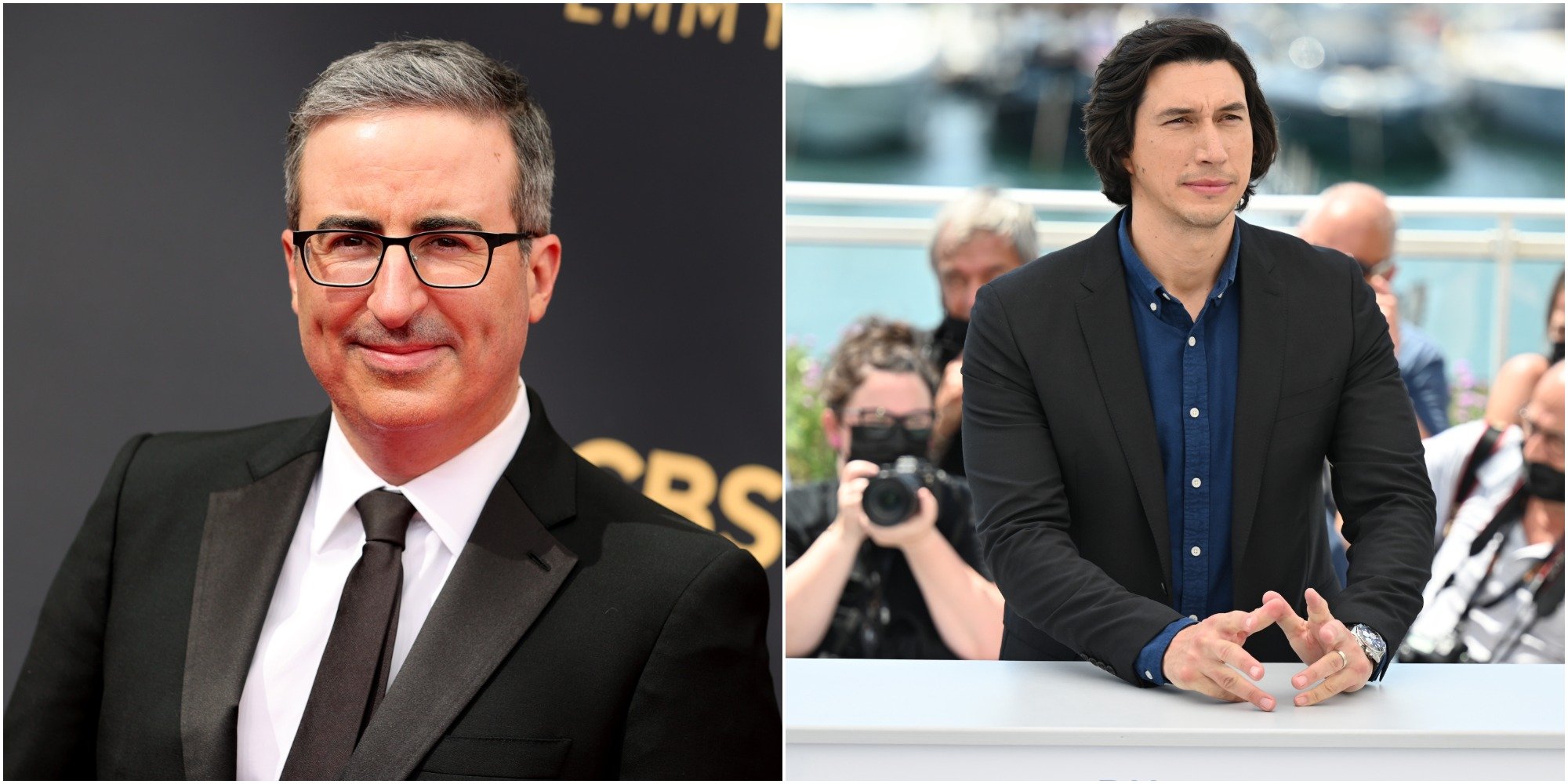 Adam Driver is an obsession of John Oliver's on 'Last Week Tonight'
Throughout 2020, Oliver has made countless thirsty pleas toward Driver while hosting Last Week Tonight. "Step on my throat, Adam Driver, you rudely large man," says Oliver in one episode. 
"Break my fingers, you brooding mountain," he says in another. "Crush my larynx, you unwieldy boulder," is another particularly violent request Oliver made. 
Oliver continued to make these jokes regarding Driver throughout 2020, adding how his staff and wife wondered if the jokes were cause for concern. "Is he bothered by this continued sexualization?" Oliver wonders in an episode. "He seems like a fairly private guy who's generally uncomfortable with attention, making what I'm doing possibly some form of harassment. He might actually have pretty good grounds to have me reprimanded legally." 
As it turns out, Oliver's writing staff seem to be behind many of the Driver-centric comments. The writing team dedicated their Emmy win to the actor during the 73rd Primetime Emmy Awards.
'Last Week Tonight With John Oliver' writers say Adam Driver 'knows what he did'
Last Week Tonight took home the win for Outstanding Writing for a Variety Series win at the 2021 Emmy Awards. Among those recognized were Oliver and writers like: 
Johnathan Appel
Ali Barthwell
Tim Carvell
Liz Hynes
Greg Iwinski
Mark Kramer
Daniel O'Brien
Owen Parsons
Charlie Redd
Joanna Rothkopf
Chrissy Shackelford
Ben Silva
"On behalf of everyone here and not here, we want to thank all of the departments at Last Week Tonight," the team's speech began. "Finally, we would like to dedicate this award to Adam Driver. He knows what he did, and we know what we'd like him to do." 
Driver isn't on social media, so it's unclear how he feels about this special dedication. Perhaps he'll appear on a future episode of Last Week Tonight to hash it out with Oliver. 
John Oliver apologizes to Adam Driver on 'Last Week Tonight,' but continues making the joke  
On Nov. 15, 2020, Last Week Tonight welcomed Driver as a special guest. He cleared the air with Oliver once and for all during his video call appearance. 
"Listen to me, what the f*** are you doing?" Driver questioned, adding:
This bit, this thing you've been doing that's either sexual or violent. This strange, strange bit that for some reason you've pulled me into. What is it? When you first started doing it, it was easy for me to shrug it off. But then it kept going on, and on, and on, and on. I'm sick of people stopping me on the street and asking me if I'm going to punch a hole in you like a Marriage Story wall.
Oliver promised Driver the bit was over in that moment. "Adam Driver is right, and hot, and massive," Oliver concluded. "But he's mainly right." 
Update: During a conversation with the press, Oliver mentioned Driver once again. "We noticed Adam Driver last year," he laughed. "I don't know if you noticed us noticing him…we had said that we wouldn't do the joke again — I mean we have done it again. If he's mad about it, that's really what we're looking for."
Oliver was also recognized for the win for Outstanding Variety Talk Series at the 2021 Emmy Awards. Stay tuned to Showbiz Cheat Sheet for updates on the 73rd Primetime Emmy Awards.